The Bodybuilding Mind
"You must consider that in the beginning you are training the mind as well as the body. The mind, after all, makes you want to train, it turns on the body. Because the mind motivates you to train the body, you have to train the mind first. If the mind doesn't want to lift the weights, the body won't lift them.The mind is incredible, once you've gained mastery over it, channelling its powers positively for your purposes, you can do anything. I mean anything. The secret is to make your mind work for you – not against you. This means constantly being positive, constantly setting up challenges you can meet – either today, next week, or next month. "I can''t" should be permanently stricken from your vocabulary, especially the vocabulary of your thoughts. You must see yourself always growing and improving." Arnold Schwarzenegger, in his book The Education of a Bodybuilder1
Train Your Mind & Body
As Arnold has indicated, the mind is a powerful tool that is often taken for granted. Sure, genes play a part in what we can be, but it is the continued striving for your quest to being the best you can be that will ascertain just how good you can be. Many people fail in this. They confuse difficulty with impossibility. Resistance is interpreted as insurmountable obstacles. With this mindset, failure is inevitable. Difficulties must be relished, and by enjoying time spent overcoming these obstacles that others avoid, success will be achieved in your goals.
Tips For Building a Bodybuilding Mind
Don't compare yourself to others.
Discover you strenghs and weaknesses through experience.
Find an inspiration.
Set a specific goals.
Create a plan that you can stick with.
Get educated on your body and emotions.
Stay positive and be consistent regardless of the struggle.
Dream big - hope for something larger than yourself.
Track your progress.
Control your mind.
Remember your goals are unique and only you can determine what these are in your case. Do not use futile comparisons as an excuse for a lack of determination. In dedicating yourself to your goal, you must dedicate yourself, time and energy into changing your environment in order to unearth your potential. If you don't, you will not come close to achieving it.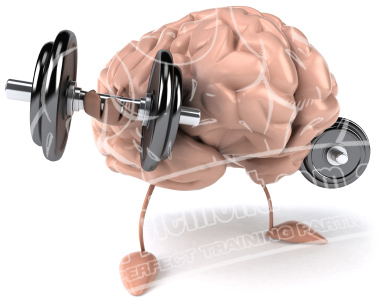 Develop Your Bodybuilding Mind
For example, professional bodybuilder Milos Sarcev started off at 17 years old and 5' 10" weighing 70kgs. At this stage he couldn't have looked any further from a pro bodybuilder. This did not discourage him from starting to lift weights. Initially he actually lost, rather than gained weight. Rather than giving up, he read all he could about training and nutrition, and even studied a degree in Nutritional Technology. With this behind him, he started afresh, in a different and new environment, adding 20kgs of drug free muscle over the next four years. 18 years later he exhibits a physique that weighs 120kgs at a mere 7 percent bodyfat. Evidently his genetics weren't responsible for his gains, the environment he put himself into did. As you can see from Arnold and Milos, you can achieve what you put your mind to. Keep your eye on the prize. If you are not succeeding in your goal, evaluate your environment before placing blame on any aspect such as genetics.2
1 Arnold the education of a bodybuilder by Arnold Schwarzenegger, p. 148
2 Anything You Put Your Mind To? By Dr. John M Berardi, Ph.D.