Body War may still be a bit of a freshman brand in the industry, but they're definitely proving themselves with some fantastic releases over the past year or so. To join with their current line, Body War will be releasing two new products including their sleep and HGH support supplement Wartropin.
Body War Wartropin Highlights
Unique and powerful formula for sleep support
Help optimise natural levels of HGH
Enhance exercise recovery and fat metabolism
Get back to the gym faster and less sore
Body War Wartropin Review & Ingredients
Body War's new sleep support and HGH support supplement contains 13 active and transparently dosed ingredients. These can easily be separated into a few major categories of function:
HGH Support – L-Arginine Pyroglutamate, L-Lysine
Sleep Support – Phenibut, Gamma-Aminobutyric Acid (GABA), Velvet Bean, Valerian Root, Picamilon, L-Tryptophan
Recovery Support – L-Carnitine Tartrate, Magnesium
Cognitive Support – L-Phenylalanine, L-Tyrosine, Vitamin B6
Of course, some of the ingredients do have more than one action so can be placed in one or more of these categories. Each tub contains 32 servings of 11.5g.
Body War Wartropin Pros & Effectiveness
Body War's Wartropin certainly has all the right ingredients included. Phenibut, GABA, picamilon, tryptophan and velvet bean are all great sleep support ingredients which have been shown to be effective in promoting a calmer and more relaxed state that is conducive to more restful and deeper sleep. In addition, arginine and lysine are considered the key amino acids which have been shown to support HGH levels when supplemented prior to bedtime.
Natural growth hormone release is highest during deep sleep, so it makes sense that disrupted sleep can hamper the levels being released. This can not only affect muscle building, but also fat metabolism and exercise recovery. One of the best aspects of Wartropin is that all the ingredients, not just the active ones are transparently dosed. This means easy to calculate grams of each ingredient, making it ideal for comparison purposes.
Body War Wartropin Negatives & Cons
There aren't a whole lot of issues we see with Body War's new supplement. The arginine and lysine is a little underdosed, but you can fix that up by simply having an extra half scoop. It's interesting that they've decided to add magnesium and vitamin B6. Both these ingredients work well, especially in their typical combination with zinc. While magnesium has been used in studies to help support sleep, the levels in Wartropin aren't anywhere close to what has been used in studies. In addition, while both phenylalanine and tryptophan are both great ingredients in their own right, they tend to have different functions when supplemented as phenylalanine tends to increase alertness levels, which can be disruptive for sleep. While it's an interesting addition, we doubt it'll be able to exert its full effect in the presence of so many sleep enhancing ingredients.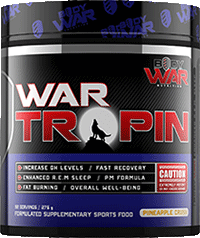 Body War Wartropin Flavours, Taste & Mixability
It appears as though Body War's Wartropin only comes in two flavours at the moment which is Pineapple Crush and Midnight Apple. Body War have expertly created great tasting supplements, even in situations where it would be hard for lesser companies. For example, Pre War still tasted alright, even though the ingredients would suggest ample bitterness. Wartropin's Pineapple Crush is mild and inoffensive. It tastes like watered down cordial and is super easy to drink and mix. One of the better tasting night time formulas.
Body War Wartropin Verdict
Body War's primary night time, HGH and sleep support formula is one to be applauded. It gathers some of the best sleep support ingredients around to help you achieve more restful and deeper sleep. There are some issues, but nothing major that detracts from the overall experience. Our expert opinion is to take 1.5 scoops for ideal HGH optimisation effects, but it does contain phenibut, which has been known to knock people out, so start off small just to test out the waters. Overall Wartropin is a worthy product that rivals the best in this category.