Body War Amino War Review
The amino acid blend category is quickly becoming one of the most trendy and crowded categories in the sports supplement market. With key entries from heavyweights like Optimum, BSN and MusclePharm in the past 12-18 months, many other lower-tier supplement companies are looking to break into the market. The latest Aussie supplement company to give it a crack is Body War Nutrition with their product aptly called Aminowar.

Aminowar Highlights
As with every Body War product, the standout feature is their unparalleled ingredient transparency. We know of no other supplement brand that lists the exact amount of every single ingredient (including sweeteners, ph balancers and flavours) on their label.
Aminowar Ingredients & Dosage
With its full ingredient disclosure and a bit of maths, it is possible to arrive at the table below, which lists the precise amounts of every ingredient including inactives/excipients.
Body War Amino War Full Ingredient Table

Ingredient

Percentage Per Serve

Amt. Per Serve

Leucine

26.67

4.00

Betaine anhydrous

10.00

1.5

Isoleucine

6.67

1.00

Valine

6.67

1.00

Citrulline Malate

6.67

1.00

L-Carnitine-L-Tartrate

4.67

0.7

L-Taurine

4.33

0.65

Alpha-Hydroxy-Isocaproic Acid

4

0.6

Agmatine Sulfate

4

0.6

Lysine

3.67

0.55

L-Alanine

3.67

0.55

L-Threonine

3.33

0.50

L-Methionine

3.33

0.50

Erythritol

3.33

0.50

Flavour

2.67

0.40

Potassium phosphate

1.33

0.20

Sucralose

1.33

0.20

Sodium Chloride

1.00

0.15

Citric Acid

1.00

0.15

Sipernat

1.00
0.15

Adenosine 5'-Phosphate

0.67

0.10
As one can see from the above table, a single 15g serve of Amino War gives you a 4:1:1 ratio of BCAAs, which is pretty standard. But with most of the other active aminos ranging from 0.2g to 1g, it's hard to argue that users will get much therapeutic effect from a single serve. As such, users might optimally benefit from 2-3 serves. While this level of dosing is generally not possible with many amino acid blend supplements (due to their caffeine content), this is not a problem with Aminowar. Indeed, the fact that Aminowar is caffeine free could be one of the key differentiating factors that separates it from its competitors.
Aminowar Pros & Effectiveness
Following on from above, it's conceivable that users will get some benefit (in terms of reduced muscle soreness) from a single serve, but to see real benefits, it's likely users will need multiple serves. The other major positive Aminowar has going for it is its range of ingredients. With quality extras like HICA, citrulline malate, glutamine, carnitine, agmatine, and ATP, Aminowar almost doubles as a pre workout/recovery mix.
Aminowar Cons
It's hard to find any major fundamental flaws with Aminowar. As touched on above, a few of the aminos are present in relatively low amounts, but this has to be considered in light of the fact that they are not key ingredients in the product.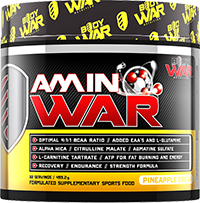 Aminowar Taste & Mixability
Another great facet of Bodw War's products is their taste, flavour and powder quality. As soon as you open a tub of Aminowar and inspect the physical powder, the quality is immediately evident. Unlike a lot of other products, the powder is very fine with no overtly course or clumpy bits. Aminowar comes in just two flavours in the form of mango and pineapple. Both taste great and mix easily meaning that flavour aversion is unlikely to be a deciding factor for this product.
Aminowar Verdict
All-in-all, Aminowar is another quality product from the up and coming Australian supplement company, Body War Nutrition. It offers users a deluxe type BCAA supplement with a number of quality inclusions and extras. It may take 2 doses for users to get maximum benefits, but by the same token, the supplement provides a lot of value-add and can easily double as a pre workout for those seeking a caffeine-free pre workout or intra workout.