Body Ripped Albuloid Review
Quick Summary Points for Body Ripped Albuloid
Body Ripped Albuloid is a convenient supplement formulated for users to help assist with lean muscle building and support fat loss
Benefits may include rapid gains in strength, lean muscle mass and a reduction in body fat, allowing you to achieve your goals and reach your performance gains faster
Made up of a blend of advanced 100% natural ingredients including Luperform, an ingredient known for its appetite-suppressing properties
The best time to take this supplement is to take 2 capsules 1 hour before training
Body Ripped have developed another supplement under the name of Body Ripped Albuloid. It is a supplement that is comprised of 100% natural ingredients that has been shown to build lean muscle, help break down fat, and assist in controlling appetite.
Body Ripped Albuloid Highlights
100% Natural Ingredients
May promote rapid gains in strength, lean muscle mass and reduction in body fat
Available in capsule form, perfect for busy individuals
Contains novel ingredient Luperform (Lupinus Extract) - suppress appetite & reduce cravings
Body Ripped Albuloid Ingredients & Dosage
Serving Size: 2 Capsules
Luperform - 300mg
Carthamus Tinctorius Extract - 100mg
Fucoidan (Brown Sea Weed Extract) - 100mg
Epicatechin - 50mg
Niacin-bound Citrus Bioflavonoids - 30mg
Coumaryldopamine - 20mg
Body Ripped Albuloid Pros, Benefits & Effectiveness
Body Ripped Albuloid have developed a potent product that consists of unique ingredients to help support muscle mass and weight loss. The product provides ingredients like Epicatechin that can spare muscle tissue while burning body fat. One of the main highlights that Body Ripped Albuloid has is the novel ingredient Luperform (Lupinus Extract). It is a seed that has been used medicinally in Europe and Subcontinental Asia for its antibacterial, antifungal, antidiabetic and appetite-suppressing properties.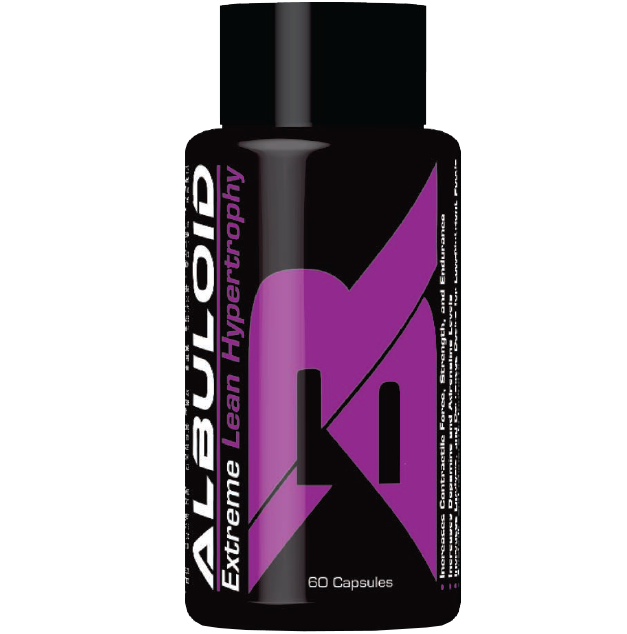 In addition, Luperform's main function is that it can boost the release of adrenaline and dopamine which are neurotransmitters released from the brain. This is highly beneficial for body builders as these neurotransmitters play a key role in releasing energy from fat and inhibiting fat storage. It also contains coumarlydopamine, which aids in weight loss and fucoidan, which has antioxidant properties. Together these ingredients has been shown to promote fat loss as well as suppress appetite.
Body Ripped Albuloid Negatives & Cons
At the moment, there aren't many studies to conclusively validate the effectiveness of the ingredients in this supplement. This is mainly due to lack of human research trials performed overall. In addition, while epicatechin may be beneficial for fat loss purposes, studies have shown that the benefits of epicatechins are more effective when taken in high doses of up to 400-500mg EGCG equivalent per day. However, the combination of the ingredients in Albuloid may reduce the need for such as high dose.
Body Ripped Albuloid Taste, Flavour & Mixability
Body Ripped Albuloid is only available in capsule form. Each bottle contains about 60 capsules which is equivalent to about 30 servings.
Body Ripped Albuloid Verdict
In short, Body Ripped Albuloid is a convenient option for those looking to reduce fat and build lean muscle. As Albuloid has appetite suppressing properties, it can help support users weight loss journey. Trainers aiming for fat loss can also benefit from Albuloid's addition of green tea derived epicatechin, which has been shown to assist with lean muscle building. Greater muscle mass will help boost overall metabolism, which can keep you leaner in the long term. It's still important to focus on the essentials such as a good protein powder to support your goals, but the Body Ripped Albuloid could make reaching your goals just a little bit easier.