Betancourt Pump'D Review
Betancourt Nutrition have been around since 2002 and over the past decade have grown into a formidable sports supplement company producing popular products such as their pre workout D-Stunner and their joint pre workout and test booster Bullnox AndroRush. While they may not be as big as Muscletech, Optimum Nutrition, Gaspari Nutrition and the like, every new supplement Betancourt produces gathers more fans and converts more trainers. One of the latest supplements to join their expansive range is a pump product known as Betancourt Pump'D™.
Betancourt Pump'D Highlights
Stimulant free pre-workout pump support
Agmatine, Norvaline and Ornithine to help alter arginine metabolism and maintain pump
Versatile supplement to be used independently or stacked with other pre-workouts for more powerful workouts
Betancourt Pump'D Ingredients & Dosage
Betancourt Nutrition Pump'D is a very simple supplement that utilises 9 active ingredients in two blends including:
Pump'D™ Performance Blend (2,300mg) – This transparently dosed blend contains glycerol, agmatine sulfate, pomegranate extract, beet and L-norvaline.
Pre Workout Support Blend (825mg) – A proprietary blend of tyrosine, choline, glutamine and ornithine.
The supplement comes with 30 serves of 7g. Interestingly, active ingredients make up less than a half of the recommended dose.
Betancourt Pump'D Pros & Effectiveness
Perhaps the best aspect of Betancourt Pump'D is the fact that it is a non-stimulant pre workout that can easily be used in isolation or stacked with their other pre-workouts such as D-Stunner for greater effect. So many companies fail to produce a stimulant free pre-workout to cater for those on an off cycle from supplements with stimulants. As a pump product, Pump'd is a solid product which bases their ingredients choice on the fact that arginine is slowly phasing out of pre-workouts due to its ineffectiveness at increasing pumps. Rather, Betancourt have taken the innovative approach of altering aspects of arginine metabolism in the body to prolong its pump effects.
The use of agmatine, norvaline and ornithine all help to synergistically boost nitric oxide levels by either increasing or supporting its synthesis and decreasing its breakdown in the body. In addition, glycerol is a common ingredient known for its ability to hyperhydrate cells and increase blood volume, all characteristics that contribute to 'the pump'. The use of pre-workout focus and attention boosting ingredients such as tyrosine and acetylcholine are a good addition to support workouts in the absence of stimulants.
Betancourt Pump'D Cons
As previously mentioned, the most glaring problem with Betancourt Nutrition's Pump'D is the fact that less than half the recommended serving is active ingredients. While it's important to flavour a pre-workout, it should not take priority over active ingredients. In addition, some of the ingredients used are underdosed, especially beet extract while others are simply just odd additions such as glutamine and pomegranate extract, which has more of an antioxidant function rather than for pump. The last issue would be the absence of the popular and proven pump ingredient citrulline.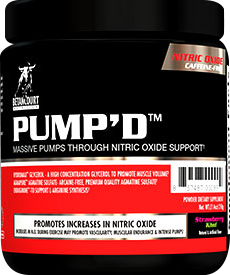 Betancourt Pump'D Taste & Mixability
No official flavours have been released for Betancourt Pump'D except for Strawberry Kiwi, however one would expect similar flavours to their other pre-workouts such as Watermelon, Fruit Punch, Blue Raspberry and Grape. Betancourt's previous pre workout efforts have both mixed well and were quite tasty, which is a promising prospect for Pump'D.
Betancourt Pump'D Verdict
The new Betancourt Pump'D is an excellent concept and one that more companies should pay attention to, rather than making the one stock standard stimulant based pre workout. Pump'D brings together some decent, research backed ingredients and should please fans of their stronger pre workout D-Stunner looking for some extra pump.
Pokrovskiy MV, Korokin MV, Tsepeleva SA, Pokrovskaya TG, Gureev VV, Konovalova EA, Gudyrev OS, Kochkarov VI, Korokina LV, Dudina EN, Babko AV, Terehova EG. 'Arginase inhibitor in the pharmacological correction of endothelial dysfunction.' Int J Hypertens. 2011;2011:515047.