Beta-Alanine Effective for Both Trained & Untrained
With a multitude of studies supporting it efficacy for improving performance in a wide variety of sports involving intermittent high intensity exercise, there is little debate as to beta-alanine's effectiveness as an ergogenic. However, one area where questions remain is whether its effects are reproducible in both recreational and elite athletes. That is to say if your an experienced gym-goer who's been pumping iron for 4-5 days a week years on end, can you expect to get the same results as the guy or girl who is just starting out at the gym and barely exercises?
It's well known that elite athletes have an enhanced buffering capacity as a natural result of their training adaptations. What's more some studies in elite athletes with beta-alanine have yielded equivocal results. Therefore, there's a sound case to critically question whether beta-alanine supplementation can be equally effective in trained versus untrained athletes.
Researchers from Brazil and UK recently set out to answer this question definitely by taking a group of elite cyclists (competing at national and state-level) and a group of recreationally active individuals who were engaged in a variety of activities (e.g., weightlifting, running, team sports) 1-2 times per week. The participants respective characteristics, experience and weekly training volumes at the time they initiated the study are shown in the table below.

The researchers used a high daily dose of beta-alanine (i.e. 6.4g); administered in 4 equal divided doses. Beta-alanine took the form of 800mg capsules and was mixed with a substance called carboxymethyl cellulose to slow its absorption and hence minimise parasthaesia (i.e. the well-known 'pins and needles' sensation). Supplementation ran for 4 weeks and the study included a control group for both the trained and non-trained arms. As such, there were four groups in total, as follows:
Non-Trained + Placebo
Non-Trained + Beta-Alanine
Trained + Placebo
Trained + Beta-Alanine
The other key thing to point out about the study is the exercise test model used. Because beta-alanine boosts intramuscular carnosine levels (the body's key intramuscular buffer); when testing the ergogenic effects of beta-alanine, it's important to use a test model proven to significantly increase muscle acidity. Once such protocol is the 'Wingate Test', which employs 4 x 30-second bouts of maximal sprint effort on a stationary fixed-bicycle; with each bout separated by 3-minutes. The Wingate Test has been shown to promote considerably greater intramuscular acidosis than say continuous high-intensity exercise.
Subjects in each group were tested just before commencing supplementation and straight after for the 4-week study period. Interestingly, both the trained and non-trained groups showed significant improvement in the Wingate test at the conclusion of the study. When measured as total work performed across the four 30-second sprint bouts, subjects in the non-trained + beta-alanine groups had an average increase of 1349 and 1978 Joules (a measure of total work performed), respectively. In contrast, the two groups (non-trained and trained) receiving placebo showed no improvement in total work performed post study. The graph below shows the individual response data for each group.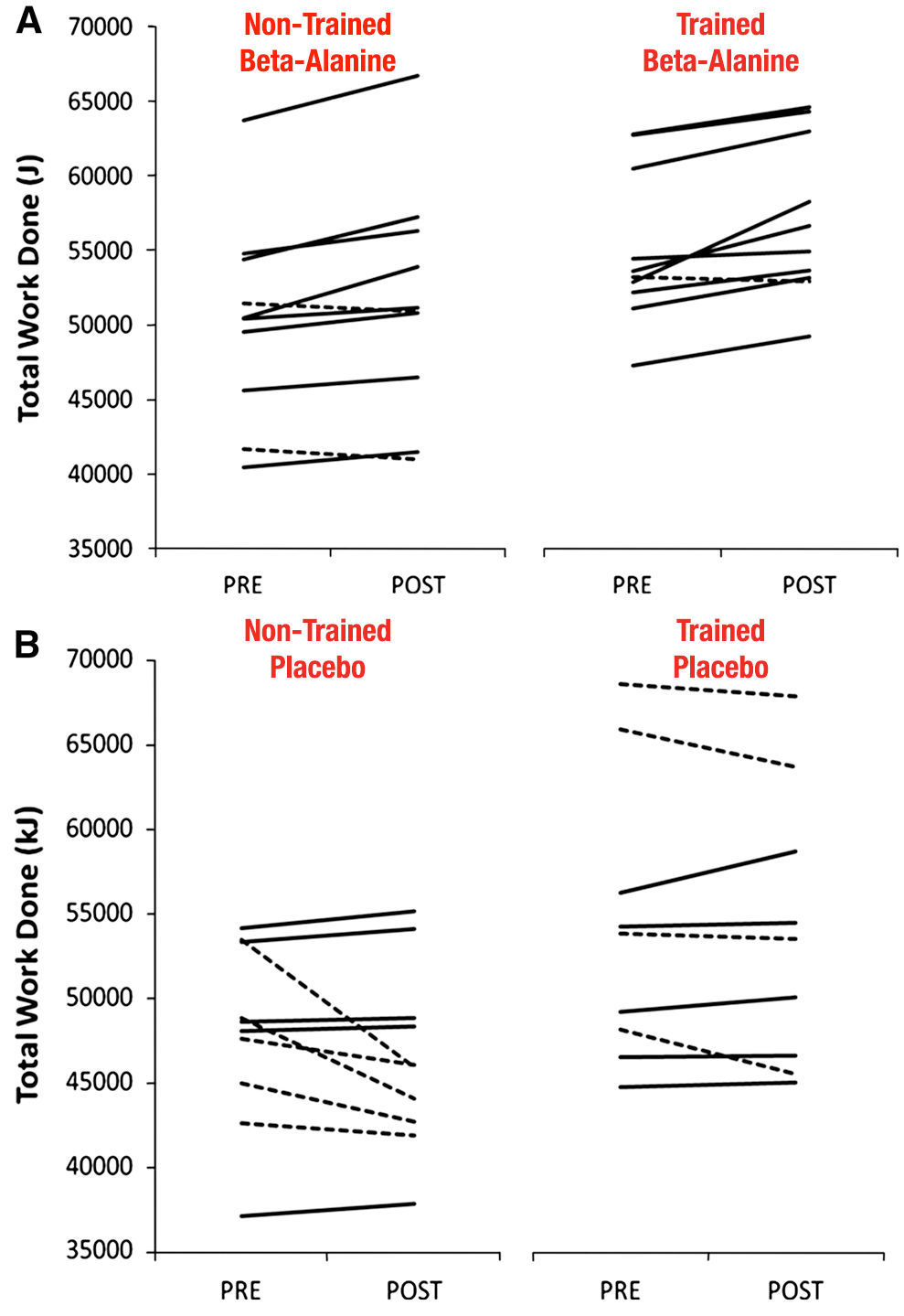 The graph clearly shows the positive superior response in subjects receiving beta-alanine versus placebo.
Another common way of measuring performance in cycling is via power production in watts. The graph below shows the results for each group. The white bars show the pre-supplementation values, while the black show post-supplementation.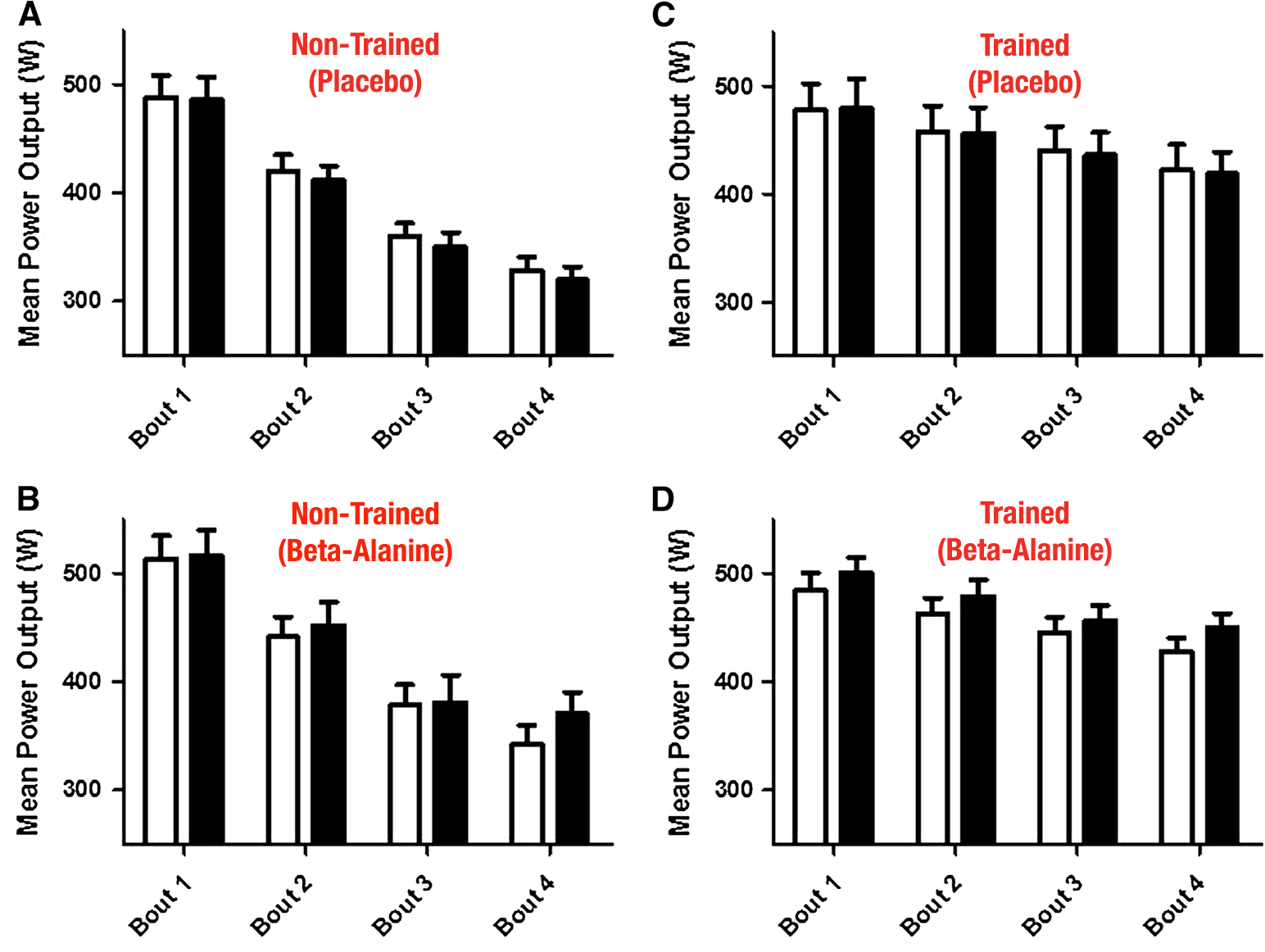 When trying to explain their findings compared with similar previous studies that showed equivocal results, the authors suggest that the protocols employed in these studies may not have used exercise tests of sufficient intensity or duration to be influenced by decreased intramuscular pH (i.e. increased muscle acidity). Alternatively, previously used tests may have been susceptible to pacing strategies, thus masking any ergogenic effects of increased muscle buffering capacity.
In any case, the findings of this study provide yet further encouraging evidence of the positive role a course of beta-alanine (as short as 4-weeks) can have on supra-maximal and/or high-intensity intermittent exercise performance in elite/high-trained athletes.
If you have used beta-alanine in the past, with less-than –optimal results; try upping your daily dose to over 6g and make sure you take it every day. Taking the right dose day-in day-out can make a big difference to beta-alanine's effectiveness.
de Salles Painelli V, et al. Influence of training status on high-intensity intermittent performance in response to b-alanine supplementation. Amino Acids. 2014;46:1207-1215.