Best Womens Protein 2018
No matter what your goal is, having adequate levels of protein are essential for health. Consuming protein shakes is a great way for women to get more nutrients in their diets. There are increasing number of women who are looking for a good protein shake to get toned, lose weight, improve physique as well as improving overall health. To make it easier for women to make an informed decision in choosing the best protein shake we've compiled a list of the best women protein shakes in Australia. Keep reading on for further details.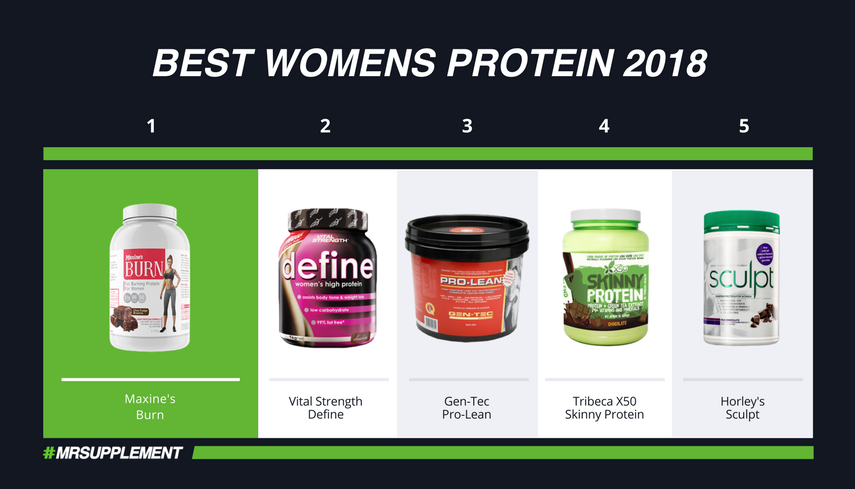 #1. Maxine's Burn Protein Shake
Maxine's is one of the best women supplement brands in Australia. Maxine's Burn Protein Shake utilises a blend of protein that is low in carbs and fat which is what most women want. With added carb blockers and fat metabolisers like green coffee extract and L-carnitine, Maxine's Burn Shake is also classified as a thermogenic protein to help women lose weight and support fat loss. No matter what your goal is, Maxine's Burn Protein is a versatile product that can be used as a snack, post-workout or as a meal replacement.
#2. Vital Strength Define
Specifically designed for women, Vital Strength Define is a strong contender in the women's protein category. With over 75% of protein, the blend includes a mixture of whey protein concentrate, soy protein isolate, and whey protein isolate as well as amino acids to assist with muscle repair. The blend contains additional vitamin, minerals, less than 100 calories per serve and fat burning ingredients to reduce appetite and inhibit fat storage. For busy and active women, Vital Strength Define will support your fitness goals and provide the nutrients to make you feel and look great.
#3. Gen-Tec Pro Lean
Taking the number 3 spot is Gen-Tec's Pro Lean. Pro Lean is a well-rounded protein that provides all the essential nutrients you to need to help you achieve your fitness goals. Gen-Tec uses a high-quality blend of whey isolate, whey protein concentrate and slow digesting casein to boost muscle gains. This is an advanced formulation that can be used as a meal replacement. Additionally, the blend has added colostrum to support gut and immune health as well as essential mineral chromium to lower sugar levels and suppress your appetite.
#4. Tribeca X50 Skinny Protein
Containing a premium protein blend with over 24 vitamins and minerals, Skinny Protein is perfect to use to restore energy and reduce muscle fatigue especially after a workout. On top of this, Skinny Protein has added green tea extract and acetyl-l-carnitine to enhance fat burning and increase energy. The blend also includes digestive enzymes for better absorption. The shake tastes delicious and does not leave clumps when mixed with water or milk. For those who don't like strong tasting protein powders, Skinny Protein's flavour isn't too overpowering.
#5. Horley's Sculpt
Horley's Sculpt is a high protein shake that is formulated to support your health and fitness goals. Sculpt delivers high quality protein from grass-fed whey and includes a comprehensive vitamin complex for complete nutritional support. Horley's Sculpt also contains fat burning ingredients like hydroxycitric acid that can suppress appetite and inhibit fat production. The blend mixes easily, has good texture and the flavours aren't overly sweet. For those who are wanting to manage weight and improve muscle tone, Horleys Sculpt is the option for you.
Notable Women's Proteins of 2018
Although we have compiled our list of best women's protein, there are other alternatives that come close. These include: FitMiss Delight and ASN's Ladies Dream Protein.
FitMiss Delight is a nutritionally sound women's protein that is extremely low in calories, fat and sugar
ASN Ladies Dream Protein is a 100% hydrolysed whey protein that is lactose free and contains no gluten which is perfect for those who have allergies with dairy or gluten