In the past few years, the supplement industry has really woken up and taken note of the increasing number of women who are looking to supplements to enhance their training, physique, and overall health. Protein powders are one of the most popular nutritional supplements on the market, and there are some  great options out there for women, which are increasing in number daily.
Women & Protein

Protein has been sold to men to bulk up and build muscle for many years, but protein has a number of benefits for women too. Many women do not obtain sufficient protein from their diets. This can be due to many reasons, which include busy lifestyle, poor food choices, and strict weight loss regimes. Protein is an essential macronutrient, and most women should aim to consume between 0.7 and 1g of protein per kilogram bodyweight per day. Women who exercise heavily should look at increasing this number even further.
Best Protein Powder for Women - Weight Loss

For many women, a slim, toned physique is the ideal. Protein powder can not only help with the development of long, lean muscles, but it can also assist in weight loss in a number of ways. Protein promotes feelings of satiety which can help control appetite. Protein has a high thermic effect, which means our body expends a significant amount of energy digesting protein, compared to other macronutrients. In addition, protein helps build and maintain muscle, which burns more energy than fat, increasing the metabolism in the long term. A high protein diet is a great, and increasingly popular choice for weight loss.
Best Protein Powders for Women

Let's have a look at the best women's proteins for 2015.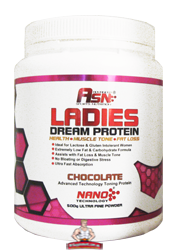 5. ASN Ladies's Dream Protein

Simple, high quality and effective, ASN has distinguished  themselves from the competition with Ladie's Dream Protein. While many products aimed toward women use cheaper proteins, like soy, and are heavy on space-filling carbohydrates, Ladies's Dream Protein is made up of 100% hydrolysed whey, including peptide isolates. Whey hydrolysate is pre-digested for easy, super fast absorption, and unlike proteins based on whey concentrate, this ultra pure protein has next to no lactose, so it is suitable for women who experience symptoms of lactose intolerance. Women who are serious about getting high quality, fast acting protein without the bells and whistles.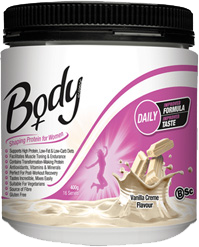 4. BSc Body

BSc Body is based on a blend of ultra purified cross filtered whey protein concentrate and isolate, combined with soy protein isolate, a pure soy protein that has a biological value similar to whey. Bsc are known for their very comprehensive products, and Body is no exception, featuring fibre for appetite control, omega-3 fatty acids and vitamins and minerals, making this product suitable as a meal replacement. These sit alongside a blend of some of the best fat fighting ingredients, including L-carnitine to metabolise fatty acids, thermogenic green tea extract, and hydroxycitric acid from Garcinia cambogia, and guarana and caffeine provide an energy boost. Bsc Body is a great addition to the diet of any woman looking for a better body.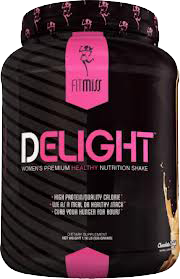 3. FitMiss Delight

MusclePharm, one of the biggest and best known supplement companies launched FitMiss, their women's range, to much accolade. The FitMiss range concentrates not just on weight loss or  performance, but supports overall health, and is the perfect addition to the demanding life of an active woman. Fitmiss Delight, like MusclePharm's Combat, is based on a protein blend with a spectrum of activity, featuring fast acting, high quality whey isolate, longer lasting egg protein, and casein, which digests over hours for lasting satiety. In addition, FitMiss features extra BCAAs for muscle recovery, and Solathin, a protein which is one of the newest and most exciting weight loss products on the market. The best feature of FitMiss, however, is the inclusion of an all natural fruit and vegetable blend, full of natural vitamins, minerals and antioxidants. This is a great and innovative product for women interested maximising fitness, weight loss and health.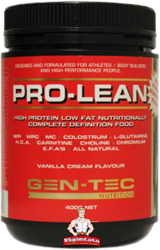 2. Gen-Tec Pro Lean

Pro Lean is a product which has been formulated using the latest ressearch. Not only containing a high quality blend of whey isolate, ultrafiltered and fractionated whey concentrate and slow digesting casein, Pro Lean also contains colostrum, a dairy protein which has been proven to support immune and digestive health. Low in fat and sugar, Pro Lean packs L-carnitine to supercharge the metabolism and Garcinia cambogia to burn off fat fast. On top of this, essential fatty acids maintain overall health and L-glutamine supports immune function, which can suffer during dietary restriction. The fact that this is one of the best value women's protein supplements on the market makes Gentec Pro Lean a serious contender for the number one spot.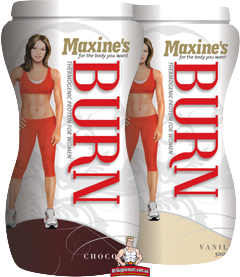 1. Maxine's Burn Protein

Maxine's is the sister company of top Aussie supplement brand Max's, who are known throughout the industry for their top quality, great tasting and above all, effective products. It is no surprise that Maxine's burn is the at the top of the women's protein market. Featuring a blend of whey isolate, ultrapure whey concentrate featuring active peptides, and slow resease casein, Maxine's protein blend is both fast acting and long lasting, to control appetite and build long, lean muscles.  Although Burn clocks in at a super impressive 85% protein, the formula manages to pack in a full complement of vitamins and minerals, as well as an array of scientifically proven fat loss ingredients, including energy boosters, carb blockers, and  fat metabolisers. This is easy to do when the product contains next to no fat or carbohydrate. Burn is a very versatile product and is great for breakfast on the go, after a workout, between meals as a snack and with a full complement of vitamins and minerals, even makes a great meal replacement. The Maxine's Burn range has a lot going for it, but one of the biggest attributes is the taste. Burn comes in Chocolate, Strawberry, Vanilla and Choc Latte flavours that taste so good that you'll enjoy working toward the body of your dreams.
Notable Womens Proteins of 2015
A few womens protein just missed making the list for this year, but they're still decent protein powders which are worth a mention, including:
With this extensive list of some of the best ladies and womens proteins around, you'll be sure to find the right product for you in 2015.