Best Women's Protein 2016
It's no secret that your average female doesn't want to look like Arnie. What they do value most, however, is the toned look. For this reason most female-specific proteins come with added actives that are designed to heighten fat burning and boost metabolism. Women are also more inclined to want natural products than their male counterparts, which makes natural alternatives more commonplace in women's proteins.
In this article we'll take a look at some of the women proteins we expect to be popular in 2016.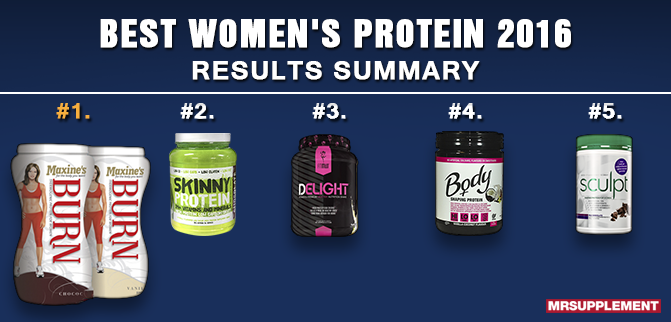 1. Maxines Burn
Maxines Burn has been one of the leading women's proteins for several years running. Reasons for this are multiple, but being one of the first women-specific on the market was a factor together with its unique pack design. But its great formulation and taste is also a key factor. Its contains a great complex of carb blockers, fat burners and fat metabolisers that are combined with a quality protein and vitamin/mineral blend. All being well Maxines Burn should continue to hold its strong position in the women's protein category into 2016.

2. Skinny Protein
Skinny Protein is one of the newer kids on the block in the women's protein category. It's name and natural looking design is probably the first thing that appeals to your average female customer. But beyond that the product has some nice features such as added acetyl l-carnitine, schizandra extract and an impressive array of digestive enzymes that give it some substance beyond its looks. Skinny Protein is made by Tribeca - the same folks that make the best-selling green tea supplement X50 – so they have a good idea how to make good supplements. With these factors working in its favour, we expect sales of Skinny Protein to increase into 2016.

3. FitMiss Delight
FitMiss Delight is arguably one of the most complex women's protein powders available. It contains a vast array of ingredients that covers not only protein but greens, fruit extracts, digestive enzymes and women-specific vitamins and minerals. FitMiss are able to jam so much into the product by simply reducing the overall protein content per serve. At 16g per serve, Delight contains  significantly less protein than your average women's protein. But a strong argument can be made that more than 20g of protein per serve is unnecessary, particularly for women. Aside from this, the other factor that sets this product apart is how good it looks. It's fluoro pink highlights contrasted with the black make for a contemporary sharp and strong female design. It's important not to underestimate how much of an influencing factor aesthetics and design can have on a brands appeal. Expect Delight to feature in 2016.


4. BSc Body Shaping Protein
Body Shaping Protein is another well formulated female-specific protein that offers a lot of value-add. While it comes with a lot of the features of other women proteins such as multiple protein sources and vitamin/minerals, it's other key feature is that it is naturally sweetened and flavoured and comes with a dash of essential fatty acids (in the form of chia oil powder). Being available in 4 different flavours is another important selling point. With this great list of features, we have every expectation that Body Shaping Protein will continue to be a good seller in 2016.

5. Horleys Sculpt
These days Horleys Sculpt is looking even sharper with its new pack design that introduced some very classy metallic elements. The formulation also received a makeover in the form of a natural conversion, with it now containing only natural colours and flavouring. The last thing to change was the addition of green tea. These changes have only served to strengthen the products offering and position in its category. Expect to see Sculpt hold its top place in the women's protein category as we head into 2016.
Women's proteins are a blossoming segment of the protein category as more and more women learn about the importance of regular protein in optimising response to a given fitness regime or diet. Designed and marketed specifically for women, its only natural that this category will prove to be more popular as the popularity of protein powder supplements continue to grow.