Whey protein is by far one of the most popular sub-categories within the wide world of protein supplements. It is super versatile and can be used by trainers and non-trainers alike wanting to boost their daily protein intake, often without the addition of excess carbs and fats. Whey protein powders hasn't changed much over the course of 2015, with many new releases being of a similar blend of whey protein isolates, concentrates and hydrolysates. 2016 will see the category stay relatively stable with no major changes, but literally hundreds of whey protein powders available, it can still be hard to pick the best one for you. Luckily, we've done the hard work for you and have picked the top 10 best whey protein powders of 2016. This list will focus on all purpose blended whey proteins as we already have special lists on mass gainers, WPI's and other protein types. Let's see what's made the list in 2016: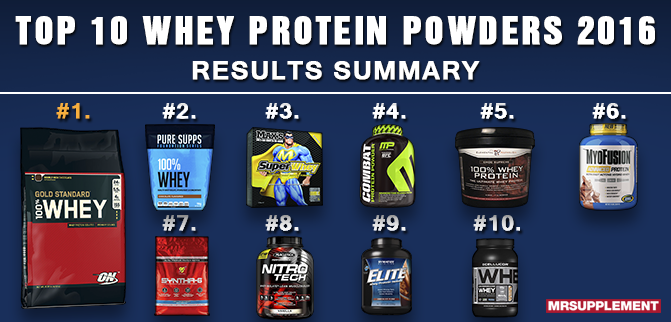 #1. Optimum Nutrition Gold Standard 100% Whey
The world's best selling whey protein, Optimum Nutrition's Gold Standard 100% Whey is still one of the best blended whey proteins around. If you're after high quality whey protein, you can trust Optimum Nutrition to provide it, thanks to their backing by Irish dairy conglomerate Glanbia. Gold Standard 100% Whey is a simple blend of whey protein isolate, concentrate and hydrolysate that is available in the widest selection of flavours on the market for any protein powder. Their taste has improved dramatically over the last few years and you really can't ask for anything more from a protein powder. It's continued superior formula and plentiful flavour choices makes it one of the best whey protein powders of 2016, although it should be noted that any of these top 10 choices are ideal solutions for someone wanting a good blended whey protein.


#2. Pure Supps 100% Whey
Although still a relatively new company on the market, Pure Supps is fast becoming one of the most popular supplement companies if you're after quality, but economical protein powders. Their standout would have to be their 100% Whey, which is made from a professional blend of Crossflow Cold Microfiltered and Ultrafiltered Instantised Whey Protein Isolate, Low Temperature Ultrafiltered Whey Protein Concentrate and Hydrolysed Whey Protein Peptides. Each serving of 100% Whey is also bolstered with additional leucine, glutamine and a comprehensive range of essential vitamins and minerals. All in all, Pure Supps 100% Whey is a standout, cost effective formula and our picks for one of the best whey proteins on the market for 2016.
#3. Max's Superwhey
Max's has had a resurgence in their popularity in the past few years thanks to their Max's Muscle Up Challenge, which has resulted in a number of new products being released from them including protein powders, fat burners and pre workouts just to name a few. Having gone through a slight reformulation in recent years, Super Whey is still one of the best blended whey proteins in their range and in the market and has actually improved upon the original. Each serving of Super Whey is now packed full of high quality protein with even more leucine than ever; the main amino acid involved in muscle building. As one of the tastiest whey proteins around, Max's Super Whey is still one of your best options if you want to supercharge your gains.


#4. MusclePharm Combat
MusclePharm is a company that is constantly focused on innovation and new product releases to keep in line with the trends. With more than a dozen products released in 2015, Combat is still one of their best sellers and for good reason. It is one of the first blended proteins that included more than just whey protein and combined it with casein and egg protein along with added BCAAs and other amino acids. If you were considering an everyday protein that will feed your muscles for hours, Combat is the delicious powder that will do that job and is still one of the best whey proteins on the market in 2016.

#5. Elemental Nutrition 100% Whey
Another excellent Aussie brand, Elemental Nutrition made a name for itself with the introduction of its game changing HGH and Massive Muscle Fuel formulas, which has led the charge in the natural GH booster and test booster categories. Their 100% Whey is an ultra clean formula that utilises a blend of whey protein isolates, concentrates and hydrolysates along with added leucine. It's the ideal taste and formula alternative to Optimum Nutrition's Gold Standard Whey, albeit slightly more economical. If you want a top notch, no frills protein that gives your muscles all it needs to grow, you can't go past the Elemental Nutrition 100% Whey.

#6. Gaspari Nutrition MyoFusion Advanced
As one of the tastiest formulas in the list, Gaspari MyoFusion Advanced is the fourth version of the popular Myofusion series and is still just as tasty. Mixing into a creamy shake, each serving of Myofusion Advanced provides a high quality blend of a range of different protein types including whey protein concentrate, milk protein concentrate, whey protein isolate (WPI), micellar casein, which provides your body with a nice, sustained release of amino acids so that you're building muscle for a longer period of time. Gaspari may have had a few issues in the past year, but they're back and stronger than ever, leading the charge with Myofusion Advanced.
#7. BSN Syntha-6
Still one of the greatest proteins around, BSN's Syntha-6 tends to scare off a few trainers due to its higher carb content than most blended whey proteins. However, this is what makes it an ideal protein that helps more advanced trainers who have more intense workouts. The carbs are exactly what's needed to help you recover and support energy levels after your workouts. Syntha-6 is another creamy, delicious shake and also utilises a blend of different proteins to provide a more sustained supply of amino acids. Syntha-6 has remained in the top 10 consistently over many years and will no doubt continue to do so for many more.

#8. Muscletech Nitro Tech
Muscletech have had a very busy 2015, especially towards the end of the year where they've decided to launch a number of different products, many of which use Nitro Tech as a base formula. Nitro Tech is a versatile and popular protein that is really two supplements in one; a protein powder and creatine, making it an ideal solution for trainers wanting to boost their gains even further. Nitro Tech simplifies the process so that you don't need to get two supplements and can simply get your required creatine through one serve of the protein. If building more lean muscle is on your agenda, you can't go past Muscletech's Nitro Tech.

#9. Dymatize Nutrition Elite Whey
One of the few gluten free blended whey proteins, Dymatize is another powder that is very pure and only relies on three types of protein including whey protein isolate, concentrate and whey peptides. Elite Whey doesn't use artificial sweeteners and also includes a range of added enzymes to help you absorb all the nutrients in the protein even better. It's a simple, delicious protein and is one of the best options if you want a good, clean whey to support recovery and growth.


#10. Cellucor COR Performance Whey  
Another super simple blended whey protein, Cellucor COR Performance Whey provides plenty of protein and little else. It mixes extremely easily and comes in a variety of delicious flavours including more gourmet ones such as Red Velvet Cake and Peanut Butter & Marshmallow. It's a high quality product with plenty of protein and very little fault and rounds out our top 10 list of the best whey proteins in 2016.


Notable Whey Proteins of 2016
It's safe to say that any of the above proteins would be a good supplement to include in your stack. Due to the limited number of spots, many excellent proteins have missed out, but are definitely worth mentioning including:
With this extensive list of some of the best all purpose whey protein blends of 2016, you'll have no reason not to be growing and recovering faster this coming year.