Top 10 Best Whey Proteins of 2015 - Review
Whey protein is one of the most popular and important sports and health supplements around and is beneficial for a range of populations and provides a large range of benefits. Whether you're a professional athlete, an avid trainer, a couch potato or even in your twilight years, whey protein supplements and protein powders can be useful. A good protein powder can help you build lean muscle, bulk up, lose weight and fat, enhance recovery and improve quality of life just to name some of its many benefits.
However with literally hundreds of whey protein powders around and more being released each year, how do you go about choosing the right one for yourself and your goals? Luckily for you, we know a lot about protein and have come up with 10 of the best whey protein powders of 2015. This list will only concentrate on blended all purpose whey proteins, but we've also got lists on other proteins types such as Mass Gainers, WPIs (Whey Protein Isolates) and Natural Proteins just to name a few. So let's see which products have made our list for this year.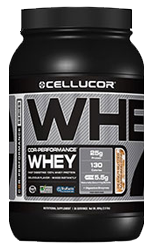 10. Cellucor COR Performance Whey

As one of a rare few gluten free blended protein powders, Cellucor's COR Performance Whey is perhaps the company's second most popular product behind C4 Extreme. It's a super simple whey protein featuring only whey protein isolate and whey protein concentrate and is an excellent fast acting protein to help kick start muscle recovery and muscle building right after your workout. It's also one of the best tasting protein powders around with a large range of traditional and gourmet flavours such as S'mores and Peanut Butter Marshmallow.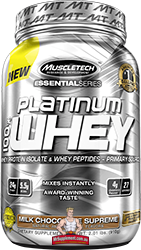 9. Muscletech Platinum Series 100% Whey

MuscleTech have also been a premium brand manufacturing very complex supplements. Recently they have decided to take a back to basics approach with their Platinum Series. It is no secret which protein powder Platinum 100% Whey is targeting. It has an ingredient list very similar to its direct competitor but it has the notable difference of being thicker and milkier in texture.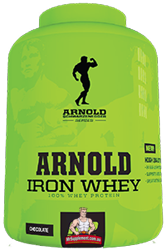 8. MusclePharm Arnold Series Iron Whey

Having been released for just over a year, MusclePharm's Arnold Series Iron Whey has slowly risen up the ranks as one of the most popular proteins being sold. The Iron Whey is not as innovative as its mass gainer counterpart; Iron Mass, but it still provides a good dose of whey protein isolate, concentrate and hydrolysed whey protein along with added amino acids. The powder dissolves easily with a thick texture and should please trainers wanting a good protein to help with lean muscle gains.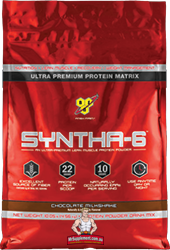 7. BSN Syntha 6

BSN's Syntha 6 is another one of those popular proteins that have stood the test of time amidst a plethora of strong and formidable opponents. Besides being one of the best tasting blended protein powders on the market, Syntha 6 is not afraid to pack in a good dose of carbohydrates to help with recovery. Also with a variety of protein sources, from slow to fast digesting, Syntha 6 is super reliable and has earned the respect of countless trainers in the past and will no doubt earn the respect of countless trainers in the future.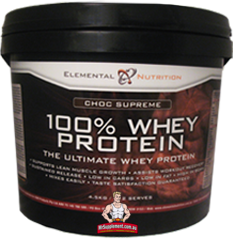 6. Elemental Nutrition 100% Whey

Another excellent Aussie brand, Elemental Nutrition have forged a massive following thanks to their testosterone and HGH support supplements; Elemental Nutrition Massive Muscle Fuel and Elemental Nutrition HGH respectively. Since its release back in 2013, Elemental Nutrition's 100% Whey is one of the best alternatives to Optimum Nutrition's 100% Whey, albeit a tastier blend. Still containing whey protein isolate, concentrate and hydrolysed whey protein, Elemental Nutrition's 100% Whey provides you with everything vital that your muscles need to grow, but without costing you an arm and a leg.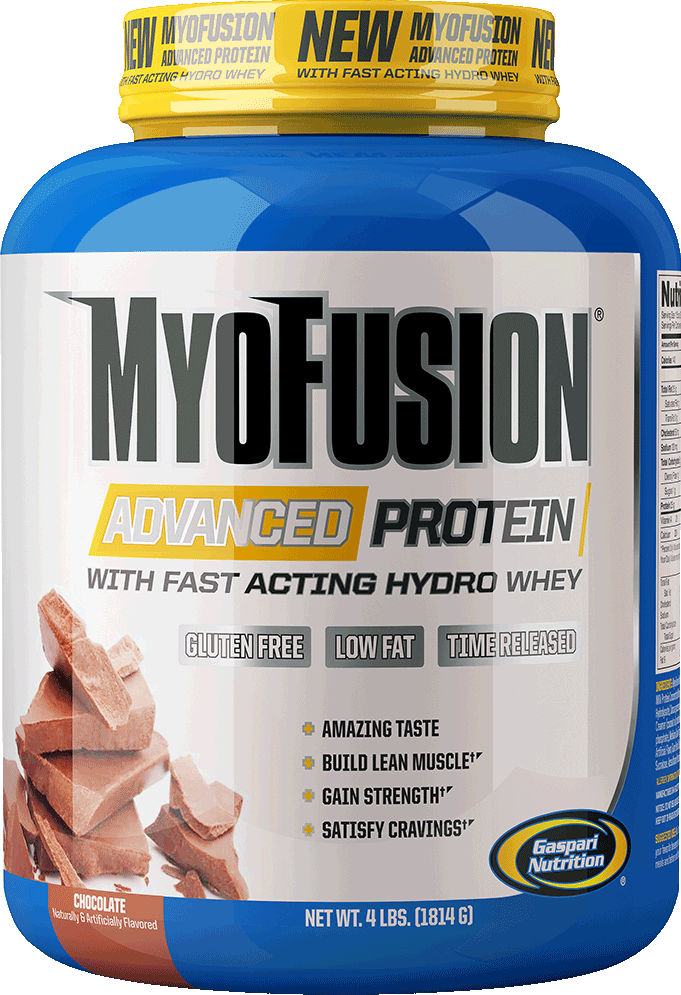 5. Gaspari Nutrition MyoFusion Advanced

Released only late 2014, Gaspari Nutrition's Myofusion Advanced is the eventual replacement for MyoFusion Elite and the fourth incarnation of their flagship Myofusion protein series. One of the most popular proteins of all time, Gaspari Nutrition's new Myofusion Advanced gets back to basics by removing additional amino acids and just focusing on whole sources of protein including whey protein concentrate, milk protein concentrate, whey protein isolate (WPI), micellar casein, and whey protein hydrolysate. What you get is a range of speeds of amino acid delivery to your muscles, helping you to stay in an anabolic (muscle building) state for longer.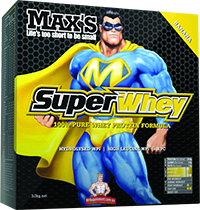 4. Max's SuperWhey

Max's is an institution in the Australian supplements industry and are still as relevant as ever thanks to the growing popularity of their Max's and Maxine's Challenge over the last couple of years. Having released a range of new products mid 2014 and with plenty more new products to come, one of their best products still is their blended protein Super Whey. Now with even more leucine; the important branched chain amino acid that stimulates muscle growth; Max's Super Whey is still one of the best blended whey proteins you can buy. There's a reason why Max's has been around for over 2 decades and it's because of the continuing premium quality of their products.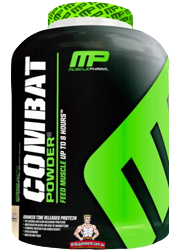 3. MusclePharm Combat

MusclePharm is a company that is constantly on the move. In the past year, MusclePharm has capitalised on their Arnold Release with even more product releases including a huge new line of Combat Series or Hybrid Series products along with a completely new Sport Series. MusclePharm's Combat Protein Powder is also a tasty, all purpose blended protein which provides you with 5 excellent types of protein to help you build muscle throughout the day or after your workouts. The powder mixes smoothly and is a more liquid shake, so you can chug it down when your thirsty or just sip at it throughout the day. Regardless, you can rest easy knowing you're drinking one of the best proteins on the market.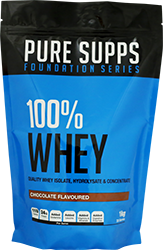 2. Pure Supps 100% Whey

Pure Supps is one of the newest Australian supplement companies to hit the market and since being launched late 2014 have brought out an excellent range of high quality and cost effective supplements. One of the company's flagship products has to be their 100% Whey protein powder. The supplement is made from a professional blend of three different types of protein including Crossflow Cold Microfiltered and Ultrafiltered Instantised Whey Protein Isolate, Low Temperature Ultrafiltered Whey Protein Concentrate and Hydrolysed Whey Protein Peptides. In addition, Pure Supps 100% Whey also contains added leucine, glutamine and a full spectrum of vitamins and minerals. With it's economical price and standout formula, Pure Supps 100% Whey is one of the best blended whey proteins of 2015.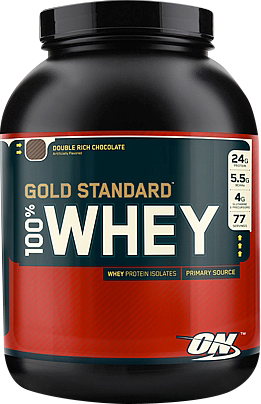 1. Optimum Nutrition Gold Standard 100% Whey

Optimum Nutrition's Gold Standard 100% Whey is a behemoth in the supplement industry and it doesn't look like it'll be losing its stronghold any time soon. Having changed and improved its flavour profile in the past year, Optimum's 100% Whey is really everything you can ask from a protein powder. Backed by dairy giant Glanbia, Optimum's 100% Whey provides some of the highest quality whey proteins you can hope to find to assist with your gains. With more flavours than you can poke a stick at, trainers are definitely spoiled for choice when it comes to this supplement. While it's true that any of the proteins in this top 10 list are worthy of becoming your everyday protein supplement, we just couldn't go past the perfect scorecard that Optimum Nutrition's Gold Standard Whey has had over the years, and this is why it is our pick for best protein of 2015.
Notable Proteins of 2015
As was the case in previous years, picking a top 10 list of products from a category with literally hundreds of options was a hard task and many excellent proteins missed out including:
Now that you know which proteins are some of the best for 2015, you've got no reason not to be making some serious gains throughout the year.