Top 5 Best Vegan Protein Powders of 2016
Vegan proteins are growing in popularity thanks to an increase in the number for vegan and vegetarian trainers hitting the market. While most vegetarian's will often consume dairy proteins, many are slowly making the change to vegan proteins, which can be just as good and support recovery and muscle building processes just as well. Vegan proteins or plant based proteins are any protein powders that avoid the use of any meat or dairy. There are many choices on the market and the range is constantly growing. To help you pick the right one for your needs, we've picked the top 5 best vegan proteins on the market in 2016.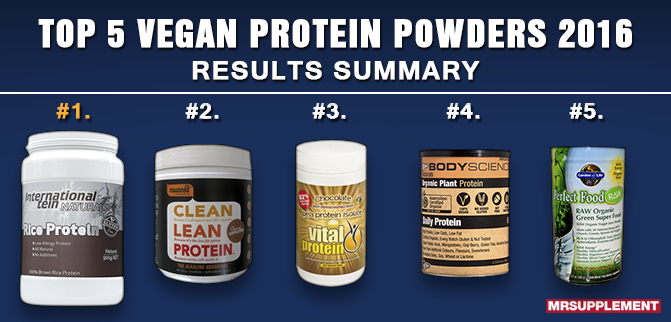 #1. International Protein Naturals Range
If you want a pure, natural protein source free from anything artificial, you can't go past the vegan protein powders from the International Protein Natural's range. They have three protein powders on the list including International Protein Naturals Soy Protein, Rice Protein and Pea Protein. Each of the products have a natural flavour which is free from any artificial flavours, colours and sweeteners making it the ideal choice for those who just want a high protein supplement without any fillers or anything extra. It's a top of the line protein series and our pick for the best vegan proteins of 2016.

#2. NuZest Clean Lean Protein
One of the most popular pea proteins on the market, NuZest Clean Lean Protein is exactly as its name suggests. It's gluten free, lactose free, GMO free and made with natural flavours and sweeteners. Praised for their dedication to sustainable protein sources, NuZest have created a fantastic high protein, low carb and low fat product that will be absorb and digest quickly to provide your working muscles with all the nutrients it needs to recover and grow faster.


#3. Vital Pea Protein
Another popular pea protein powder, Vital Pea Protein is very similar to NuZest Clean Lean Protein. It's also gluten free, lactose free, GMO free, which is also free from anything artificial. It's a clean protein that can easily be incorporated into smoothies and recipes, or perfect by itself. Vital Pea Protein is over 80% highly bioavailable protein and is one of the best vegan proteins you can get in 2016.


#4. BSc Naturals Organic Plant Protein
BSc Naturals Organic Plant Protein is a premium blend of wide selection of protein sources including brown rice, pea, amaranth, quinoa, buckwheat, millet and chia. The protein powder is gluten free, nut free and also free from artificial colours, flavours and sweeteners. Although the flavour does take some getting used to, it's a super clean protein that is very low in allergens and has the BSc quality assurance stamp so you know you're getting premium product without the premium cost.

#5. Garden of Life Range
One of the best known organic and vegan supplement companies in the US, Garden of Life make a variety of different protein powders and supplements to suit your needs. Whether it's RAW Organic Protein for fitness enthusiasts to Organic Plant Protein for everyday healthy living to RAW Fit for those wanting protein and fat loss ingredients in the one product, Garden of Life has a product for you. With the majority of their products certified organic and versatile enough to be used by itself, in cooking and in smoothies, Garden of Life protein powders are a great choice, whatever your goals are and rounds out our list for 2016.
Best Vegan Protein Powders of 2016
With more and more vegan protein powders popping up in the market, it's going to get harder going through and picking the right supplement for your needs. Don't get caught out in 2016 and use our list to help you decide on the best vegan protein to buy this year.