Best Vegan Protein Powder
The market for vegan protein powders might be larger than many people think. Whether it is due to the potential of a vegan diet to come up short on protein, intolerance to milk-based proteins like whey and casein, or the growing number of people out there proving that you can get big eating plant based foods - The vegan bodybuilding movement is picking up steam every day - interest in vegan protein in growing, and there are a number of products out there catering to this market.
Vegan protein is extracted from a number of plant-based sources and the main ones are Soy, Rice and Pea. Each of these have their pros and cons, and it is common for people to develop a strong individual preference toward one or another of these for a number of reasons, including taste, digestibility, and versatility. Let's have a look at some of the best vegan proteins on the market.
Soy Protein
Soy is not only a complete protein, but one of the best quality protein sources out there, with a digestibility and distribution of amino acids that puts it on par with the best and most bioavailable proteins out there, like whey, casein, and egg protein. It is also cheap compared to these other sources.
There are, however, many reasons that people choose to avoid soy. Soy intolerance, resulting in digestive symptoms is not uncommon, and it can be an allergen. In addition, soy has been subject to some bad PR. Some people carry unfounded fears that soy can reduce testosterone levels, while others object to the crop for political reasons. Regardless, many people enjoy soy protein and it is probably the most nutritionally complete vegan protein option available, with very high levels of BCAAs and glutamine. Here are some of the best out there.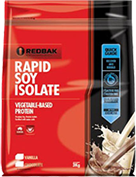 Redbak Rapid Soy Isolate is a very well formulated protein designed with lean muscle growth in mind. It comes in at more than 80% protein and contains minimal carbs and fat. Redbak have fortified this popular product with vitamins, minerals, and muscle building amino acids glutamine and taurine, which gives it an edge over a lot of vegan proteins on the market for people interested in putting on bulk, rather than just supplementing dietary protein levels.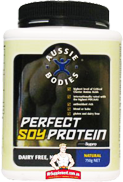 Aussie Bodies Soy Plus is another great soy option, and contains a number of additions that boost growth, recovery, and overall health, like vitamins and minerals, glutamine, omega-3 rich flaxseed oil and medium chain triglycerides. As in Redbak Rapid Soy Isolate, the protein fraction in Aussie Bodies, is free from genetically modified soybeans, and is hydrolysed for optimal absorption. Aussie bodies contains low GI carbs to promote nutrient absorption, and comes in at a respectable 72.5% protein.
Pea Protein
Pea Protein is probably the next most popular vegan protein after soy. It is a rich protein source that is high in essential amino acids, and many people make the move from soy to pea protein because it tends to be less allergenic and easier on the digestive system. Pea protein has a rich, thick texture which many people enjoy, and it has been used as a low fat, high protein filling agent in some weight loss proteins. Unflavoured varieties are very easily incorporated into food, including baked goods. Pea protein does not have as good a spread of amino acids as soy or dairy proteins, but many companies are employing manufacturing techniques that maximise the digestibility and biological value of this protein, and it is emerging as a serious challenge to soy.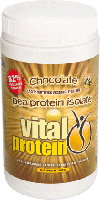 Vital Protein Pea Protein Isolate is one of the best known pea proteins available. The product contains 82% protein, which the company claims is extracted through a unique and patented enzymatic process that maximises digestibility and availability of the essential amino acids. Vital's Pea Protein isolate comes in a number of flavours, all of which contain zero carbs and just over 1% fat, which makes this an ideal product for lean gainers. It also comes in an unflavoured version, containing nothing but pea protein, which can be combined with absolutely anything, making it one of the most versatile products on the market.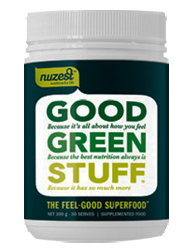 Nuzest Clean Lean Protein is one of the purest vegan protein sources available, topping the pack at 96%. Like Vital Protein, Nuzest use a specialised enzyme-based extraction process to ensure that Clean Lean is optimised for bioavailability, and manufacture this product in a flavoured variety for drinking on its own, and a versatile natural version which is a great to thicken a stew or bake into a vegan protein bar. Clean Lean complements other products in the Nuzest range - try taking a breakfast smoothie of Clean Lean protein and Good Green Stuff which is a feel good superfood & you may have radiating health for the whole day.
Rice Protein
Rice Protein is probably not as well established on the protein supplement market as soy or pea, but it has advantages that have seen it gain increasing traction of late. Rice can have a strong taste which some people actually find quite pleasant, and this protein well known for being hypo-allergenic and incredibly easy on the stomach, making it a great option for the significant number of people who have side effects from consuming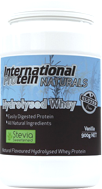 other types of protein. As far as the plant-based proteins go, rice has a lower bioavailability than pea and soy, and does not contain a complete spread of necessary amino acids, meaning that it is necessary to obtain these from another source. The amino acid spread in rice protein is an excellent complement to those in pea protein, and mixing these two proteins results in a blend with a biological value as good as soy or dairy.
International Protein Natural Rice Protein is almost pure protein, containing no fat, and less than a gram of carbs in each serve. The protein is isolated using what the manufacturers describe as a "Raw Food" technique, which should be great news to anyone on a raw food diet looking to up their protein levels. International Protein have decided to keep their Natural Rice Protein unflavoured, which means it is versatile enough to add to food, drink, or mix with other protein sources.