Best Tasting Mass Gainer Protein
With bulking season fast approaching, it's time again to break out the mass gain and bulking protein powders and muscle our way through endless shakes to help gain some serious, quality lean muscle before your next cut. For those of you who've gone through a bulking phase, you know how important a good tasting mass gainer can be in helping you achieve your goals. And for those who are bulking for the first time, well now you know.
While the quality of the mass gainer protein powder is by far the most important aspect in choosing the right bulking supplement; you'll be pretty miserable if you somehow ended up with something that tasted like it came off the floor…after rolling in some dirt. So keep reading and find out the 10 best tasting mass gainers on the market in no particular order.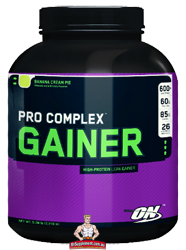 10. Optimum Nutrition Pro Gainer

Formerly known as Optimum Nutrition Pro Complex Gainer, this bulking protein powder is available in four delicious and classic flavours including vanilla, chocolate, strawberry and banana. As one of the most reliable mass gainers on the market, Optimum Nutrition's Pro Gainer is ideal for those wanting leaner gains or those who find they can gain weight quite easily. Surprisingly tasty for its relatively high protein percentage.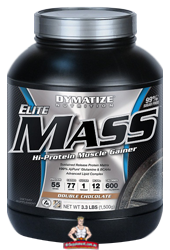 9. Dymatize Nutrition Elite Mass

Dymatize Nutrition Elite Mass is one of three mass gain protein powders from Dymatize with the other two being the Mega Gainer and the Super Mass Gainer. Also designed for leaner gains, the product has five official flavours including vanilla, chocolate, banana, strawberry and cookies & cream. The product mixes extremely easily and is one of the most cost effective gainers on the market. In addition, the product is said to be gluten free and extremely low in sugar.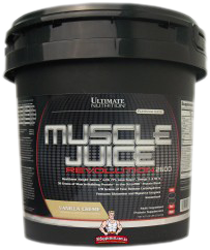 8. Ultimate Nutrition Muscle Juice Revolution 2600

With an impressive nutritional profile and a great list of ingredients, Ultimate Nutrition's Muscle Juice Revolution 2600 is one of the tastiest mass gain protein powders for hardgainers. Featuring 8 sources of high quality protein, the supplement also has 5 official flavours including vanilla, chocolate, strawberry, banana and cookies & cream. For those who like thinner shakes, this is an ideal protein for you.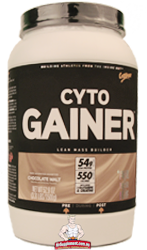 7. CytoSport CytoGainer

While it may not taste as great as its more famous twin Muscle Milk, CytoGainer is still one of the better tasting protein powders; mass gaining and otherwise. Cytosport comes in the usual five flavours of vanilla, chocolate, strawberry, banana and cookies & cream. CytoSport CytoGainer is a bit on the sweet side, but offers a quality mix of protein, carbohydrates with added creatine, glutamine and a comprehensive vitamin and mineral mix. The choc malt flavour mixed with a cold glass of milk is the perfect shake at any time of day.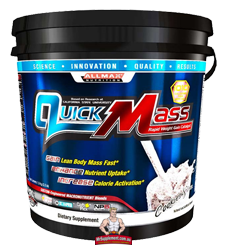 6. All Max Quick Mass

While not the most well known supplement company around, AllMax's QuickMass rivals some of the best mass gaining protein powders around. With transparent dosing of all of their ingredients, QuickMass utilises a complex and high quality range of macro and micronutrients as well as plenty of ergogenic ingredients such as creatine, glutamine and digestive enzymes. QuickMass is available in four extremely tasty flavours including chocolate, cookies & cream, strawberry and vanilla. With one of the best taste and ingredient profiles around, it's only a matter of time before QuickMass gains the recognition it deserves.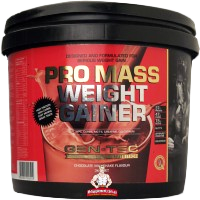 5. Gen-Tec Pro Mass Gainer

Owned by champion Australian bodybuilder Nick Jones, Gen-Tec have one of the best and most advanced line of supplements in Australia and the world. Heavily focused on researched ingredients, Gen-Tec knows a little about what it takes to create world class results. Their Pro Mass Gainer is simple but effective and goes down extremely easy. Coming in three flavours including chocolate, vanilla and banana, Pro Mass Gainer is not too sweet and goes down easy. If you're looking for a bulking powder you can use long term without getting bored, this is the one for you.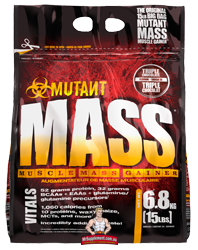 4. PVL Mutant Mass

One of the most cost-effective mass gain protein powders, PVL Mutant Mass combines an excellent matrix of proteins, carbs and fats to offer the hardgainer a serious boost of calories to assist them with their weight gain. Mutant Mass is available in 6 flavours including vanilla, chocolate, choc hazelnut, choc peanut butter, cookies & cream and strawberry & banana. Also less sweet than many bulking powders, PVL Mutant Mass mixes extremely well for the amount of powder recommended and is perhaps the best option for those who find it hard to gainweight.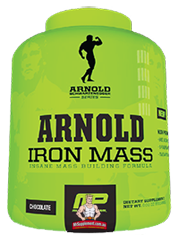 3. Arnold Iron Mass

A newcomer onto the market, the Arnold Schwarzenegger series from MusclePharm was only introduced late 2013, but has already build up a steady stream of fans and was one of the most hyped brands in the history of sports supplements. While not all the supplements lived up to the hype, their bulking protein Iron Mass is one of the most innovative mass gainers to be released in quite some time. Gluten free and using novel ingredients such as beef protein, whipped cream powder and sweet potato, Iron Mass makes a creamy and delicious shake with both water or milk. Iron Mass comes in three flavours including vanilla, chocolate and banana and is a medium gainer ideal for trainers of all levels.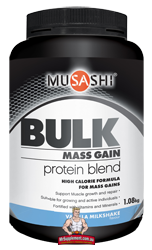 2. Musashi Bulk

One of the best known weight gain protein powders in Australia, Musashi Bulk has been around for almost a decade. While the formulation has changed over time, Musashi Bulk has maintained its hold as one of the tastiest mass gaining proteins. Easy to mix and tasting more like flavoured milk than a protein powder, Musashi Bulk is a simple mix of protein, carbs and added vitamins and minerals, perfect for the average gainer. Musashi Bulk is available in three flavours including vanilla, chocolate and banana.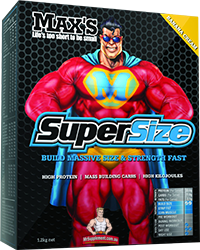 1. Max's Supersize

Max's is another brand with massive presence in Australia and rivals many international brands when it comes to bodybuilding supplements. Having updated their brand early 2014, Max's are going to have another big year with the increasing popularity of their Max's and Maxine's Challenge. One of their most popular products is their mass gainer Supersize and for good reason. Great for trainers of all levels and especially good for those who find it hard to gain weight, Supersize mixes amazingly well and is extremely easy to drink, especially when mixed with cold milk.
Best Tasting Mass Gainer Review

A good tasting mass gainer or bulking protein powder is crucial in helping you stick to a weight gain protocol, which is often harder than some people think. While the formulation of the supplement is the most important aspect, if you're going to be bulking and supplementing for the next 2-3 months, you'd want something you can take everyday and any of the above proteins should fit that criteria easily.