There has been increasing focus on importance of protein in losing and maintaining weight over recent years. Increasing protein intake has a number of advantages for people trying to drop the kilos. Protein is filling and reduces appetite. On top of this, the body uses between 20 and 35% of the energy in protein in its digestion, as opposed to 5-10% for carbohydrates and less than 5% for fat. This is known as the thermic effect, and it reduces the net energy that the body obtains from eating protein rich food. Protein is necessary to build lean muscle, which not only looks good, but burns more energy than fat, which increases metabolism and fat burning capacity in the long term.
Best Slim Shake
Diet shakes are growing in popularity in step with this trend, and modern diet shakes, or fat burning proteins, contain ingredients that help the body burn fat faster, in addition to being a low fat, low carb source of protein.
Fat burning protein is commonly used as both a meal replacement and a between-meal snack, and the average person using diet shakes would be consuming two to three serves per day. Because it is so frequently used, taste is a very important consideration when choosing a protein powder. The best and most sustainable diet plans are ones that people enjoy following, and a great tasting protein that you want to drink can be a big part of that. Thankfully, we are spoilt for choice with a large number of delicious diet shakes on the market. Here are five of the best.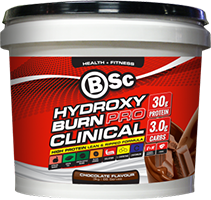 Best Tasting Protein Shake
#5 – BSc Hydroxyburn Pro Clinical 2.0
Hydroxyburn Pro Clinical is one of the most comprehensive fat loss products on the market, covering absolutely all the bases necessary for a leaner physique in ten ingredient matrices. Hydroxyburn contains a number of thermogenic ingredients to speed up the metabolism and burn energy, blood sugar stabilisers and fibre to control the appetite, a mood balancing matrix, diuretics to reduce water retention, digestive enzymes for gut health and to reduce bloating, antioxidants, satiety promoting agents, and a protein blend. Low in fat and containing next to no carbs, Hydroxyburn Pro Clinical is a great weight loss aid, and it is delicious. Some of the more complex formulations run the risk of not being able to hide the taste of some of the more bitter ingredients, but Hydroxyburn has a bold flavour and a rich and filling texture which is filling and more-ish. This shake comes in Vanilla, Chocolate and Banana. All are great, but Banana is the standout.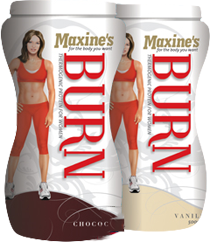 #4 – Maxine's Burn
Maxine's Burn is a weight loss protein marketed toward women, but unlike some women's products, Burn does not hold back. This is a solidly dosed product which features a mix of quality thermogenics and stimulants in combination with carb blockers and fat burners. The array of vitamins and minerals mean that Burn is great as a meal replacement, providing ample nutritional support for weight loss. It is the number one selling women's protein, and judging by the stories we hear, Burn is irresistable to male family members - the high incidence of domestic Burn theft is a serious problem for many health conscious ladies. Burn has a classic milkshake taste that is very easy to drink, and comes in Chocolate, Strawberry, Vanilla and Choc Latte.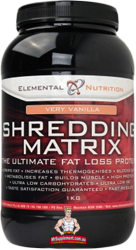 #3 Elemental Nutrition Shredding Matrix
Shredding Matrix is one of the best value and most effective fat burning proteins on the market. The formulation of Shredding Matrix focuses on ingredients with a strong research backing, like hydroxy citric acid and carnitine, and provides these in solid, effective doses, alongside a low fat, low carb blended protein base. Shredding Matrix comes in Chocolate and Vanilla flavours. These simple flavours are a hit, and the protein has a pleasant texture that mixes well with water, or milk, for a creamier taste.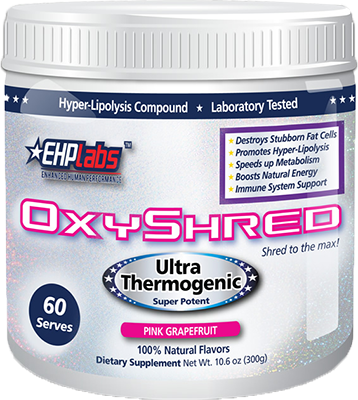 #2 EHP Labs Oxywhey
EHP Labs are best known for the runaway success of Oxyshred, a super-effective and great tasting fat burner that was the company's sole product for years. Oxyshred has finally been joined by other products, including fat burning protein Oxywhey. EHP has expertise in this area, and Oxywhey contains an innovative mix of fat burning ingredients like thermogenics, amino acids, metabolic aids, appetite suppressants and digestive enzymes alongside a high quality dairy protein blend which includes whey and micellar casein, for long term satiety. Oxywhey's Chocolate, Strawberry and Vanilla flavours may seem tame in comparison to the exotic blends used to flavour Oxyshred, but they are some of the most natural, delicious milkshake flavours on the market. The super-realistic strawberry is a particular standout and it is hard to believe you are not drinking real blended fruit.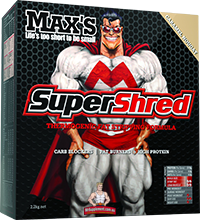 #1 Max's Supershred
Max's Supershred is consistently said to be the best tasting weight loss protein on the market, and it is formulated around a solid base of high leucine whey to support the growth of lean muscle, and slow digesting casein for satiety. Supershred fights fat in many different ways and has an ingredient list that rivals Hydroxyburn in scope, featuring complexes for carb blocking, thermogenic fat burning, appetite suppression, muscle building and recovery and hormone modulation, which sit alongside an impressive blend of vitamins, minerals and amino acids. Supershred is one of the best selling fat burners on the market, not just because it gets results, but because it is delicious. Max's and sister brand Maxine's are known for their excellent flavourings and Supershred is no exception. Coming in Chocolate, Moccachino, and our pick, Caramel Nougat, Supershred is sweet, creamy and filling and very narrowly takes out our number one spot.