2016 was a big year for new supplement releases, especially from the big companies in the industry such as Optimum Nutrition, Muscletech and Cellucor. It was also a great year for the pre workout and fat burners category with an ever increasing line up of stronger and more potent supplements. The big focus in 2016 would have been transparent labelling and therapeutic doses, which will continue to dominate the market in 2017.
Some of the biggest changes you'll see this year though will be more natural protein powders, alternative sources of protein and more value added supplements. By this, we mean supplements that span 2 or more categories and provided several functions, making it easier for the trainer. It'll still be hard to shift old favourites in 2017, but they'll definitely be plenty of brands and products trying. Keep an eye out on our articles this year on new and upcoming products, but let's take a look at the absolute best supplements you should get in 2017.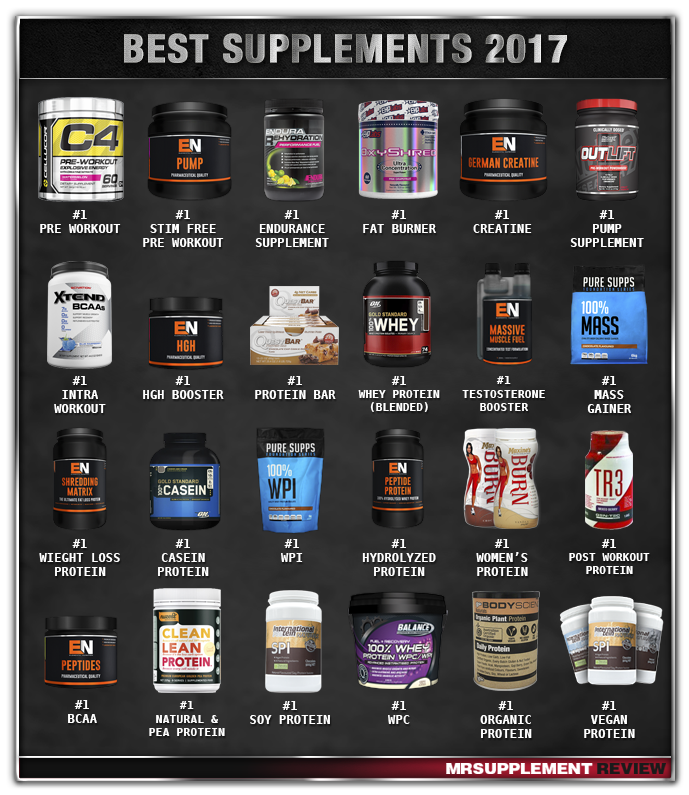 Best Pre Workout 2017 – Cellucor C4
With a recent update in 2016, Cellucor C4 is back up again as the best pre workout of 2017. It's not the strongest or the absolute best in any one area such as pump, strength or energy, but it's an incredibly well rounded pre workout and is ideal for trainers from all levels. Any of the top 5 from our Best Pre Workouts of 2017 list will easily help you train harder, but C4 remains a standout formula. With the introduction of other versions as well, you'll be able to find a pre workout that suits your needs easily.

Best Stimulant Free Pre Workout 2017 – Elemental Nutrition Pump
They may have changed their name in 2016 from Elemental Nutrition Pre Workout to Elemental Nutrition Pump, but the formula is still the same and is still as potent. Pump is a comprehensive stimulant and caffeine free pre workout designed specifically to boost pump or blood flow to the muscles. However, it also contains a range of ingredients which can help support endurance, focus and overall training capacity. If you're looking for an edge in your workouts without feeling too wired, Elemental Nutrition Pump is a must have.  For some other selections, make sure to read out Best Stimulant Free Pre Workouts 2017 article.

Best Endurance Supplement 2017 – Endura Rehydration Performance Fuel
With a name like Endura, it's really no surprise seeing them at the top of a Best Endurance Supplements 2017 list. Their Rehydration Performance Fuel is specially designed to help any trainers wanting a boost to both their performance and recovery during longer workout sessions. This is especially true for those who enjoy their cardio activities. For some more options, make sure to read the above list.


Best Fat Burner 2017 – EHPLabs Oxyshred
EHPLabs Oxyshred has been on the market for some time now, but its popularity doesn't look like it's taking a beating. Oxyshred is still one of the best fat burners around and like Cellucor C4 is a well rounded option ideal for any trainer. Best of all, it comes in a large range of delicious flavours, making it easy to keep on top of your weight loss. Unlike many other fat burners, it doesn't just jack you up with caffeine and stimulants, but offers a range of natural metabolism boosters and a bevy of stimulant and stim free energy support components. Read our Best Fat Burners 2017 article for more options.
Best Creatine 2017 – Elemental German Creatine
Creatine supplements these days are plentiful and come in a range of forms, each touting their own benefits. However, you just can't go past good old creatine monohydrate for its simple effectiveness. The best creatine monohydrate comes from Germany, under the name Creapure and is known for its high purity and quality. There's a few companies these days that offers a German Creatine Monohydrate, however one of the best would be Elemental Nutrition German Creatine. Other options are just as good, but may be at a slightly premium price point. For a full list of the best creatines, make sure to read our Best Creatine 2017 article.

Best Pump Supplement 2017 – Nutrex Outlift
Nutrex Outlift is more than just a good pump supplement, although it does hit the spot with around 8g of citrulline per serve. It's also a great all rounder pre workout thanks to massive doses of other tried and true ingredients such as creatine, beta alanine and caffeine just to name a few. If pump is important to you, whether for aesthetic or functional purposes, Nutrex Outlift is one of the best products on the market to support your needs. For alternatives, check out our Best Pump Supplements 2017 article.
Best Intra Workout 2017 – Scivation Xtend
Like Cellucor for pre workouts, EHPLabs for fat burners and Optimum Nutrition for protein powders, Scivation leads the market when it comes to the intra workout category. They were one of the first companies to provide more than just a BCAA supplement, but one that helped to maximise your training capacity during your exercise sessions. Even though the formula hasn't changed in years, it's still one of the absolute best intra workout supplements around. For some other choices though, head to our Best Intra Workouts 2017 article.

Best HGH Booster 2017 – Elemental Nutrition HGH
The natural HGH support category hasn't grown much in the last few years, but there are still some great options for those who want to naturally support their growth hormone levels. One of the best available though has to be Elemental Nutrition's HGH. It's simple and offers clinical doses of the right nutrients to help optimise your body's natural levels of growth hormone. It's been number 1 for awhile now and this ranking won't be changing anytimesoon. Learn about other alternatives though in our Best HGH Boosters 2017 article.
Best Protein Bar 2017 – Quest Nutrition Quest Bars
Probably the most famous of all protein bars, Quest Bars have dominated the market ever since it first arrived. Now there are plenty of copycats, but still, none of them do quite as well as the original. Quest Bars are high in protein, low in active carbs and are the perfect snack for anyone looking for a filling protein hit. The texture isn't for everyone, but you can't argue with millions of happy Quest Bar customers and is definitely worth a try as one of the Best Protein Bars of 2017.



Best Whey Protein (Blended) 2017 – Optimum Nutrition 100% Whey Gold Standard
An absolute juggernaut of the industry, it's practically impossible to knock Optimum Nutrition off the Best Whey Protein 2017 list. The formula itself isn't anything particularly unique these days, but the Gold Standard 100% Whey is available in the largest range of flavours of any company and its quality is guaranteed thanks to its backing from a dairy giant. If you're looking for a no fuss protein hit, you won't regret choosing Gold Standard100% Whey.
Best Testosterone Booster 2017 – Elemental Nutrition Massive Muscle Fuel

When it comes to hormone support supplements, Elemental Nutrition knows how its done. Their Massive Muscle Fuel is a seriously strong natural test booster that contains the highest concentration of the active compound protodioscin of any on the market. Together with some anti-estronge and anti-DHT components, Massive Muscle Fuel is a comprehensive test boosting powerhouse ideal for any trainer looking to boost their performance in the gym. It also has some added nitric oxide boosters to not only help support absorption, but also give you a good pump when you need it. If you've never tried a test booster before, make sure this is your first one. For a range of other alternatives though, make sure to read our Best Testosterone Boosters of 2017 article.

Best Mass Gainer 2017 – Pure Supps 100% Mass
Pure Supps are best known for their bulk quantity, no frills protein powders. Their 100% Mass is a calorie dense and effective mix of carbohydrates and slow digesting protein. Together, they provide the ideal formula to help even the hardest of gainers bulk up and put on some serious muscle mass. If you want to try something new though, there are plenty of excellent options which you can find in our Best Mass Gainers of 2017 article.
Best Weight Loss Protein 2017 – Elemental Nutrition Shredding Matrix
Another flagship product from the Australian company, Shredding Matrix is one of the best fat loss and shredding protein powders around. It mixes together a high quality blend of whey proteins along with a range of tried and true metabolism boosters and other ingredients to support a leaner physique. It's a tasty protein and one of the best options for anyone wanting looking to lose a bit of fat and build muscle at the same time. Australian's are known for their weight loss protein powders and you'll see plenty besides Elemental Nutrition Shredding Matrix in our Best Weight Loss Proteins of 2017 article.

Best Casein Protein 2017 – Optimum Nutrition 100% Casein Gold Standard
Just as they did with the whey protein category, Optimum Nutrition have also conquered the casein protein category. Their 100% Casein Gold Standard is simple and provides plenty of slow digesting micellar casein to help support muscle building and recovery processes over a longer period of time. The supplement has been around for ages, but still manages to top the list each time thanks to its high quality, its cost-effectiveness and plentiful choice of flavours. For some other great alternatives, check out our Best Casein Proteins of 2017 article.
Best WPI 2017 – Pure Supps 100% WPI
Whey protein isolates or WPI powders are effective post workout supplements, but can also be quite expensive. So it's good to see a relatively cost effective WPI on the top of the Best WPI of 2017 list. Pure Supps 100% WPI is super high in protein, super low in carbs and fat and is the ideal supplement to kick start the gains train without breaking the bank. It's also got some added vitamins and minerals to boot, making it the best value and best overall WPI on the market this year.



Best Hydrolyzed Proteins 2017 – Elemental Nutrition Peptide Protein
Just like with their Peptides, Elemental Nutrition have created another super fast acting supplement with their Peptide Protein. Hydrolyzed proteins are considered the fastest absorbing, even faster than WPI, making them ideal for hardcore trainers and professional athletes looking to achieve maximum growth and recovery. Elemental's Peptide Protein is packed with di- and tri-peptides which are quickly absorbed without needing to be digested so you can pretty much start building muscle as soon as you drink a shake. For a full list of some of the best hydrolyzed proteins on the market, check out our Best Hydrolyzed Proteins 2017 article.
Best Women's Protein 2017 – Maxine's Burn Protein
Maxine's Burn Protein has topped the Best Women's Protein list for a couple of years now and it doesn't look like it'll be giving up its position any time soon. It's a delicious protein powder that offers plenty of protein to help build lean muscle, whilst also providing ingredients to help support fat loss, metabolism and appetite suppression. As far as women's proteins go, Maxine's Burn Protein is definitely one of the best and an ideal first choice.


Best Post Workout Protein 2017 – Gen-Tec TR3
Gen-Tec is an Australian company founded by famous Aussie bodybuilder Nick Jones. His range is one of the best on the market and encompasses an excellent array of protein powders, single ingredient supplements and specialty performance boosters. Gen-Tec TR3 is a joint protein and recovery supplement that helps to limit muscle soreness, kick start muscle building and helps you get back to the gym faster. It's one of the best and most comprehensive post workout proteins around, but for more choices, make sure to check out a full list in our Best Post Workout Proteins of 2017 article.
Best BCAA 2017 – Elemental Nutrition Peptides
For a good BCAA supplement, you want something that absorbs quickly so it hits the muscles fast. This is why Elemental Nutrition Peptides is the number one BCAA supplement of 2017. Providing all the essential branched chain amino acids in peptide form ensures the fastest delivery to your working muscles for maximum effectiveness. Other BCAAs will do the job which you can see in our Best BCAAs of 2017 article, but for the optimal product, go for Peptides from Elemental Nutrition.


Best Natural Protein & Pea Protein 2017 – NuZest Clean Lean Protein
It's pretty easy to connect natural with a place like New Zealand, so it wasn't a surprise seeing NuZest Clean Lean Protein in the number one spot in the Best Natural Proteins list for 2017. Hailing from New Zealand, Clean Lean Protein is also considered the Best Pea Protein on the market. It is free from anything artificial and is also gluten free, dairy free and GMO free. Simply put, it's a great dairy alternative product to help you up your protein intake without worrying too much about additives and fillers.
Best Soy Protein 2017 – International Protein Naturals Soy Protein
Australian's know a thing or two about making good dairy alternative protein powders and International Protein's is one of the best. Their Naturals Soy Protein is high in protein and has been processed to be just as good in terms of digestion, absorption and effects as whey and casein proteins. It's a great alternative for those who want to avoid dairy or are vegan or vegetarian.



Best WPC 2017 – Balance 100% Whey Protein
Whey protein concentrate powders aren't as sought after as whey protein isolates, but they are a great cost effective way to boost your protein intake. One of the best around is Balance 100% Whey Protein, which is predominantly WPC, but still has substantial amounts of WPI. It's actually a great all round protein powder from one of the biggest brands in New Zealand, but if you want some other alternatives, check out our Best WPC 2017 article.

Best Organic Protein 2017 – BSc Naturals Organic Plant Protein
The organic protein category is relatively untapped, but is one of the fastest growing areas in the supplement industry. If organic farming methods matter to you, you definitely still have options when it comes to choosing a protein powder. One of the best ones is from BSc Body Science and is known as their Naturals Organic Plant Protein. It's not the tastiest supplement on the market, but still provides a decent amount of protein and is also perfect for vegans and vegetarians. To find out what other organic proteins there are, check out our Best Organic Proteins of 2017 article.


Best Vegan Protein 2017 – International Protein Naturals Range
The International Protein Naturals range has been one of the best releases from the Australian company in recent years and is the Best Vegan Protein option for 2017. They currently make three types of vegan proteins including soy, rice and pea, each with natural flavours. That is, they are free from anything artificial and provides just pure, raw, 100% protein powder. For the biggest selection of natural and clean vegan proteins, make sure you go for International Protein.
Best Supplements of 2017
Finding the best supplements are never easy, especially when there are literally thousands to choose from. Spend less time having to research and making decisions and simply use our expert guide on the best Supplements of 2017. As always, if you're still unsure of what to get, you can always turn to us for further advice based on your needs.