Although this category is still in its infancy, more and more supplement companies are realising the lucrative benefits of providing an effective stim free pre workout. Ideal for trainers who are cycling off stimulants, those who are taking other stimulant containing supplements but don't want to overload their system or those who train close to their bedtimes; stim free pre workouts are incredibly handy and will no doubt grow in popularity and in number in coming years. In the meantime though, here are 5 of the best stim free pre workouts of 2016.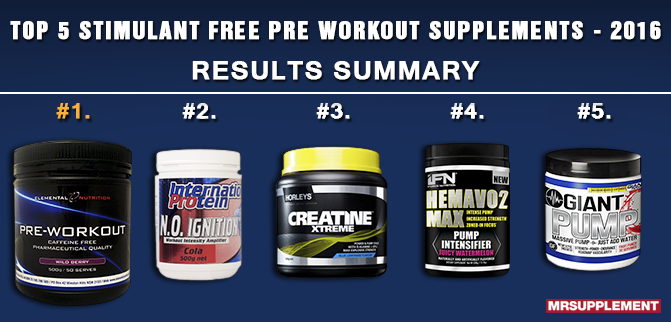 #1. Elemental Nutrition Pre Workout
One of the companies that cottoned onto the stim free pre workouts early, Elemental Nutrition's Pre Workout has been on the market for many years now and has led the category since its release. In fact Elemental were so confident in the idea of a stim free pre workout that this supplement is their only pre workout. The formulation is a comprehensive one that includes creatine, beta alanine, citrulline, taurine and many other ingredients to support strength, endurance, pump and energy. If you want a great value, no nonsense pre workout that boosts your training without jacking you up with stims, then this has to be your first choice and our pick for the best stim free pre workout of 2016.

#2. International Protein NO Ignition
A popular Australian supplement brand, International Protein are best known for their delicious protein powders, but they also make one of the best stim free pre workouts around in the form of NO Ignition. Similar to Elemental Nutrition's Pre Workout, NO Ignition provides a variety of ingredients to support all facets of training and performance including creatine for strength and power, beta alanine for endurance, citrulline for pump and acetyl l-carnitine for focus just to name a few. It's an excellent stimulant free pre workout and ranks number 2 on our list.

#3. Horley's Creatine Xtreme
Sneaking into the number 3 spot on our list is Horley's unassuming Creatine Xtreme. Not as well known for their specialty supplements as they are for their protein powders, Horley's Creatine Xtreme is actually a fairly well dosed and well thought our stimulant free pre workout. With 5g of creatine, 1.6g of beta alanine and 1g of citrulline per serve, the supplement is a little bit heavy on the creatine, but still does the job. The inclusion of GPLC will also help further boost blood flow to the muscles and give you a great pump. It's a good stim free alternative to your regular pre workouts and definitely worth a try.  

#4. iForce Hemavo2 Max
One of the best pump supplements around, iForce Hemavo2 Max is the updated version of the companies popular Hemavol product. If you're looking for a stim free pre workout that offers a vein tearing pump, Hemavo2 Max is the product for you. The formula also contains creatine and betaine to help with strength and power along with some cognitive enhancers such as theanine and choline. Hemavol had a legendary status amongst many trainers and no doubt Hemavo2 Max will be just as popular.

#5. Giant Sports Giant Pump
Rounding off our 2016 list is Giant Sports Giant Pump. A relatively new supplement compared with others on this list, Giant Pump is a dedicated pump pre workout which utilises a range of more unique and novel pump ingredients such as glutamine nitrate and sodium glycerophosphate along with agmatine and grape seed extract. It's a popular choice for trainers looking to add to their pumps and Giant Sports are so sure of their product, they've even included a tape measure to help you capture those gains.
Notable Stimulant Free Pre Workout Supplements of 2016
Although the stimulant free pre workout category is small, the growing number of supplements that are being released each year has meant some excellent options just missed out on this years list including:
If you want a change from your usual pre workouts or simply want to avoid caffeine and other stimulants for awhile, any of the above options in our list is a suitable choice and are the best around for 2016.