Pre-Workouts are a relatively recent addition to the supplement market, and one that has taken off in a big way, as an increasing number of people use these products to get the most out of their training and see the results of pushing harder than ever before.
As the category grows, manufacturers are realising that not everybody wants or needs a pre-workout packed with stimulants. Many people train at night and don't want to stay awake for hours after a session, some people are sensitive to, or react badly to stimulants, and others are conscious of the potential effect of caffeine usage on creatine absorption. In addition, tolerance to stimulants like caffeine can build up over prolonged usage, and most manufacturers recommend cycling their products with a stim-free alternative to obtain the maximum benefits.
Stim-free pre-workouts are perfect for a lot of people. While they may not provide the energy and mental focus promised by traditional pre-workout formulations, they contain ingredients that can improve strength and endurance, deliver massive pumps, help the body build muscle, and enhance recovery. The market has responded to the large number of people looking to take their workouts to the next level without unwanted stimulants, and there is a diverse, and ever expanding range of powerful and effective pre-workout formulations available, making it hard to choose. We've narrowed it down - here are our picks for the best stim-free pre workouts of 2015.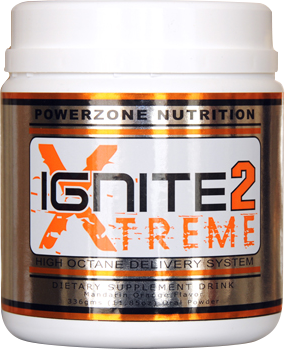 6. Powerzone Nutrition Ignite 2 Extreme
Powerzone Nutrition is an Australian company run by Steve Jones, a bodybuilder with over twenty years' competitive experience, which is reflected in the clever formulation of this brand's products. Powerzone make the sort of supplements that real competitors choose, utilising only top quality, scientifically backed ingredients. Like many stim-free pre-workouts, Ignite 2 Extreme contains ingredients that support blood flow, and the five NO boosters in Ignite 2 Extreme not only support massive pumps, but also endurance, with the inclusion of citrulline malate. Citrulline is not the only malate complex in this formula - Powerzone have gone heavy on this energy-boosting ingredient in Ignite 2 Extreme, which works with the creatine to keep the muscles supplied with energy in the form of ATP. Ignite 2 Extreme is massively dosed, for massive results. Unfortunately, compared to some pre-workouts, it's massively priced, but in this case, you get what you pay for.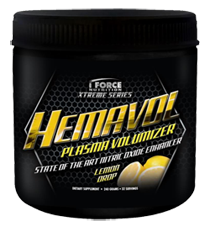 5. iForce Hemavol
Hemavol is one of the more unique pre-workouts on the market. Hemavol does one thing, but it does it so well that it has developed a massive following and has become one of the most popular stim-free pre-workouts available. What sets Hemavol apart from the competition is that it is the only myofibrillar plasma volumiser on the market, containing a combination of ingredients which can draw water, glycogen and nutrients into the muscle tissue, to nourish the hard working cells and provide massive pumps that last for longer. iForce has placed these ingredients alongside some of the best nitric oxide boosters, including norvaline, which can prolong the pump enhancing effects of Arginine. When a product attracts a cult like following, you can be sure it gets results.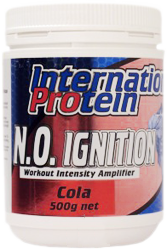 4. International Protein NO Ignition
Like Powerzone, makers of Ignite 2 Extreme, International Protein is a company run by a professional bodybuilder which knows what people are looking for when they go for a stim-free pre-workout. As a result, NO Ignition is one of the most comprehensive stim-free pre-workouts on the market. A number of arginine compounds support vasodilation, while beta alanine and citrulline support muscle endurance, at the same time creatine supports strength and power. Carbon cycle intermediates like malate and AKG support peak performance by generating energy and recycling waste products, while anabolic amino acid leucine stimulates the body to lay down muscle. International Protein has covered all bases with this all-in-one product that will push performance to the next level, and deliver results.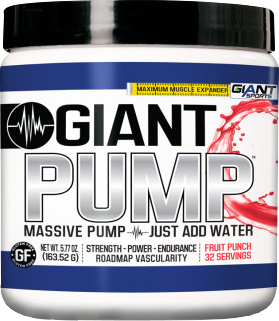 3. Giant Sports Giant Pump
The newest supplement from Giant Sports is a stimulant free, pump enhancing pre workout known as Giant Sports Giant Pump. A relatively new company on the market, Giant Sports have already created extremely popular supplements such as Delicious Protein and Dexamine. Giant Pump is the stimulant free answer to their other pre workout Metabolic BioShock and packs in a range of pump inducing ingredients including agmatine, glutamine nitrate, norvaline, grape seed extract and sodium glycerophosphate. Giant Sports are so certain of their product that they've even included a measuring tape to help you capture your pump gains.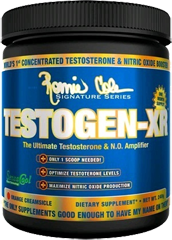 2. Ronnie Coleman Testogen XR
While a heavy dose of stimulants can carry a normal pre-workout, formulating a stim-free pre-workout that produces not just an effect that you can feel at the gym, but one which leads to real results down the line is an artform. It is no surprise that this list has been dominated by products that have been formulated under the guidance of real bodybuilders, who know what serious trainers want in a workout enhancer, and have the knowledge and skills to deliver. It therefore stands to reason that Ronnie Coleman, an eight time Mr Olympia who is often referred to as the "best bodybuilder in the world" would come up with something off the charts, and that is exactly what Testogen XR is. Testogen not only concentrates on immediate results, with a powerful blend of NO boosters, but has future gains in mind with the inclusion of ingredients that optimise the body's natural production of testosterone, maximising muscle building potential in the longer term. Although this hybrid product is truly unique, it features tried and tested ingredients, like taurine for cell volumisation, agmatine for vasodilation, and D-Aspartic Acid, which science says is one of the most potent hormone boosters on the market. Will Testogen get results? In the words of Ronnie Coleman himself: "Yeah Buddy!"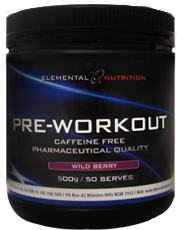 1. Elemental Nutrition Pre Workout
Elemental Nutrition is known for no-nonsense, top quality, great value products; Their stim free pre workout - the only pre-workout made by this company - is a reflection of these attributes. Creapure Creatine and Tri-Creatine Malate are a well paired base for this supplement, supporting the body's use of ATP in both aerobic and anaerobic conditions, while Beta Alanine and Citrulline are two of the best researched endurance boosters available. Taurine, one of the main amino acids found in muscle, buffers and volumises cells, while the inclusion of two forms of Arginine, on top of Citrulline, gives the guarantee that the pump will be massive. A lot of pre workouts get the ingredients right, but Elemental Nutrition takes things one thing further with the inclusion of Vanadium Sulphate and Alpha Lipoic Acid. These additions can help push ingredients like creatine into the body, ensuring maximum nutrition gets to where it is needed, when it is needed. On top of this, Alpha Lipoic Acid has strong antioxidant effects, which are vital in protecting the body from free radical damage during exercise. Elemental Nutrition Pre Workout has to be one of the best value products on the market and we think it's the best stimulant free pre workout of 2015.
Notable Stimulant Free Pre Workouts of 2015
As always, creating this list meant a lot of decent stimulant free pre workouts just missed out on placing in the top 6. Some other notable stim free pre workouts include:
If you're looking to cycle off stronger, stimulant filled pre workouts for a couple of weeks, then this list is sure to give you some of the best options for a pre workout supplement to help enhance your performance without pumping you with stims.