Top 3 Best Pre Workout Supplements of 2015 - Review
Stimulants have always been a major ingredient in fat burners. As a class of ingredient, stimulants have a variety of benefits, which include heightened energy, appetite suppression and the ability to increase the metabolic rate. They are also, in general, cheap, safe, and familiar to most people. As a result, stimulants like caffeine, green tea, and newer extracts like synephrine and Acacia rigidula dominate the ingredient lists of products designed to support weight control.
In spite of this, many people want a product that can help them control their weight without the use of stimulants. Some people are very sensitive to stimulants, or need to avoid them due to a medical condition, like high blood pressure. Other people want something they can stack with other stim-heavy supplements like pre workouts, or may be cycling off stimulant based fat loss products, which is a recommendation many manufacturers make to maintain maximum effectiveness of a product. Then there are the people who know that dieting is hard enough without restricting pleasurable habits, and don't want to give up their coffee in favour of a capsule.
The market for stim-free fat burners is still quite young, but the good news is that manufacturers are slowly jumping on board, formulating effective products that cater to this group of people. On top of this, there are a number of single ingredient supplements that are very effective for stim-free weight loss. Let's have a look at 2015's best stim-free fat burners.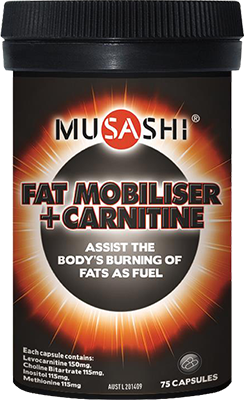 3. Musashi Fat Mobiliser + Carnitine

Musashi was responsible for creating one of the first, and still one of the best stim-free fat burners available. Musashi are known for the manufacture of high quality nutriceuticals, and this product is no exception, with ingredients that work synergistically to regulate the transport of fatty acids into cells and fuel the metabolism. In addition, choline can improve alerrness and focus, helping combat the fog that can accompany a low calorie diet. Musashi Fat Mobilizer with Carnitine is a good metabolic kickstarter that can support healthy weight loss.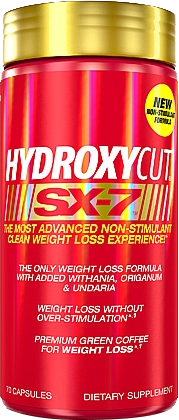 2. Muscletech Hydroxycut SX-7 Stim Free

Hydroxycut has been one of the top fat burners of the market for quite some time, and  Muscletech has made a very shrewd move by incorporating a stim-free product into their extensive range. This is a well formulated product which attacks weight loss from many angles. Chlorogenic acid, from green coffee beans and wakame leaf enhance the metabolism, and sit alongside botanical extracts like blue ginseng, Rhodiola, and Ashwagandha, which have a long history of use in traditional medicine, for the promotion of overall health and wellbeing. Also featuring the product of the moment, Yacon, which can assist in appetite control, this blend of botanicals is likely to be helpful in supporting weight loss goals.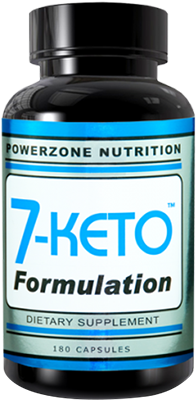 1. Powerzone 7-Keto

Powerzone Nurition is a small Australian company helmed by Steve Jones, a veteran with over 20 years competitive experience in the bodybuilding industry. Powerzone's products are always thoughtfully and innovatively formulated with real athletes in mind, and products like 7-Keto and pre workout Ignite 2 Xtreme sit as stim-free anomalies in categories dominated by high energy formulations. 7-Keto DHEA is a unique substance that is very similar to the hormones produced by our bodies, but which possesses no hormonal effects. Studies have shown 7-Keto to have a lot of promise in speeding up the metabolism and enhancing weight loss. This unique substance is joined by Choline, Inositol and Methionine, which work together to enhance the transport of fatty acids into cells where they are metabolised. Tyrosine Ethyl Ether works to support mood, which is all important while cutting.
Other Stimulant Free Fat Loss Ingredients

Additionally, there are many non-stimulant single ingredient supplements which can be used individually, or together, to further enhance fat loss.
Carnitine/Acetyl L-Carnitine – This is the main ingredient in a lot of fat burners. Carnitine is an amino acid which is naturally produced by the body and assists the transport of fatty acids into the mitochondria, where they are used by the body to generate energy. Carnitine supplementation can enhance the process. Carnitine is also important for healthy heart and brain function. For a good carnitine supplement, try Elemental Nutrition Acetyl L-Carnitine.
CLA – Otherwise known as Conjugated Linoleic Acid, this fatty acid is thought to be able to regulate the activity of enzymes, diverting fatty acids away from storage in the adipose tissue, and into muscles, where they are used for energy. A number of studies have shown that CLA supplementation leads to loss of fat. One of the best CLA supplements would have to be Gen-Tec CLA.
Garcinia Cambogia – A fat burner which has experienced a resurgence in its popularity, Garcinia has a long history throughout its native Southeast Asia, where it was used to make food more filling and satisfying. Garcinia cambogia is one of the highest natural sources of hydroxy citric acid, which can alter the way fat is metabolised by the body, and may help weight loss. An excellent pure garcinia product is Labrada Garcinia Cambogia.