The market for stimulant free or stim free fat burners is still quite young at the moment, simply because stimulant based versions are still the most popular and more effective ones. However, with more trainers wanting to detox or avoid overstimulating their bodies with excess caffeine, green tea and other stimulants, the range of Stim Free Fat Burners is growing. These supplements are perfect to use anytime throughout the day, especially at night time and can also stack with stimulant containing supplements so you can get the best of both worlds. Below is a list of the 5 best stim free fat burners of 2016.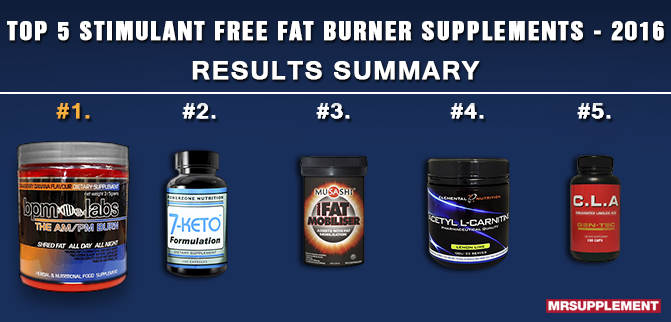 #1. BPM Labs AM/PM Burn
Although a relatively new supplement, BPM Labs AM/PM Burn is a master stroke supplement and one that is going to lead the way for this category. BPM Labs was created to boost metabolism, suppress appetite and control water retention, all without the use of stimulants. As such, you can use AM/PM Burn throughout the day and at night without worrying about disrupting sleep and affecting your recovery. With a comprehensive formula that utilises potent ingredients such as CLA (conjugated linoleic acid), garcinia cambogia, raspberry ketones, inositol, choline, methionine and dandelion extract, AM/PM Burn is a powerhouse stim free fat burner and our pick for the top spot in 2016.

#2. Powerzone Nutrition 7-Keto
Powerzone Nutrition is another popular stim free fat loss supplement that combines 7-keto DHEA along with the triple combination of inositol, choline and methionine to help boost metabolism, especially fat metabolism. It's a convenient capsule based thermogenic that will help to ignite fat burning and keep your moods stable whilst you are on a reduced calorie diet. Powerzone Nutrition are known for creating high quality supplements and 7-Keto is definitely a highlight in their range.

#3. Musashi Fat Metabolisers
Musashi actually make three different types of stim free fat metabolisers. Two of them are capsule form ones; the Mega Fat Metaboliser/Mobiliser and the Fat Metaboliser with Carnitine. The other one is a powdered supplement known as the Musashi Fat Metabolising Formula. All three are very similar supplement combining the popular fat metabolism trio of inositol, choline and methionine along with added carnitine. The powdered supplement is slightly better dosed, but if you're looking for ultimate convenience, the capsule form versions are foolproof options.
#4. Acetyl L-Carnitine
Acetyl L-Carnitine is one of the most popular ingredients in any fat burner or fat metaboliser. It is an excellent source of carnitine which is the key compound responsible for transporting fatty acids to be burned off as energy in our body. Acetyl l-carnitine also has the added bonus of boosting cognitive performance, helping to improve focus and attention. There are a huge number of acetyl l-carnitine supplements around and they're usually quite similar, but here are some good ones to go for:

#5. CLA or Conjugated Linoleic Acid
CLA supplements act as a source of the naturally occurring conjugated linoleic fatty acids. The ingredient is often found in fat and weight loss products and are a great stimulant free ingredient to include in your stack. Studies have shown that training whilst taking CLA can improve lean muscle mass gains and it is believed that CLA helps to control processes that increase fat cell size. There aren't a whole lot of CLA only supplements around, but here are some of the better ones:
Best Stim Free Fat Burners of 2016
As previously mentioned, this category is still in its infancy, but is growing in popularity with more and more trainers wanting more stim free supplements to fit into their stack. Whether you want to go completely stimulant free, or simply want a stim free fat loss product to stack with your other stimulant containing supplements, you'll be able to pick out the best one for you with our expert guide above.