Although whey protein is considered the gold standard when it comes to protein powders, they aren't always suitable for all trainers. Those who have lactose intolerance, milk protein allergies or simply choose not to consume dairy require a different protein source to help them achieve their goals. One of the best non-dairy protein sources around is soy, which is a complete protein, meaning it contains all the amino acids. Soy protein are of such high quality these days that they rival even whey blends as recovery and lean muscle growth supplements. Here are three of the best on the market to try in 2016.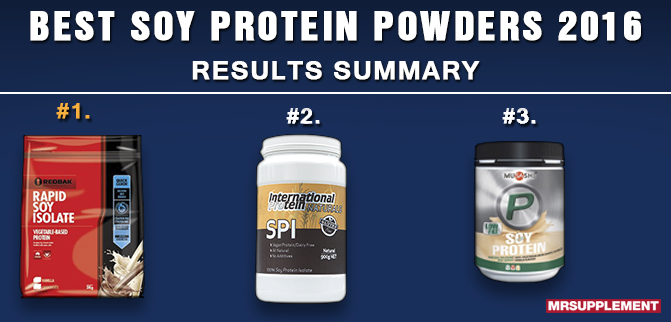 #1. Redbak Rapid Soy Isolate
Redbak Rapid Soy Isolate is by far one of the tastiest soy proteins around. Made from high quality soy protein isolate with added glutamine for immune health and recovery, each serving of Rapid Soy Isolate provides over 80% protein with minimal carbs and fats. Redbak is best known for providing high quality protein powders at extremely cost effective prices and the Soy Isolate is no different. If you want a quick absorbing alternative to whey protein, this is one of the best around and our pick for the top soy protein of 2016.

#2. International Protein Naturals Soy Protein
International Protein's relatively new Naturals range was one of the best releases of 2014/2015, with a wide variety of products that were free from artificial ingredients and which provided a vast range of new plant based protein powders onto the market. The International Protein Naturals Soy Protein was one of these new releases and is an unbelievably pure product. It provides over 88% protein, which rivals many of the whey protein blends and is free from anything artificial. Although the taste will take some getting used to, it is one of the best soy proteins on the market this year.  

#3. Musashi P Soy Protein
One of the older soy protein powders on the market, Musashi's P Soy Protein remains one of the best. It's another simple protein made with high quality soy protein isolate with a bit of maltodextrin and fructose thrown in to support faster recovery and fuel replenishment. The P Soy Protein is also super tasty and easy to drink and rounds out our top 3 list.  
Best Soy Protein Supplements of 2016
The soy protein category is still growing and should achieve quite a bit of growth in the next 5-10 years thanks to keen interest in plant based proteins and sustainability. For now though, any of the top three supplements above will be a great choice for your protein needs for 2016.