Whey is seen as the gold standard in protein supplementation, but it's not something that suits everyone. People with milk allergies, vegans, and the severely lactose intolerant are unable to, or choose not to consume dairy products. For these people, soy protein is an excellent alternative. Soy is low in fat and carbohydrates, easy to digest, and there is evidence that soy consumption may improve cardiovascular health. Unlike many vegetable protein sources, soy is a complete source of protein, which contains all the amino acids in the ratio the body needs. It may surprise some people, that in terms of protein quality, soy protein is just as good as whey, and better than meat or eggs.
It can be hard to know hat to look for in a soy protein, particularly for first time users, so we've picked our top three products of 2015.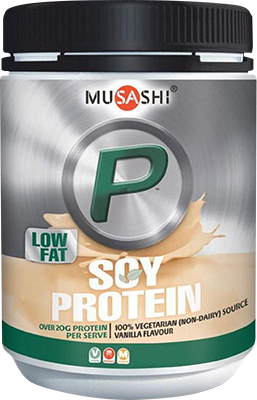 3. Musashi P Soy Protein
Musashi is an Australian company that has maintained a high profile in the sports nutrition field for over twenty five years. Musashi P Soy protein is a simple product that demonstrates the high quality associated with the brand. P Soy is based on high quality soy protein isolate. It is low in fat, and contains a small amount of maltodextrin for extra energy. It is one of the best tasting soy proteins around and the delicious chocolate flavour is well received.

2 International Protein Naturals Soy Protein
International Protein is known for innovation, and the recently released Naturals range exemplifies this, with a selection of all natural proteins to satisfy the demands of this rapidly growing market. International Protein Naturals Soy Protein is almost nothing but. Containing a whopping 87% protein, with next to nothing in the way of fat or carbs, this is one of the best value for money products on the market. The one of the major advantages of International Protein Naturals Soy Protein is the fact that it comes not just in vanilla flavour, but also in a super versatile unflavoured version that combines easily into sweet and savoury foods and drinks.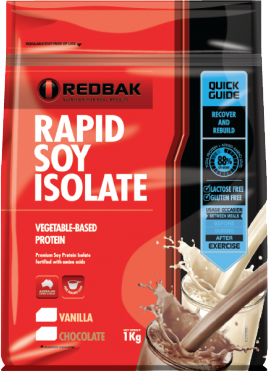 1 Redbak Rapid Soy Isolate
Redbak Rapid Soy Isolate is the soy with more. The addition of gluamine and taurine make this an ideal product for active people and those who are trying to build lean muscle, while the addition of vitamins and minerals help to maintain overall health.  Even with these additions, this low in fat, low carb product comes in at more than 80% protein. Redbak is an Aussie brand known for providing customers with great quality and exceptional value and Pure Soy Isolate is no exception. Not only is it top quality, but it is one of the cheapest soy proteins on the market.
Soy protein is a great option for a lot of people, but there are many other dairy free proteins on the market. Check out our guide to 2015's best Pea Protein, and our Best Vegan Protein article.