Rice protein is a low allergy protein source which is a suitable alternative to typical proteins such as those derived from dairy and soy. An inherent disadvantage of rice protein compared to other sources, is that it is relatively lower in the essential amino acid, lysine.
Unlike the more common sources of protein, the rice protein market is not as saturated. So finding a good rice protein is not as challenging with such a plethora of sources. Nevertheless, here are what we believe to be the three best rice proteins on the Australian market for 2015.
3. International Protein Naturals Rice Protein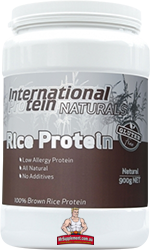 A simple choice, but a good choice. International Proteins Naturals Rice Protein is the only pure rice protein on this list, but it is worthy of a mention. Containing over 90% protein, is completely fat-free, and has a negligible 0.6 g of carbs per serve. Such figures are impressive for any protein powder, let alone a plant protein. To achieve this, International Rice Protein is completely natural and pure without the addition of any other ingredients whatsoever. International Rice Protein has the added benefit of being completely gluten-free, an increasingly common trait many people look out for these days.
2. Purely Inspired 100% Plant Based Protein
A flexible protein shake, Purely Inspired 100% Plant Based Protein is a flexible and user friendly protein shake. Made from a blend of pea, rice, and alfalfa protein, Plant Based Protein contains a more balanced amino acid profile compared to just rice protein on its own. With added vitamins and minerals, together with a balanced protein to carb ratio and fibre, Plant Based Protein is suitable for use immediately following training or as a meal replacement. Again, this product is gluten free and 100% natural.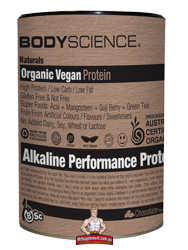 1. BSc Naturals Organic Vegan Protein
One of the most popular riced proteins is also one of the best. Again, like the Plant Based Protein, BSc Naturals Organic Vegan Protein is not 100% rice protein. Instead, it is a blend of rice and pea protein. However, on top of this, there is also protein from amaranth, quinoa, buckwheat, millet, and chia. Such a rich blend of protein sources again has the advantage of being able to provide a more balanced amino acid profile than rice alone. Each serve provides a respectable 19.6 g of protein together with 0.5 g fat, and 3.9 g carbs. BSc Vegan Protein is therefore an excellent source of all day protein which can be used any time protein is needed. To top off an already fantastic protein powder, BSc Vegan Protein also contains a superfood blend containing green tea, goji berry, acai berry, and mangosteen. As you would expect, the product is 100% organic certified, completely natural, and gluten-free.