Not many events in the gym rival the satisfaction of achieving a vein-swelling pump during the workout. You know the feeling; your muscles feel bigger, harder and fuller, giving you more confidence and motivation. It's a fantastic feeling, which also has a place in supporting muscle growth and recovery thanks to the increase in blood and oxygen flow to and away from the muscles. A good weights session will easily increase your pump, but the key to raising it even more is with the use of pump ingredients and supplements. To help you experience the best pump possible, we've picked 10 of the best nitric oxide boosting and pump supplements of 2016.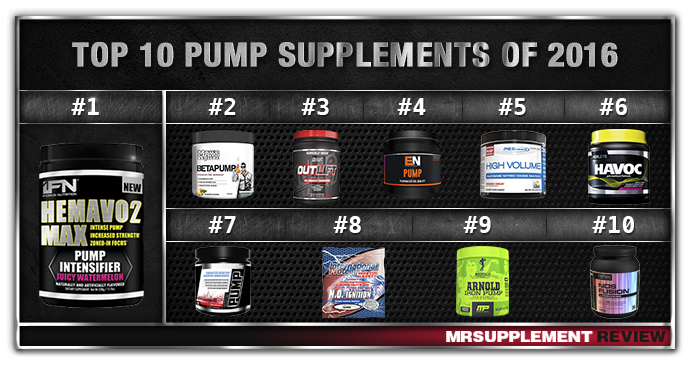 #1. iForce Hemavo2 Max
If you can look past the terrible name, iForce's relatively new Hemavo2 Max is a strong, dedicated pump supplement. Free from the usual suspects of stimulants, Hemavo2 Max is the perfect stim free pre workout, or secondary addition to your stimulated pre workout to help you add on some serious pump to your training sessions. With all the classic ingredients such as citrulline, agmatine, glycerol and creatine, Hemavo2 Max is a step up from its Hemavol predecessor and is our pick for the top pump supplement of 2016.


#2. Max's BetaPump
Still a relatively new supplement on the market, Max's BetaPump has made a bit of a splash over the last 12 months and has slowly clawed its way to becoming a bit of a fan favourite. The supplement was one of the most promising new supplements to come from the company and features a host of some of the best pump ingredients around including citrulline, beet root extract, arginine, agmatine and GPLC. 2 scoops of this and you'll be pumped up for days.

#3. Nutrex Outlift
If you love citrulline, then you can't go past Nutrex Outlift for having one of the highest doses of citrulline ever seen in a product. While this is the only pump ingredient in the supplement, Outlift makes sure that you're getting more than enough to give you a serious pump. It's an expertly crafted supplement that uses clinical doses and is our pre workout of the year. As a pump only supplement, it's still an excellent choice and easily makes the top 3.
#4. Elemental Nutrition Pre Workout
One of the best stimulant free pre workouts on the market, Elemental Nutrition's Pre Workout is also a strong pump support supplement. The combination of ingredients including citrulline, arginine, creatine along with other pre workout ingredients work synergistically to provide a comprehensive and well balanced result, especially when it comes to pump. It may not have the fanciest name, but results are what matters and Elemental Nutrition certainly does not disappoint in this area.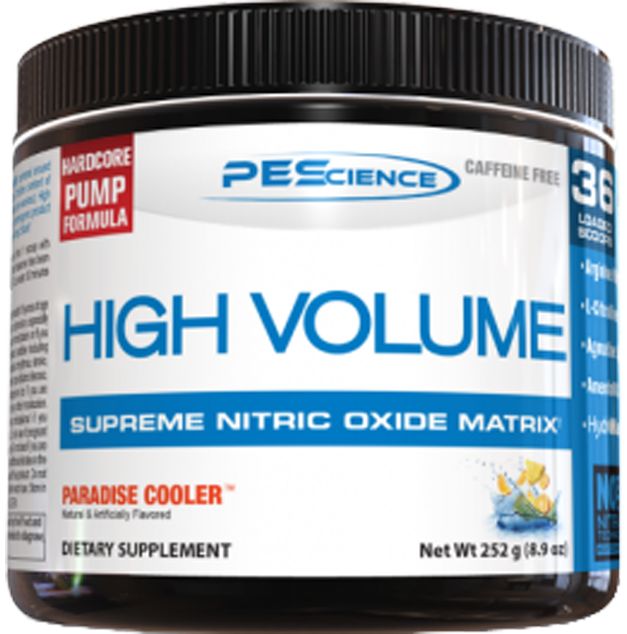 #5. PES High Volume
PES High Volume may be a relatively new entry on this list, but its name has been around for years as it originally belonged to the Athletix range of supplements. Now that PES owns the name, High Volume follows in the footsteps of the previous version and provides an excellent pump booster that's loaded with ingredients such as citrulline, agmatine and arginine nitrate. If you're looking for a sure fire way to get a good pump, you can't go past High Volume, although you might find yourself having to use 2 scoops after awhile.

#6. Horleys Havoc
Perhaps the most unassuming supplement on this list, Havoc actually offers a decent pump hit that rivals some of the best on this list. As a pre workout supplement, Havoc contains all the right ingredients to help you work out longer, harder and stronger. As a pump supplement, Havoc also dishes out a superb collection of nitric oxide boosting ingredients such as citrulline, arginine, agmatine and GPLC (glycine propionyl L-carnitine). Havoc may not be the most popular supplement around, but it sure as hell should be.

#7. Giant Sports Giant Pump
With a name like Giant Pump, you can't help but want to get the supplement. If you do, expect to experience a generous, sustained and lengthy pump thanks to ingredients such as glutamine nitrate, agmatine, glycerophosphate, norvaline and grape seed extract. Giant Pump is a unique supplement that shies away from citrulline, but still works well and is a good pick if you want some healthy pumps to go with your training.

#8. International Protein NO Ignition
International Protein is a popular Australian supplement brand and NO Ignition is their signature stimulant free pump support pre workout. It is a well thought out and designed nitric oxide booster, which also contains plenty of other excellent ingredients to support endurance, focus, motivation and performance. NO Ignition is an excellent choice for those on a break from stimulant containing supplements or for trainers who like to train close to their bed times. 

#9. Arnold Iron Pump
Arnold Iron Pump is one of the brand's more popular supplements and is marketed as a concentrated pump support supplement. It certainly contains some excellent ingredients in the form of arginine nitrate, agmatine, beet extract, ornithine and hawthorn extract, however the doses could do with a bit of an increase. Iron Pump is still a fine supplement though and a good pre workout choice.  

#10. Reflex NOS Fusion
As one of the premier brands in Europe, Reflex Nutrition definitely knows how to make a good supplement. Although NOS Fusion isn't anywhere near as popular as many of the other supplements on this list or other pre workouts, the formulation is one of the better ones around. With plenty of citrulline at 3g per serve along with grape seed and pine park extracts and ActiNOS – the Glanbia produced compound that is said to be a potent nitric oxide synthase activator. NOS Fusion from Reflex is an extremely reliable pump supplement and ends our top 10 list for 2016.


Notable Pump Supplements of 2016
The stimulant free, pump boosting supplement category is growing year on year and a few great options just missed out on making this years list including:
A good, long lasting pump from just working out isn't always achievable, but the right pump booster can definitely make a massive difference. If you want to get swole this 2016, make sure you pick a supplement from our top 10 list.