Looking for a good protein powder to make the most of your gains but not sure what's out there? Well then keep reading because we go through all the different types and categories of protein powder, examine what they do, who they're for and pick the absolute BEST choices. Don't spend 2017 fretting about trying to figure out what protein is best for you and use our expert guide instead!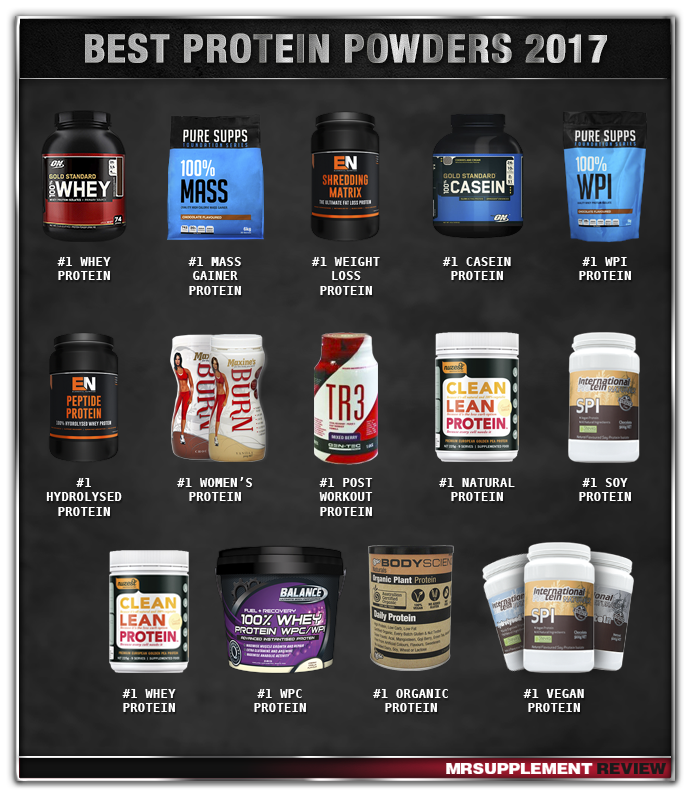 Best Whey Protein (Blended) of 2017
Blended whey protein powders are the most versatile of all protein supplements and is the go-to category for any trainer looking to up their protein intake. It's ideal for any trainer, from the casual exerciser to the hardcore athlete. They absorb fast and most will also sustain protein delivery for longer muscle building and recovery. If you're ever unsure as to what to get, then a good whey protein blend is for you. For a full list of the best around, check out our Best Whey Proteins of 2017 article. Here are the top 3:
1. Optimum Nutrition Gold Standard 100% Whey
2. Elemental Nutrition Xtreme Whey
3. Pure Supps 100% Whey
Best Mass Gainer Protein of 2017
Want to pack on size and bulk? Then mass gainer protein powders are for you. Packed with calories to help you gain weight and turn it into muscle, mass or weight gainers proteins help to speed up the process so you don't have to spend every waking moment trying to cram another chicken breast, sweet potato and broccoli meal in. Mass gainers differ most by the amount of calories they provide, so pick the right one depending on how easily you gain weight. The harder it is, the more calories you need. Read our Best Mass Gainers of 2017 article for an in depth list of the absolute best choices, but below is our quick guide to the top 3:
1. Pure Supps 100% Mass
2. Elemental Nutrition Anabolic Mass
3. Optimum Nutrition Pro Gainer
Best Weight Loss Protein of 2017
Losing weight isn't easy and sometimes you just need a bit of a boost. This is where weight loss of fat loss protein powders come in. Besides providing plenty of protein to sustain muscle growth and recovery, it also supplies you with a range of fat loss ingredients to help speed up your metabolism, suppress your appetite and support your ability to shed the kilos. If maintaining a lean physique or losing body fat is your goal, then pick yourself a good weight loss protein. For a full list of the best on the market, read our Best Weight Loss Proteins of 2017 article. Listed below are the top 3 for the year:
1. Elemental Nutrition Shredding Matrix
2. Pure Supps 100% Shredded
3. Max's Super Shred
Best Casein Protein of 2017
If you want a good protein powder to sustain the muscle recovery and building processes while you sleep, then get yourself a casein protein. These absorb super slowly over 6-9 hours so that your muscles get a trickle of amino acids to keep the muscle growth fires burning. They can also be used by people who don't get time to eat a lot during the day to provide essential protein during main meals. Read our Best Casein Proteins of 2017 for a full list of the best casein powders around. Below though is a sneak peek at the top 3:
1. Optimum Nutrition Gold Standard 100% Casein
2. Pure Supps 100% Casein
3. Max's Anabolic Night
Best WPI (Whey Protein Isolate) of 2017
Whey protein isolate or WPI protein powders are fast absorbing and deliver the protein to your muscles FAST! As such, they are ideal for straight after or right before training sessions. They are also extremely low in fat and carbs making them an ideal protein for those watching their weight or trying to avoid excess calories. Take a look at the top 10 WPI proteins of the year in our Best WPI Powders of 2017 article. Here are the top 3 from that list:
1. Pure Supps 100% WPI
2. Elemental Xtreme WPI
3. Horley's Ice Whey
Best Hydrolysed Proteins (Whey Hydrolysates) of 2017
Like WPI supplements, Hydrolysed Proteins are also incredibly fast absorbing. In fact, they're actually the fastest absorbing proteins on the market. As such, they're not recommended for your casual trainer, but rather your pro athletes or those who are training 4-5 times a week and tackling a heavy work load. Because they can be a little bit more expensive, it's best to use them directly before or after training as well and use a blended protein the other times. Want the best hydrolysed proteins on the market? Check out our Best Hydrolysed Proteins of 2017 article. Below though are the top 3 from that list:
1. Elemental Nutrition Peptide Protein
2. Dymatize Nutrition ISO 100
3. ASN HP100
Best Women's Protein of 2017
Women's protein powders are pretty self-explanatory – they're protein supplements targeted specifically to women. Whether you're training or not, women require protein just as much as men to help maintain muscle mass throughout every stage of life. It also has the added benefit of supporting a leaner body composition, less fat mass and being able to keep you fuller for longer. Most women's protein powders these days will also have added ingredients such as fat burners, carb blockers and extra vitamins and minerals that are useful for women's health. To view more of the best women's proteins on the market, check out our Best Women's Protein of 2017 article. Otherwise, simply take a look at the top 3 below:
1. Maxine's Burn Protein
2. Gen-Tec Pro Lean
3. Vital Strength Define
Best Post Workout Protein of 2017
Post workout protein powders haven't been around for as long as some of the other protein categories, but are becoming increasingly popular as more trainers look for new ways to boost their gains. As the name suggest, these are protein powders designed specifically to be used straight after your training sessions. Besides offering plenty of protein, they also provide a range of important ingredients to help with all aspects of recovery and muscle building. Most trainers will find that blended protein powders, WPI's and hydrolysed proteins are more than enough for their post workout needs. However, if you're tackling an extremely high intensity and high volume work load, then a good post workout protein should definitely be considered. Find out what the best post workout proteins are through our Best Post Workout Supplements 2017 article. Below is a quick list of the top 3:
1. Gen-Tec TR3
2. BSc Body Science Nitrovol Lean Muscle
3. Optimum Nutrition Pro Gainer
Best Natural Protein of 2017
Free from anything artificial, Natural Protein powders are devoid of artificial flavours, colours, preservatives and sweeteners. They are quickly growing in popularity with more trainers looking to eat and supplement with cleaner products. There aren't a whole lot of products in this category at the moment, but it'll surely grow over the next couple of years. For a full list of the best products, make sure to check out our Best Natural Proteins of 2017 article. Here is a quick look at the top 5:
1. NuZest Clean Lean Protein
2. Optimum Nutrition Natural 100% Whey
3. International Protein Natural Hydrolysed Whey
Best Soy Protein of 2017
Made from soy beans, Soy Protein powders are excellent alternatives to your tradition whey protein. It provides all the amino acids that your body and muscles need to grow and is perfect for vegans, vegetarians or those after lactose free and usually gluten free products. They can be a bit grittier in texture, but functionally, they're still great protein powders. There are a few soy proteins on the market, but the best we've found is:
1. International Protein Natural Soy Protein
Best Pea Protein of 2017
Like Soy Protein, Pea Protein powders are also ideal protein alternatives for trainers who are vegan, vegetarian or lactose intolerant. They're usually gluten free as well, making them suitable for people who are gluten intolerant as well. While peas are naturally deficient in the amino acids cysteine and methionine, modern day pea proteins have been processed to make up for these deficiencies. As such, you'll still be getting a complete source of protein to help support optimal muscle building and recovery from exercise. Below is a list of the top 3 pea proteins on the market this year:
1. NuZest Clean Lean Protein
2. International Protein Iso-Pea
3. Vital Pea Protein
Best WPC (Whey Protein Concentrate) of 2017
WPC protein powders or whey protein concentrates are few and far in between these days, simply because most companies either choose to use a blend or its superior alternative WPI. WPC supplements are usually slightly slower absorbing and contain more fat and carbs, but because they require less processing, they also tend to be more cost effective. If you're after a no frills protein that still does a great job without breaking the bank, try a whey protein concentrate. For a full list of our expert picks, make sure to read our Best WPC Protein Powders of 2017 article. Or check out the top 3 below:

1. Balance 100% Whey Protein
2. International Protein Synergy 5
3. Giant Sports Delicious Protein
Best Organic Protein of 2017
While not the most popular category, there is definitely a dedicated following for organic protein powders. Made from completely organic sources, plant or animal based, organic protein powders don't really come with any extra benefits. However, if you're passionate about the organic cause, there are still some products for you. They can often be synonymous with Natural Protein Powders as they also try to avoid any artificial flavouring agents, colours and sweeteners. The range isn't huge, but here are two of the best for 2017:
1. BSc Naturals Organic Plant Protein
2. Tribeca X50 Raw Organic Vegan Skinny Protein
Best Vegan Protein of 2017
Looking for a good protein powder if you're a vegan or vegetarian isn't as hard as it used to be with more plant based options appearing every year. With modern day manufacturing processes, vegan proteins are almost on par with the more common dairy based whey and casein proteins in terms of their ability to support muscle building and recovery. Nowadays, a wide selection exists such as the more common pea, soy and rice proteins as well as more niche alternatives such as hemp, quinoa and other grains. Our picks for the Best Vegan Proteins of 2017 include:
1. International Protein Naturals Range
2. NuZest Clean Lean Protein
3. Vital Pea Protein
Best Protein Powders of 2017
No matter what training goal you have for 2017, a good protein powder can help you reach it easier and faster. Spend less time trying to figure out what to use and more time achieving your goals with our comprehensive list above for the best protein powders of 2017.