Best Protein Powder for Weight Loss
Protein plays an essential role in growth and metabolism, and it also plays an essential part in weight loss, a role which is being increasingly realised, due in part to the runaway success of protein-based weight loss plans like the Atkins diet.

Losing weight relies on maintaining a negative energy balance. Keeping the protein levels up is an effective way to stave off muscle breakdown, which is always a hazard when trying to drop fat, but there are more reasons to be mindful of your protein intake when losing weight. Firstly, eating protein is known to produce strong feelings of satiety, which can result in better appetite control. On top of this, almost one third of the kilojoules consumed in protein are used in its digestion. This is known as the thermogenic effect, as a side effect is the production of heat. Finally, protein helps to maintain muscle mass, and muscle has higher metabolic demands than fat, meaning more energy is burnt in the long run (1).
It makes a lot of sense to incorporate protein into a fat loss regime, and there is a class of protein designed to assist weight loss. Shredding proteins are relatively new additions to the weight loss market. Low in fat and carbohydrates, they can contain ingredients that help the body to burn fat. These ingredients range from carb blockers, appetite suppressants, and fat-burning thermogenics, through to muscle builders, amino acids, and ingredients that help balance hormone levels. They are fantastic for shredding after a bulk, people looking to maintain muscle while reducing their energy intake, or anyone trying to lose weight healthily, and they are used by both men and women. There is a lot of variety in weight loss protein powders. Let's look at some of the best.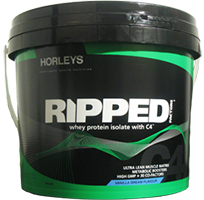 Best Protein Powder for Weight Loss
#5 Horleys Ripped Factors is a product you can't go wrong with. Horleys is known for the quality of its whey products, which are purified using a hi-tech cation exchange process, which retains all the biologically active whey fractions, and minimises carbs and fat, to give one of the best proteins on the market. Combine this with over twenty micronutrients to ensure this product is a nutritionally sound meal replacement, a matrix of ingredients that attack fat through four different metabolic pathways, and bioperine, an inspired addition that enhances absorption of these ingredients, and you have a head start toward a leaner figure.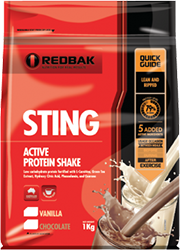 #4 Redbak Sting is typical of a Redbak product – Simple, high quality, well dosed with popular, research-backed ingredients. A number of amino acids have been used in this preparation, like fat-metabolising carnitine, betaine, which has been shown to reduce adipose tissue, particularly in combination with muscle bulking taurine. This is not the only synergistic ingredient combination in Sting. Glucuronolactone enhances mental performance, which complements the mood-enhancing properties of hydroxycitric acid, also an appetite suppressant, and can prevent fat from being laid down. This cleverly designed fat burning protein powder is also one of the best value in terms of protein per serve, and is definitely one of the most popular products of its type on the market today.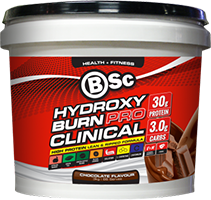 #3 BSc Hydroxyburn Pro Clinical 2.0 is a unique and very impressive addition to the weight loss protein market. Based around a multi-stage release blend of proteins, Hydroxyburn applies a holistic approach to fat loss, and tackles some areas that other products don't touch, like fibre for satiety, sugar balance for appetite control, mood enhancement, digestive health, and antioxidants to counteract any effects from the huge fat oxidation that a product like this promotes. Slightly less muscle-focused than a lot of other fat burners, Hydroxyburn nonetheless earns a high ranking on this list for taking a unique approach with this top quality product.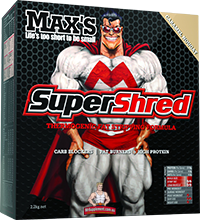 #2 Max's Super Shred starts off with a great protein foundation, combining an anabolic, high leucine whey fraction with long-acting casein which keeps you full for hours while continuously supplying the amino acids needed for muscle growth. Super Shred attacks fat loss from every angle, and is dosed with one of the best collections of fat burners around – three carb blockers, six thermogenics, four appetite suppressors, on top of a range of amino acids and minerals that stimulate muscle growth at the same time. With its great taste and reputation for getting results, Super Shred has been a firm favourite for years.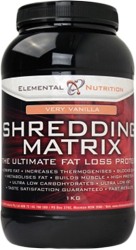 #1 Elemental Nutrition Shredding Matrix is one of the most comprehensive weight loss proteins available. Top quality whey protein isolate as its main ingredient means that Shredding Matrix contains next to no fat or carbs, and packs a very reasonable 606kJ and nearly 33g of protein in each 40g serving. On top of this, this well priced Australian product has probably the best dosed and most varied array of fat fighting additions, including a whopping 1000mg of carb-blocking hydroxy citric acid, 600mg of Tyrosine to optimise thyroid function, and an optimised mix of vitamins and minerals. Shredding Matrix has a delicious taste, and it is a great meal replacement. Elemental Nutrition have a winner on their hands with Shredding Matrix
(1) Paddon-Jones D , Westman E, Mattes RD, Wolfe RR, Astrup A, Westerterp-Plantenga M. Protein, weight management, and satiety. Am J Clin Nutr. 2008 May;87(5):1558S-1561S.
Buy Shredding Matrix, our #1 weight loss protein