Protein bars are convenient options to increase protein intake or snack on right before you train or on your way to work. Quality protein bars should have sufficient protein to help you meet your daily dietary requirements while avoiding unhealthy levels of sugar and fat. With a vast range available, we have handpicked our 2018 top 10 best protein bars no matter what your goals may be.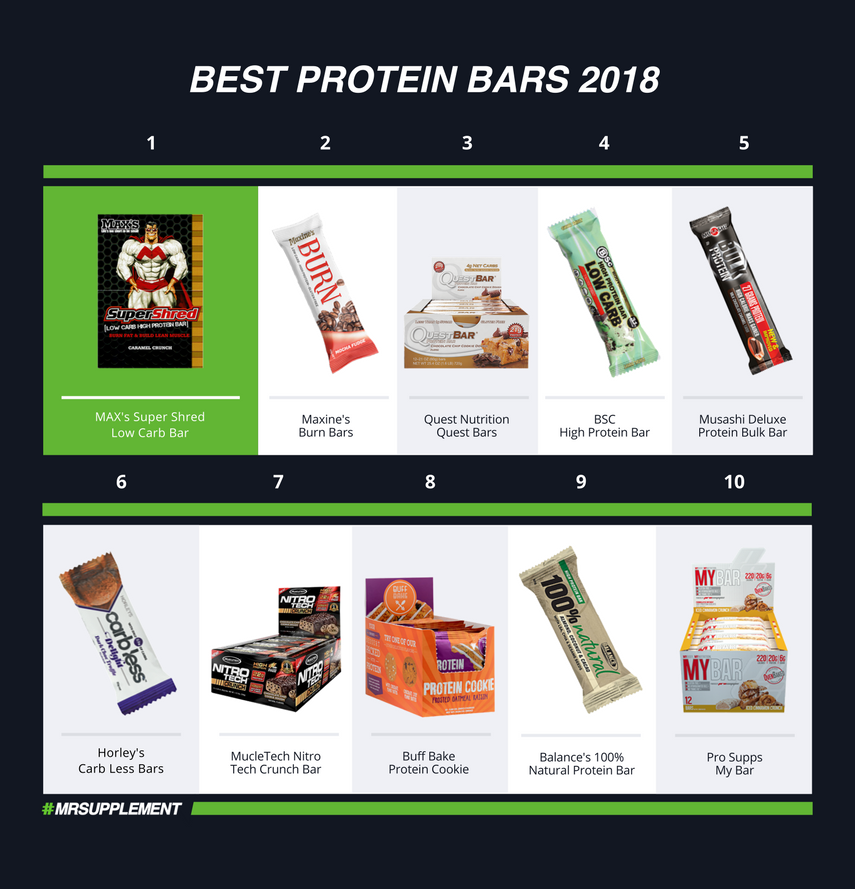 #1. Max's SuperShred Low Carb Bar
Max's is an iconic Australian brand that produce some of the most popular supplements including SuperWhey and SuperShred. Max's SuperShred Low Carb Bar is a delicious, high protein, low carb snack that won't leave you feeling guilty. The macronutrients in this bar are solid and it contains additional fat loss ingredients to assist with the cutting phase. SuperShred Low Carb Bar is our front runner for the best protein bar for those after a healthy alternative for a post-workout refuel or just looking for a health-conscious snack.
#2. Maxine's Burn Bars
Maxine's Burn Bars is another excellent option for women. This protein bar features almost 15 grams of protein along with several fat burners and carb blockers including green tea extract and L-carnitine to increase your metabolism and keep you staying lean. These bars are one of the tastiest women protein snacks that are low in calories, but filling enough to provide a satisfying sweet snack throughout the day.
#3. Quest Nutrition Quest Bars
Quest Bars are well-known protein bars that most people will know or have heard of. Packed full of protein and fibre, Quest Bars will satisfy any hunger and help you avoid unwanted junk food snacking between meals. The texture of Quest Bars is quite different to your typical protein bar and may not suit everybody's taste, but it's a quality formula without any unnecessary sugar or fillers. With an extensive range of flavours to choose from, you're bound to find one that suits your taste and nutrient needs.
#4. BSc High Protein Bar
BSc High Protein Bar is a bar that has great texture, nutritionals and does not contain any artificial colours. The formula has been cleverly formulated to ensure you are getting the most out of your protein bar. For those who are after a protein bar to satisfy hunger and please your taste buds, BSc have created a tasty protein bar that is worth adding to your daily routine.
#5. Musashi Deluxe Protein Bulk Bar
Musashi's Bulk Deluxe Protein Bar is an exceptionally tasty bar, but is also packed with macronutrients, resembling a high protein snack. Made from only a handful of ingredients, the Bulk Deluxe Protein Bar is ideal for bulking as its name suggests, but can easily pass for a snack replacement or post-workout bar. It is an all-round protein bar that makes a good muscle building snack.


#6. Horley's Carb Less Bars
Horley's Carb Less Bar contains a decent amount of protein, very little carbs and fat, it's an excellent alternative snack to help keep you full and curb sugar cravings. The bars are small, but delicious with each bar delivering chewy texture and real chocolate coating. All considered, Horleys Carb Less Bar is one of the best bars to get your hands on.
#7. MuscleTech Nitro Tech Crunch Bar
Another delicious protein bar from one of the most reputable companies in the supplement industry, the MuscleTech Nitro Tech Crunch Bars contain 22 grams of protein and a solid source of fibre to help keep you fuller for longer, but also provide you with plenty of nutrients to help support and maintain lean muscle. If you're after a good, filling snack between meals as a post-workout snack, this is the perfect bar for you.


#8. Buff Bake Protein Cookie
Although Buff Bake Protein Cookie is not a protein bar, it is just as worthy of a mention in this list because of its taste and quality content. The inside of the bar is soft and has a chewy texture. Amongst the flavours range, Chocolate Peanut Butter is our pick, but the remaining flavours are just as delicious.
#9. Balance's 100% Natural Protein Bar
Our next option is Balance's 100% Natural Bar. As the name suggests, Balance's protein bar is natural, packed with a blend of high quality protein, and is a great source of fibre. Through the natural energy of nuts, seeds and dried fruits, these great tasting powders will ensure you'll power through your workout. If you're after a nutrient dense bar to keep you fuller for longer, Balance's 100% Natural Bar is the way to go.


#10. Pro Supps My Bar
Our final pick for protein bars is Pro Supps My Bar. These bars are excellent options if you're after a delicious protein bar with little fillers. Each protein bar is made up of two blends of protein including whey protein isolate and whey protein concentrate as well as a small amount of pea protein isolate to give the bar more texture. Overall, Pro Supps My Bars are perfect meal replacement bars that can decrease your overall daily calorie intake.
Notable Protein Bars of 2018