High protein snack options have grown massively in popularity over the past few years. Trainers and everyday people alike are now looking for healthier ways to snack and this has seen an explosion in higher protein everyday snacks such as yoghurts, muesli bars and iced beverages. In the supplement world, this trend has also resulted in a boost to the variety of high protein bars, cookies and other snacks; buoyed by the fact that people want something else other than a protein shake to meet their protein needs. With so many options available, it can be hard picking the best product, so we've gone through what's available and picked the best 10 protein snacks of 2017. Let's see what they are: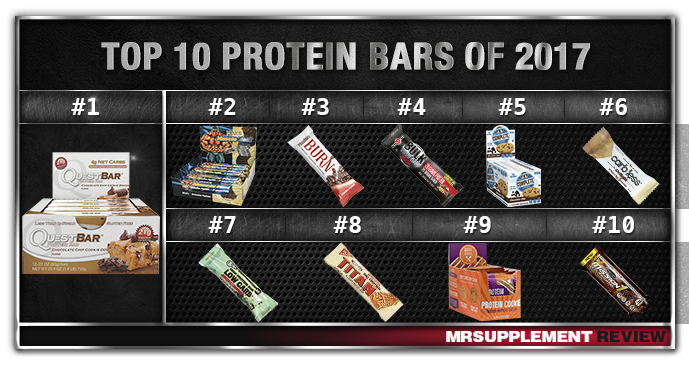 #1. Quest Nutrition Quest Bars
Quest Bars is probably the best known protein bar on the market today and its popularity has spawned a bunch of similar products from other companies. Prior to Quest Bars, most protein bars tended to be quite high in protein as well as carbs and fat. Quest were one of the first companies to develop a bar that provided the majority of its carbohydrate content as fibre. So while the total carbohydrate quantity was quite high, only very little was considered active and counted towards the calorie count. Quest Bars are known for their unique texture, plentiful choices in flavours and ease of use as a cooking ingredient. As such, it's one of the best and most versatile protein bars on the market.
#2. Max's Muscle Meal Bars & Cookies
If you haven't tried them already, Max's Muscle Meal Bars and Cookies are some of the tastiest high protein snacks on the market. This is probably due to them being quite high in fat and carbohydrates, but they were designed for those looking to gain mass and weight after all. Both versions of the supplement are dense, high in protein and full of flavour. If I had to pick, the Cookies version just beats out the Bars in terms of taste, but you really can't go wrong with either. For those who want the taste without the calories, your can try their SuperShred Cookies and Low Carb Bar. 
#3. Maxine's Burn Bars & Cookies
Maxine's is the female offshoot of Max's, so it's really no surprise their high protein snacks are also some of the tastiest around. Packaging aside, there's no reason why Maxine's Burn Bars and Cookies should be used by females only and I would easily recommend it for anyone looking for a high protein, fat burning snack food. Maxine's Burn Cookies are again better tasting than their Bars, but the Bars are leaner, providing more protein, less carbs and less fat. Having said that, the Cookies provide more of the fat loss ingredients. Ideally, you could swap between both to give yourself a bit of variety, but either one would make for a handy, healthier snack.
#4. Musashi Bulk Mass Gain Deluxe Protein Bar
Another bar designed for the bulkers, Musashi's Bulk Mass Gain Deluxe is the higher calorie and arguably tastier version of the popular Musashi Bulk Bar. With more calories and more protein, the Deluxe bar is perfect to use as a post-workout energy and protein hit, but can also be used throughout the day as a decent sized snack. Musashi make a range of other high protein snack bars as well including the P8 Low Carb Bar and the Growling Dog Energy Bar, so you'll never be short for choice, regardless of your goals.
#5. Lenny & Larry's Complete Cookie  
Lenny & Larry's Complete Cookie has a massive following all around the world, and it's easy to see why. They're simply delicious. Available in a large range of flavours including Orange Poppyseed, Snickerdoodle, Double Choc and Oatmeal & Raisin just to name a few, the cookies are dense and filling. The only real downside is that they're a bit heavy on the carbs and a bit light on the protein. Although if you were an endurance trainer or someone wanting to bulk up a bit, the Complete Cookie is perfect. It should also be noted that it's completely vegan and contains no dairy, eggs or artificial sweeteners.  
#6. Horley's Carb Less Delight Bars    
Horley's Carb Less Delight Bars are pretty small in comparison to the other snacks on this list. However, for its size, it's packed with plenty of protein from calcium caseinate, whey protein isolate and soy protein isolate and almost 4g of fibre per serve. They're pretty tasty and you could easily have more than one at a time if you're not careful. Available in 5 delicious flavours, make sure you don't miss out on the Coconut Fudge or Peanut Caramel flavours. 
#7. BSc High Protein Bars
BSc Body Science's high protein snack range has gone through some transition in recent time. Having promoted "high protein balls" and "low carb bites", they've recently released an actual bar. While the name is unoriginal, being known as the BSc High Protein Bar, it does offer a well formulated snack providing close to 19g of protein per serve and only 4g of carbs and 7g of fat. At only 210 calories, it's a great, guilt free alternative if you want something different from your usual protein shakes or amino acid supplements.
#8. Premier Nutrition Titan Bars
If you want filling, then Titan Bars were designed for you. At 80g per serve, Premier Nutrition's Titan Bar makes for a great snack to tide you over between meals, but also a great pre or post workout pick me up for energy and recovery. Titan Bars are packed with 26g of protein per serve from high quality sources such as whey protein isolate, milk protein isolate, whey protein concentrate and soy protein isolate. Even the delicious coatings on the outside are made with protein offering more bang for your buck. Titan Bars are chewy, tasty and will please even the fussiest of supplement users. 
#9. Buff Bake Protein Cookie
Buff Bake Protein Cookies are fairly similar to Lenny and Larry's but are newer on the market. With a similar macro profile, Buff Bake Cookies utilise whey protein as their main protein source and are also slightly higher in fat and carbohydrates. As such, they are great for those who find it hard to gain weight or those who need a bit more energy for recovery or workout purposes. At 16g of protein per cookie, Buff Bake's Protein Cookie is one of the most delicious ways to get your protein hit. 
#10. Muscletech Mission 1 Clean Protein Bar   
A new addition to the Muscletech range, the Mission 1 Clean Protein Bars were only released in 2016, but has rocketed in popularity. Extremely similar in macronutrient composition to Quest Protein Bars, each bar provides 20g of protein, only 4g of active carbohydrates and 6g of fat making it an incredibly lean bar. Sweetened naturally and without any artificial flavours or colours, the range isn't as extensive as Quest Nutrition's, but the taste is definitely up there. If you're looking for some extra protein to build lean muscle and support recovery, the Mission 1 Clean Protein Bars are a perfect way to get that protein.
Notable Protein Bars, Cookies & Snacks of 2017
The selection of high protein bars, cookies and snacks on the market is constantly growing and it's becoming harder and harder simply selecting 10 products to make it to our list. Here are some great alternatives that just missed out:
Oh Yeah! One Protein Bar
MusclePharm Combat Crunch Bar
Muscletech Nitro-Tech Crunch Bar
FitJoy Bars
BPI Sports Best Protein Bars
Having protein shake after protein shake can get boring after awhile. Mix it up this year with some of the best protein bars, cookies and snacks available and make 2017 an incredible year for gains.