2015 has seen Quest cement its position as the most popular protein bar on the Australian market. For other competitors in this product segment, it has proved very hard to come up with a bar that matches both the nutritional profile, taste and flavour range of Quest Bars. Nonetheless, as is the nature with any popular product, there is never a shortage of competitors lining up to try and cash in on a given products popularity.
In this article, we will take a quick look at some of the bars that might challenge Quest Bars for the top position in 2016.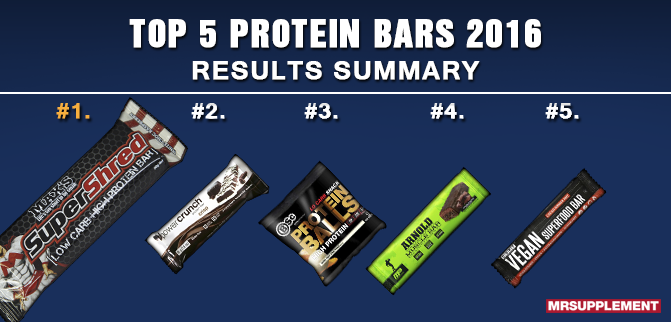 1. Maxs SuperShred Low Carb Bar
The SuperShred Low Carb bars hit the market in 2015 and have been received well; especially with the launch of the Max's Challenge in May. Having a sound nutritional profile in the form of a low carb and fat content together with their great taste, the bars should continue to be a success in 2016.



2. BNRG Power Crunch
The Proto Whey people have come up with a great-tasting and uniquely flavoured protein bar they have called Power Crunch. The name reflects the unique wafer consistency of the bars, which naturally have a crunchiness about them. The other great feature of the bars is that they contain the same protein found in Proto Whey with its uniquely high di- and tri-peptide content. BNRG also claim that they bars are low GI, which may help offset the concern about the 10g of carbs that are in each bar, which is slightly higher than some of the other low carb bars highlighted in this article.

3. BSc High Protein Balls
BSc have been aggressively revamping both their product line and branding/packaging during 2015. Their High Protein Balls are one of the products to receive a formulation makeover together with new packaging.  The new balls are low carb and high fibre, while also having the bonus that they contain no artificial sweeteners. With each pack containing a handful of balls, one can easily eat all the pack at once or keep a few balls for later if they want to make the pack stretch.



4. Arnold Schwarzenegger Muscle Bar
Arnold's Muscle Bars landed in Australia in 2015 and to be frank have been a little slow to take off. But with their great taste and the strong Arnold Schwarzenegger brand behind them, sales of the bars should continue to grow into 2016 – making them a formidable force in the highly competitive protein bar market.

5. BSKT Vegan Superfood Bar
The demand for natural products seems to be increasing across a wide range of foods and protein bars are no exception. There's not a big range of natural protein bar brands available, which should mean new bars such as the BSKT Vegan Superfood Bars could prove to be popular in 2016. These bars really are all natural with a number of the ingredients being organic. They no doubt will appeal more to the crossfit market and those that demand an 'all-natural' approach to their nutrition supplements.
With convenience as their biggest asset, supplement lovers can rest assured that there will always be new protein bars popping up on the market in our ever-increasing busy society. The traditional challenge with protein bars, however, has been more of a technological one. It has historically been hard to give high protein/low carb bars a realistic, natural and pleasant taste. But with key technological advances in bar making, it is now easier to make bars that taste better. Look out for even more great tasting protein bars in 2016!