Protein bars are back in a big way. Gone are the days when protein bars were an unappetising necessity for people on the go, modern protein bars are a treat to look forward to. The market for protein bars has expanded in the last few years in line with the increasing popularity of the high protein diet. With this expansion, the variety of bars that are available has increased dramatically. Bars are one of the most versatile supplements on the market, and mass gainers, fat burners and meal replacements all come in bar form. Manufacturers have begun to realise that they can distinguish their product in an increasingly crowded market by making it taste better than other products. No longer do most bars suffer from strange texture or "protein taste", many modern protein bars have the taste and texture of conventional snack food with the added health benefits. If you've slept on the protein bar renaissance, now is a great time to rediscover a booming part of the market. But where to start? We've chosen our top five bars of 2015 to get you started.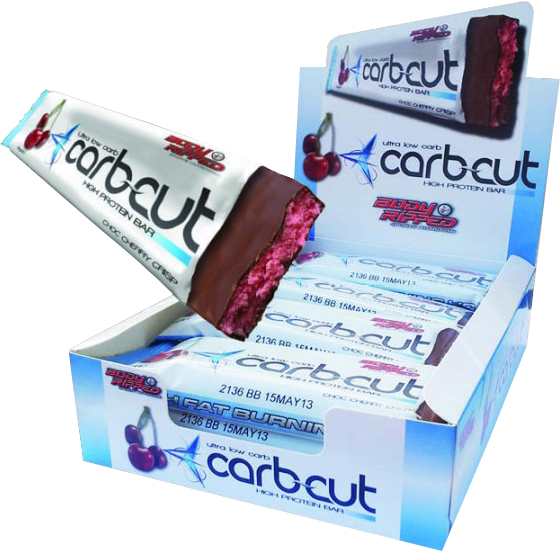 5. Body Ripped Carb Cut Bar

Body Ripped Carb Cut is a low carb, low calorie bar great for those people trying to lose weight. Body Ripped has really concentrated on the texture and flavouring of Carb Cut, and this is one bar that tastes more like a chocolate bar than a health product - the choc cherry flavour is almost a dead ringer for a Cherry Ripe. With 20g of blended protein, and added dietary fibre, Carb Cut keeps you feeling fuller for longer. Added hydroxycitric acid, which is the active ingredient in Garcinia cambogia, fuels the metabolism and helps burn fat faster, while lean muscle is retained.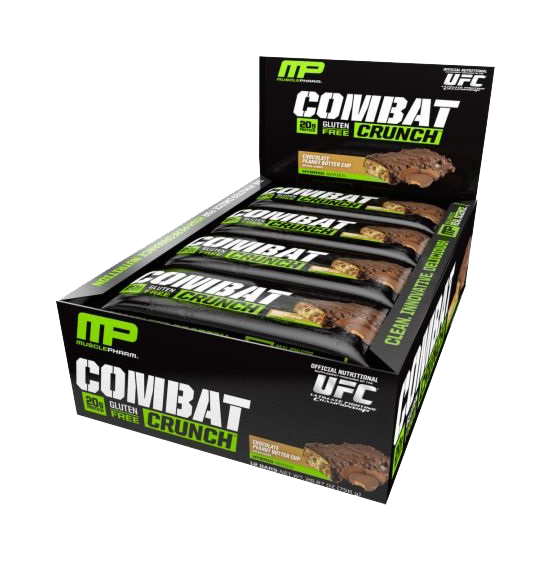 4. MusclePharm Combat Crunch Bar

Combat Crunch bar is a new product, and the first bar from supplement giants MusclePharm. Combat Crunch is part of a range that is based around MusclePharm's wildly successful blended protein, Combat, which is regularly hailed as the best tasting protein on the market, and the company have produced a bar that has followed suit. Combat Crunch is more than just a great tasting snack. With 20g of blended protein, and low in carbohydrates, it is perfect for anyone looking to build muscle, lose weight, or fill those between meal gaps for anyone on a low carb diet. Combat Crunch is gluten free, so people who suffer gluten intolerance are still able to enjoy this delicious, protein rich treat.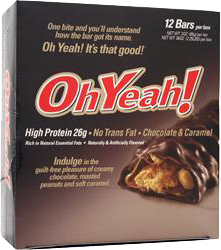 3. ISS research Oh Yeah Bar

The ISS Oh Yeah Bar is a mass gainer in a bar. Packing in 26g of blended protein into a big 85g bar, Oh Yeah is packed with healthy calories that support lean muscle gain. This product is an absolute standout when it comes to taste and the bar comes in five different flavours. Delicious protein enriched chocolate coats a delicious centre packed with nuts, caramel and fudge, quite similar to a Picnic Bar, and just as delicious. The Oh Yeah bar is relatively low is sugar and packed with a variety of fats that support heart health, and it is hard to believe this delicious treat is a product that will help you reach your muscle building goals.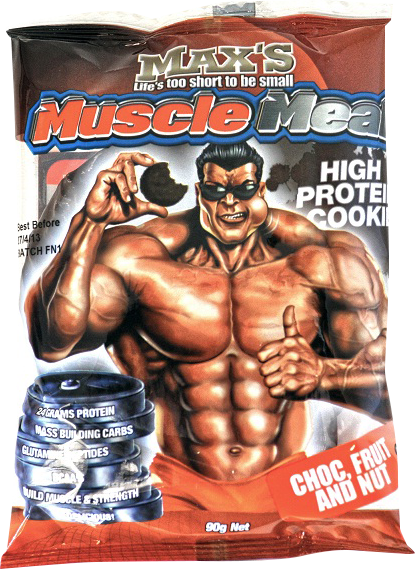 2. Max's Muscle Meal Cookies & Maxine's Burn Cookies

Max's is one of the most successful home grown supplement brands out there, and spin off sister company Maxine's has made a strong foray into the women's protein market. Both companies have absolutely mastered the cookie, and for this reason share the number two spot.
Max's Muscle Meal Cookies are the perfect snack for the guy trying to gain weight in a healthy way. Containing a high quality blend of whey protein isolate, concentrate, and soy isolate, Muscle Meal Cookies are one of the only high protein snacks on the market that contain added muscle building BCAAs and glutamine peptides. This energy dense snack is a great way to bulk up, and it's perfect for post-gym recovery.
Maxine's Burn Cookie is a high protein, low carb treat, and it is perfect for ladies who are trying to tone up and burn some fat without neglecting their taste for sweet treats. Like Muscle Meal, the burn cookie is based around a high quality dairy protein blend, which is great for curbing the appetite. On top of this, Burn Cookie contains L-carnitine to help the body use fat as fuel, carb blocker phaseolamin, and thermogenic green coffee extract.
These crumbly cookies are deicious, and come in a variety of flavours. Whatever your goal, Cookies from the Max's and Maxine's range are a delicious way to work toward it.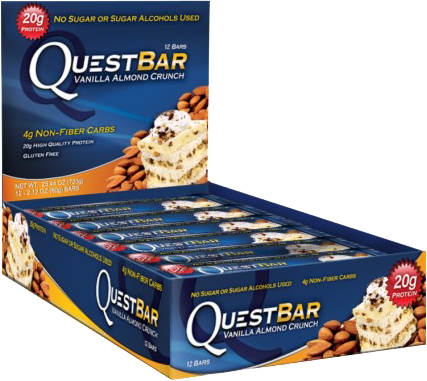 1. Quest Nutrition Quest Bar

Quest Bars are the most popular protein bars on the market, and it is easy to see why. With 20g of top quality dairy protein in each serve, only 3g of sugar, low fat and a whopping 18g of filling dietary fibre, Quest bas are a unique and healthy treat that is versatile enough to support muscle growth and weight loss. A lot of people these days are looking for natural alternatives, and Quest bar fits this bill. Quest Bars are packed full of natural ingredients, the manufacturers preferring these wherever possible, and many of the flavours in the extensive range are 100% free from artificial ingredients, including flavouring and sweeteners. Anyone who has tried Quest Bars will tell you that the best thing about them is the taste. Available in twelve delicious flavours, Quest Bars feature rich, true to life flavours that keep people coming back. Quest bars are satisfying, healthy, and delicious, and have taken the crown as the number one protein bar of 2015.
Notable Protein Bars of 2015
It was hard to just pick 5 bars, cookies and snacks for this list and a huge number of quality products just missed out such as:
A good protein bar is one of the best ways to boost your protein intake throughout the day and provide you with some extra fuel for your workouts, or simply act as a good snack alternative. With our list, you'd be sure to find your ideal protein bar of 2015.