The pre workout category has stayed relatively stable over 2015 with only a handful of new releases making much of an impact on the category. As the supplement industry continues to evolve to cater to a growing crowd of users, the pre workout category should experience some changes throughout 2016. With the demise of DMAA around 2012/13 and its replacement AMP Citrate midway through 2015, companies are continuing to try and find the next big stimulant support. Trends in the pre workout category for 2016 will include increased use of nootropic ingredients (mental performance enhancers) and ingredients which help to prolong the effectiveness of caffeine and other stimulants such as PURENERGY. You'll also continue to see the blurring of lines between pre workouts and intra workouts. With the category continuing to grow, we weed out the top 10 best pre workout supplements of 2016.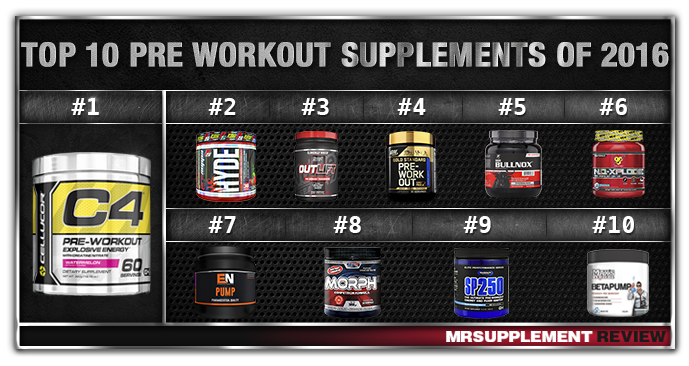 #1. Cellucor C4

#2. ProSupps Mr Hyde
ProSupps Mr Hyde remains as an underrated pre workout. Unassuming, but impressive for anyone who has ever tried it, My Hyde provides one of the strongest and longest lasting pre workouts on the market. If your workouts are of high intensity and longer in nature, then Mr Hyde is the answer for you. Each serve offers a handful of ingredients which will deliver energy and motivation to fuel you through the toughest of workouts. Although the formula lacks pump ingredients, combining it with its brother ProSupps Dr Jekyll will transform it into one of the most well rounded pre workouts in the industry. However, as a standalone supplement, Mr Hyde is still one of the best choices for anyone looking to blast their workouts.
  #3. Nutrex Outlift
The pre workout category has been transitioning from micro doses and concentrated pre workouts to larger, clinical doses for quite a few years now. Which is why Nutrex Outlift has shot right up the list to become one of our top 3 selections for best pre workout. The formulation contains some of the most validated pre workout ingredients and in doses which have been proven to work. Expect dramatic improvements in power, endurance, pump, energy, focus and intensity with each serve of Nutrex Outlift.
#4. Optimum Nutrition Gold Standard Pre Workout
  #5. Betancourt B-Nox Androrush
Betancourt's signature pre workout has always been just outside the top 10, but has really stepped up its game since a slight revision in 2015. If you want consistency in a pre workout, B-Nox Androrush is the product for you. Its formula is famous for its ability to support excellent focus, energy, motivation and pump. It's also one of the few pre workouts that has consistently been associated with increased sex drive and is also considered one of the best tasting pre workouts around.


  #6. BSN NO Xplode
  #7. Elemental Nutrition Pre Workout
One of the rare companies that have focused on a stimulant free pre workout, Elemental Nutrition's pre workout is one of the best around even without caffeine and other stimulants. The formula contains a substantial dose of validated ingredients including beta-alanine, citrulline and alpha lipoic acid. The Elemental Nutrition Pre Workout is the ideal option for those who are either on a pre workout off cycle or simply those trainers wanting to steer away from caffeine and other stims. 


  #8. APS Morph 3
   #9. Gaspari Nutrition SP250
If you're an energy hound, SP250 from Gaspari Nutrition is the pre workout for you. SP250 is one of the first supplements released after Gaspari Nutrition went into administration and was bought out by Allegro Nutrition way back at the end of 2014. Having been released midway through 2015, SP250 is a formula that offers unparalleled energy and intensity. In fact, a full dose of the supplement is almost too much and you would only really require half a recommended serve to experience its beneficial effects. If you tend to lose focus midway through your workouts, then SP250 is a must have for your stack.  
#10. Max's Lab Series BetaPump

Notable Pre Workouts of 2016
It wasn't easy just picking 10 supplements for this list and a lot of excellent pre workouts certainly just missed the cut. Some of these include:
With this extensive list of the best pre workouts of 2016, you'll have no reason not to be making some serious gains this year.