Post workout has always been viewed as the time when the body is most receptive to nutrient intake for repair and recovery. It's also thought to be the best time to feed the body carbohydrates as well as protein. As such, most of the supplements that fall into this broadly-defined category come with a small to moderate dose of carbs together with quality protein and often some added nutrients that are either designed to accelerate recovery or strength post workout. In this article, we'll take a look at some of the good quality post workout supplements that might feature in 2016.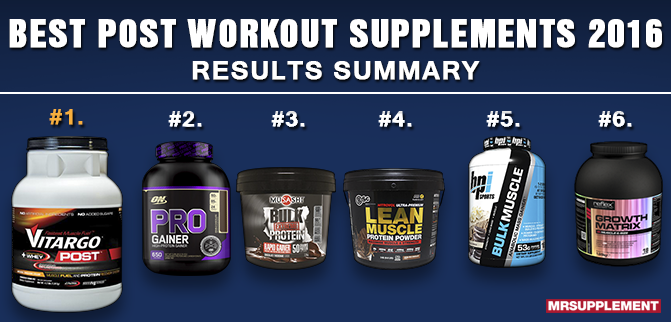 1. Vitargo Post
Having always been the go-to brand for premium carbs, GENr8 recently broke their mould and launched a new post workout product called Vitargo Post. As expected Vitargo Post comes with the tried and true 'fractionated barley amylopectin'; proven to exit the stomach quicker than most complex carbs – but also includes whey protein hydrolysate (WPH). WPH is largely considered the best type of protein for post workout recovery. So the combination of both WPH and the Vitargo carbs makes perfect sense. Every serve of Vitargo Post comes with 20g of WPH and 71g of carbs, which may be too many carbs for the average gym junkie. But for endurance athletes, it's ideal. Needless to say, Vitargo Post is best suited to competitive endurance athletes.

2. Optimum Pro Gainer
Although it has 'gainer' in its name, Optimum Pro Gainer is specifically a lean gainer, which means it doesn't come loaded with carbs; making it suitable as a post workout. While the recommended serving size (165g) comes with a whopping 60g of protein, if one simply halves the standard serving size, the result is a more digestable 30g of protein and 42.5g of carbs. That's makes for a potent post workout mix that will be effective at both boosting muscle recovery and replenishing glycogen. Pro Gainer comes with a mix of 5 different high quality protein sources, which appeals to many. With the strong Optimum name behind it and a great new contemporary looking purple packaging, the product is sure to figure well in 2016.
3. Musashi Bulk Extreme Protein
Bulk Extreme Protein is a relatively new addition to Musashi's ever popular Bulk range. Compared with the original Bulk, it comes with a little extra carbohydrate and fat. It's important to remember that Musashi was originally an Australian company for many years until it was recently bought out. This means the flavour of its products were largely developed using an Australian sample/population. It's perhaps not surprising then that Musashi protein powders are widely regarded in Australia for their great taste. While they don't taste like your average American protein they do have their own characteristic great taste. Bulk Extreme is a great budget option for individuals after a post workout shake that ticks all the boxes. Expect this post workout supplement to sell well in 2016.
4. BSc Nitrovol Lean Muscle
As it seems they like to do, Body Science have been busy reformulating and rebranding much of their product line. This has included Nitrovol Lean Muscle – a post workout supplement aimed at promoting lean muscle growth, strength and recovery. One of the key differences with the product is its use of fast and slow release carbohydrate sources together with a mix of protein sources. It also comes with added creatine and glutamine, which are a great addition to any post workout product. With 22g of protein and 32.1g of carbohydrate in every serve, it has just enough of the key nutrients to accelerate the recovery process.

5. BPI Bulk Muscle
Pitted as another mass gainer, BPI Bulk Muscle also doubles as a great post workout supplement if consumed in a smaller dose. It is one of the more unique post workout supplements available with its range of added ingredients. Bulk Muscle comes with a CLA complex and a unique carb complex that combines 4 different types of carbohydrate (i.e. both fast and slow release). Bulk Muscle also features added glutamine, betaine and glycerol. One scoop will give you roughly 25g of protein and 40g of carbs, which is an ideal macronutrient ratio for post workout supplementation. With its unique features and great look, we expect Bulk Muscle to do well in 2016.

6. Reflex Growth Matrix
While Growth Matrix has been around for a few years, it stands out as one of the best post workout supplements on the market. This is simply because it does not cut any corners when it comes to including the best type of ingredients for post workout recovery. On the protein front, Growth Matrix uses an EU sourced, grass fed whey protein hydrolysate with 30% degree of hydrolysis, which is considered very high. Most sports nutrition companies who utilise whey hydrolysate don't go to the trouble of specifying the degree of hydrolysis, as this ultimately says a lot about the quality of the protein. But to their credit Reflex are totally upfront about it. The other great feature of Growth Matrix is its added leucine. At 7g per serve, Growth Matrix contains a massive therapeutic dose of leucine; widely recognised as the most anabolic of all aminos. There are not many post workout supplements that can boast this level of leucine. Other standout features include added Creapure (creatine monohydrate) and glutamine dipeptides together with high GI carbs in the form of glucose polymers. As far as science goes, these really are the key nutrients that have been proven to accelerate recovery following intense exercise. With such a strong formula, Growth Matrix should ensure it remains a strong seller in 2016 and beyond.