Plant-based proteins like pea proteins are a growing category to the community as well as the supplement industry. Pea Proteins are excellent alternatives for those who are looking for options other than whey or casein protein powders. Pea proteins are often overlooked because of its taste, amino acid profile and digestibility but in fact pea protein can still provide the protein to gain muscle or lose fat. To find out the best pea proteins on the market, keep reading our article for more details.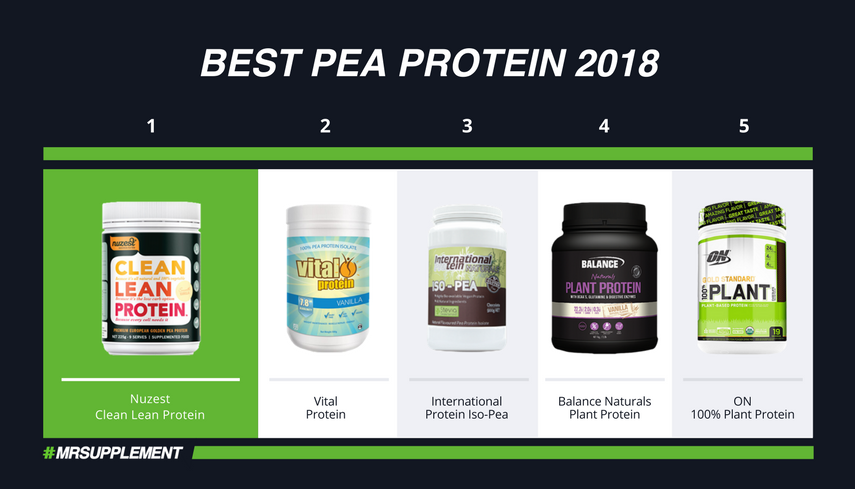 #1. NuZest Clean Lean Protein
NuZest Clean Lean Protein is made up of purely vegetable pea isolate that is easily digestible and keeps you feeling full without the nasty bloated feeling you may experience from common protein sources like whey and soy. The protein has a subtle sweetness and a creamy texture that is rich and tastes delicious. For those looking for a clean alternative to dairy, soy and whey-based products, Clean Lean Protein is a winner.


#2. Vital Protein
Vital Protein is a 100% pea protein isolate protein source and is one of the highest concentration of vegetable plant protein sources available. The protein is extracted from top-notch European golden peas. The product blends well and the flavours are not too strong. This is a healthy and low sugar protein perfect for everyday active lifestyle. This can also be a perfect muscle building aid for vegans or vegetarians looking to boost their protein levels. The powder is also finely milled without any signs of residue when mixed with milk or water.
#3. International Protein Naturals Pea Protein
International Protein Naturals Pea Protein is a solid product that is completely natural without any extra fillers. Being allergen free, the product can be used for anyone looking for a clean and healthy alternative that is both nutritious and tasty. This product offers all the benefits of a pea protein that help you get the protein you need to build lean muscle. By utilising a simple extraction process, International Protein Naturals Pea Protein is one of the purest pea proteins and deserves to be high on our best pea proteins list.
#4. Balance Naturals Plant Protein
Moving down the list we have Balance's Natural Plant Protein, another decent plant-derived protein. It is made up of a protein blend consisting of pea protein isolate, organic brown rice protein concentrate, chia protein powder and sacha inchi powder. Balance's Naturals Plant Protein contains a full amino acid profile with additional digestive enzymes to help with absorption and digests easily without causing any bloating, which allows your body to get all the essential nutrients needed to support muscle growth and repair. Using only the purest and highest quality ingredients, Balance Naturals Plant Protein is a versatile protein that can easily add to your daily routine.
#5. Optimum 100% Plant-Based Protein
To sum up our top 5 best pea proteins of 2018, we have chosen Optimum's 100% Plant-Based Protein. Optimum is known for their number 1 best-selling Gold Standard 100% whey protein and they have taken a big step in expanding their protein range with formulating a plant-based protein to cater for those who care about where their nutrients are sourced. The formula has been specifically made with all natural, uses high quality ingredients and is certified organic. All considered, if you're looking for a good plant-based protein with premium quality ingredients, you can't go wrong with Optimum's 100% Plant-Based Protein.
Notable Pea Proteins of 2018