Pea protein is generally the preferred protein for any individuals with sensitivity to dairy or soy. And with seemingly increasing numbers of individuals harbouring these issues, pea proteins are becoming a more popular commodity in the supplement market. Today there is more choice than ever before for vegetable-based protein powders such as pea protein.
In this article we will take a look at some of the pea proteins we expect to feature in 2016.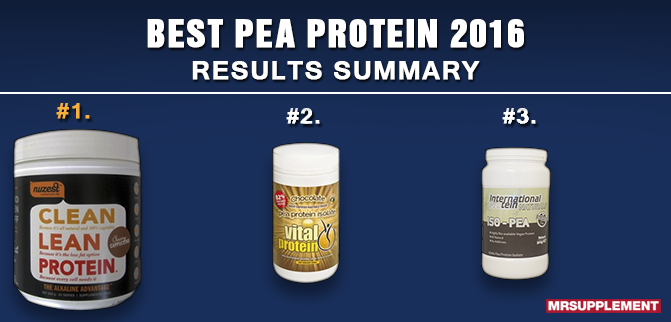 1. NuZest Clean Lean Protein
The NuZest brand has enjoyed great success since its inception a few years back. The brand clearly positions itself as a dynamic and contemporary 'natural' player in the supplement market. It's Clean Lean Protein has consistently been one of the top sellers among pea protein supplements for the past year and don't expect this to change in 2016. NuZest are particular about specifying that the product uses a high protein pea isolate that is sourced from European Golden Peas and contains up to 90% protein. This level of protein is very high even when compared to whey protein isolates and makes for some very good nutritional stats. As with some other pea protein supplements, NuZest claim their protein has a natural alkaline pH of 7.8. The other great feature about NuZest Clean Lean Protein is that it comes in a variety of flavours, namely, Creamy Cappuccino, Rich Chocolate, Smooth Vanilla, Wild Strawberry as well as natural. With these great list of features, it's hard to see any other pea protein supplement eclipsing Clean Lean Protein in 2016.
2. Vital Protein
On the back of their popular Vital Greens product, makers Martin & Pleasance recently released Vital Protein, a straight up, no-fuss quality pea protein powder. Vital Protein shares many of the same features as Clean Lean Protein in terms of its high protein content, minimal ingredients, alkaline pH, low fat, low carb and same quality pea protein sourced from Golden Peas. What's more it comes in  three different flavours plus natural. If one compares the average amino acid content per hundred grams for both Vital Protein and Clean Lean Protein, it would appear they use identically sourced pea protein as values for each amino acid are the same. The only reason we have listed it at number two is because the brand simply doesn't carry the same appeal as NuZest, otherwise Vital Protein is an excellent value-for-money option for anyone after a vegan friendly, low allergenic pea protein.

3. International Proteins Naturals Iso-Pea
Iso-Pea from International Protein Naturals is number three on our list. Again it is hard to separate this product from the above two, but the main difference is Iso-Pea comes with added xylitol (for flavouring and texture), which serves to decrease its overall protein content relative to the above two products. Additionally, Iso-Pea comes in just the one size (i.e. 1kg) and two flavours (choc and vanilla) plus unflavoured. For individuals that struggle with the typical flavour/texture of pea protein, they may find Iso-Pea a good alternative with its added xylitol. 


Interestingly, each of the above products are manufactured by Australian-based companies, which suggests Aussie supplement manufacturers are among some of the most innovative and contemporary in the world. Pea protein is one of the few genuine high quality protein alternatives to dairy proteins. Some readers may be surprised to learn that pea protein has been shown to have comparable effects to whey when it comes to putting on muscle. Perhaps not surprising when you consider pea protein is very high in branched-chain amino acids – just like whey.
With the general move for many supplement users to make greener and more 'natural' choices with their supplements, there's every assurance pea protein supplements will continue to grow in popularity. Watch out for these and other pea protein supplements in 2016.