While the market for organic protein powders is still small, the range is slowly starting to grow with more options being added each year. Organic products are any goods that are free from the presence of chemicals, pesticides, heavy metals and GMOs (genetically modified organisms). They are also produced without any artificial colours, flavour, sweeteners or preservatives. To help you pick out the best organic protein in 2016, we've helped whittle down the selection to 3 top choices.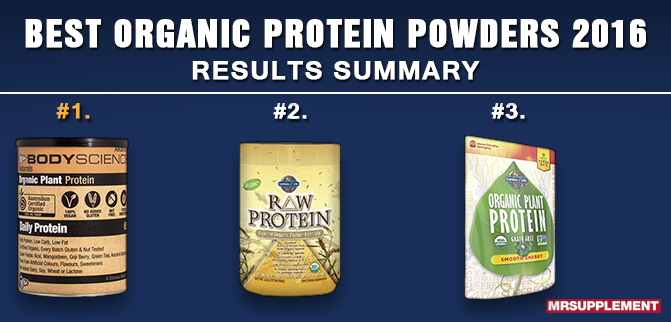 #1. BSc Naturals Organic Vegan Protein
BSc Body Science is one of the most iconic Australian supplement brands and they've done well in being one of the few companies that produces an organic protein. Their Naturals Organic Vegan Protein is made from all organic sources including brown rice, pea, amaranth, quinoa, buckwheat, millet and chia. In addition, each serving comes with a healthy dose of organic superfoods including goji berry, mangosteen, acai berry and green tea extract. Each serving provides a decent 18g of protein, which will help you boost your protein intake throughout the day and help support exercise recovery. It's an excellent, cost-effective product for anyone wanting to go organic and is our pick for the best organic protein powder of 2016.

#2. Garden of Life Raw Organic Protein
A well known American brand, Garden of Life are best known for their range of clean, organic and plant based proteins and other supplements. Their Raw Organic Protein is one of their top sellers and provides a powerhouse of nutrients. Providing a Raw Sprout Blend that includes sprouted seeds and grains, along with probiotics, digestive enzymes and tocopherols, Garden of Life's Raw Organic Protein helps to maximise health, recovery and muscle building, without anything artificial. The taste of the product will definitely take some getting used to, but if you want a high quality organic protein, you can't go past this supplement. 


#3. Garden of Life Organic Plant Protein
Extremely similar to Raw Organic Protein, the Garden of Life Organic Plant Protein is free from cereal grains, focusing rather on seeds and plants to provide all the nutrients. Each serving provides 15g of protein, 2g of fibre along with multiple digestive enzymes and probiotics to help support a healthy digestive system along with exercise recovery. It's a good choice for trainers or individuals trying to stay away from traditional cereal grains, but still wanting a good protein hit and is our final pick for the top 3 organic proteins of 2016.
Best Organic Protein Powders of 2016
If you're looking for a good organic protein powder this year, the choices are slightly limited. However there are still some excellent supplements around, which will meet your protein needs. With the above list, you'll be sure to find an organic protein powder that suits your lifestyle in 2016.