Best Organic Protein
After reading our Organic Protein Powder article, you are probably well versed with what organic protein powders are and their benefits. You are now probably wondering what are some of the best organic protein powders available in Australia, and what makes them so special.

Best Certified Organic Protein
It's one thing to claim that a product is organic, but it is a step further to have it certified as being organic. This process is performed by a third party certifying body that scrutinises the company and products in question, to ensure they meet Australia's national organic standards. Only if they do, they are then allowed to carry a "certified organic" product label.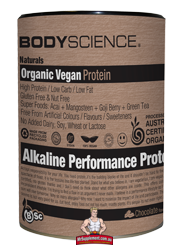 The best certified organic protein in Australia is BSc Naturals Organic Vegan Protein. A few things make this protein powder special. To start with, it contains an excellent blend of rice and pea protein, which gives it a well-rounded amino acid profile. In addition, there are also other quality protein sources including amaranth, quinoa, buckwheat, millet, and chia. Finally, it is topped off with a superfood complex including green tea, goji, acai berry, and mangosteen. Vegan bodybuilders would like to know that each serve contains almost 4 g of BCAAs and 3.2 g of glutamic acid. Of course, BSc Vegan Protein is low in carbs and fat, and is also gluten free.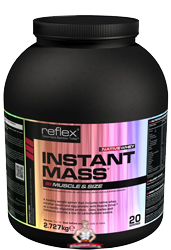 Organic Mass Gainers
Organic mass gainers are extremely difficult to come by, as they require so many ingredients. Currently, it is difficult to find a fully organic mass gainer, but there are companies who are making the move in such a direction.
The Reflex brand is already using organic sources of carbohydrates in their mass gainers. Instant Mass is one of the few products that use organic oat and organic barley in their carbohydrate blend to provide a top quality mass gainer protein. The same ingredients can also be found in Reflex One Stop, an all-in-one mass gainer that also includes goodies such as creatine, vitamins, minerals, digestive enzymes, and more. Although the product is not completely organic, as the protein source is still from conventionally farmed dairy, one day the company may make a mass gainer that is 100% organic.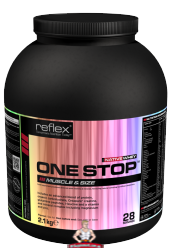 Organic Protein Powder Review
When it comes to organic protein powders, proponents believe there are various benefits. These include benefits for health, environmental sustainability, and safety. However, at the same time, critics believe that there is no solid scientific evidence to confirm any of those beliefs.
One downside to organic protein powders that is definitely undebated is that organic products do carry a significant price premium. If you are therefore on a tight budget, an organic protein powder may not be the best product for you.