The growth of natural protein powders has steadily increased over the last couple of years with more options available now than ever before. Many trainers often confuse natural proteins with organic protein powders, however they are slightly different.
Natural Protein Powders are those which tend to avoid the use of any artificial sweeteners, flavours, colours and other artificial additives. They can be made with organic or non-organic proteins of any source, including dairy or plant based.
Organic Protein Powders are those made with organic protein sources. These can be organic plants, organic dairy and even organic meat.
Natural protein powders outweigh organic protein powders in terms of variety and it can be hard picking the right one for your needs. As such, we review and rank the 5 best natural protein powders of 2016.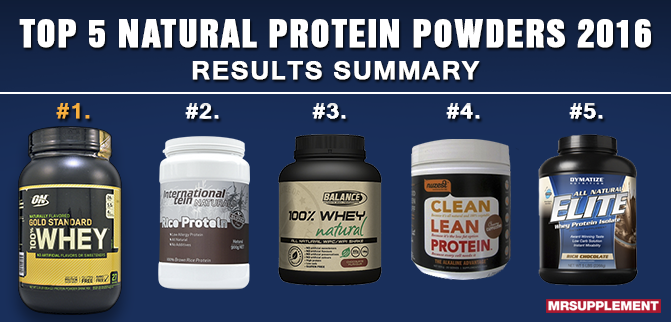 #1. Optimum Nutrition Natural Gold Standard 100% Whey
Optimum Nutrition's Natural 100% Whey has been around for years and is still the best natural protein on the market. Backed by dairy giant Glanbia, you can rely on Gold Standard providing your body with the highest quality whey protein on the market. Each serve of Natural Gold Standard provides a combo of whey protein isolate, concentrate and hydrolysate, all without any artificial flavours, colours or sweeteners. The protein is delicious, mixes extremely easily and is incredibly affordable and is our pick for best natural protein powder of 2016.  



#2. International Protein Naturals Range
You can't beat International Protein for sheer range of natural options. Their Naturals range consists of 6 options including: Pea Protein, Rice Protein, Egg White Protein, Soy Protein, WPI and Hydrolysed Whey. Each of these options is super clean, sometimes just with the protein itself. If you do pick a flavoured option, you can rest easy knowing nothing artificial is added. One of the best releases by International Protein in recent years, their Natural's range are market leaders when it comes to providing cleaner protein sources. Whatever your dietary needs are, International Protein has an option for you.


#3. Balance 100% Natural Whey
One of the market leaders in the Australian and New Zealand supplements industry, Balance are well known for utilising high quality New Zealand dairy for their many protein powders. Their 100% Natural Whey takes it one step further by providing a protein free from anything artificial and gluten free. It's a top notch protein and one of the tastiest options around.



#4. NuZest Clean Lean Protein
NuZest may still be a relatively new company compared to some of the other brands on this list, but they've done well in creating one of the most popular pea protein powders around. Not only is the Clean Lean Protein highly bioavailable, it is low in carbs, low in fat and gluten, lactose and GMO free. NuZest have created a protein that is sustainable, but still provides a high quality source of protein that will help you build muscle and recover as well as any dairy protein on the market. If you're looking for a good natural protein, this is definitely one to try.


#5. Dymatize Nutrition All Natural Elite Whey
Rounding off our top 5 list is Dymatize Nutrition's All Natural Elite Whey. Another protein powder that has stood the test of time, the All Natural Elite Whey is not only gluten free, it only contains 5 core ingredients; whey protein isolate, whey protein concentrate, whey peptides, stevia and cocoa or natural flavours. It's hard to get any more natural than Dymatize Nutrition's All Natural Elite Whey and is our last pick for the best natural proteins on the market for 2016. 


Notable Natural Protein Powders of 2016
It should be noted that any of the above 5 choices are ideal for anyone looking for a natural protein powder and are easily interchangeable with one another. With more natural protein powders than ever before, it was definitely hard just picking 5, so here are some that just missed out on the list:
The rise in popularity of natural supplements, especially natural protein powders means there's more choice than ever. But you won't get caught out in 2016 with our specially curated list of the best natural protein powders of 2016.