Natural protein powders are exactly what they sound like – protein powders manufactured without artificial ingredients such as colours, flavours, sweeteners or preservatives. Additionally, these products are often free from common allergens such as gluten and lactose. There are a number of reasons people turn to natural proteins, including a personal preference for all natural ingredients, intolerances and allergies.

The vast majority of protein powders on the market are flavoured with artificial sweeteners, such as Aspartame, Acesulfame K or Sucralose. While these have seen subject to rigorous investigation and have been declared safe for consumption at the levels used in food, some people prefer to avoid these additives due to perceived negative effects, digestive issues or taste.
Natural protein is far from being a fringe movement, and consumer demand for additive-free protein is solidly increasing. Many major manufacturers have caught on to the trend and are producing natural versions of some of their best known products, meaning there is an ever-increasing variety and quality of proteins in this section of the market. We've chosen five of our favourites.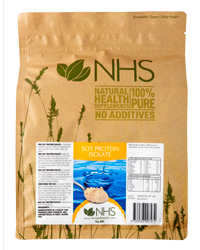 Best Natural Protein
#5NHS Soy Protein Isolate is one of four single ingredient proteins in the NHS range, which also includes whey concentrate, isolate, and egg albumen. Soy protein is too often overlooked despite being equivalent in quality and digestibility to whey, which has long been the protein gold standard. NHS Soy Protein Isolate is one of the best soy proteins available. Packing in a whopping 92% protein with less than 0.5g of carbs and fat combined in each 30g serving, this is one of the purest proteins out there. This protein is unflavoured and unsweetened, which makes it versatile enough to add to shakes, juices and soups, and you can even bake with it. This 100% pure soy protein is gluten and lactose free, so it is a fantastic alternative for vegetarians and people with food intolerances. On top of this, soy is one of the cheapest protein sources available, making NHS Soy Protein Isolate great value.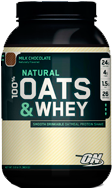 #4 Optimum Nutrition Oats and Whey combines the superior slow burn carbohydrates and dietary fibre found in oats with the world's number one natural whey protein. Oats and Whey contains 22g of carbohydrate and 24g of protein per 52g serve, so it is a fantastic option for people who work hard and need long lasting energy, and it also makes an excellent, easy to prepare, protein-rich meal replacement. Oats and whey is rich and filling, and comes in all natural chocolate and vanilla flavours. It may be the only protein powder that is sweetened with honey and sugar cane juice, and it is delicious.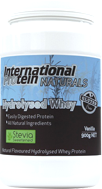 #3 International Protein Natural Hydrolysed Whey is one of the only all natural whey hydrolysates on the market. This BCAA and Glutamine rich protein is one of the most rapidly absorbed sources of aminos you can get, so it is ideal for those times when you need a quick protein hit, like after a workout or first thing in the morning. Hydrolysed proteins have already been broken into smaller fragments, so they are easy to digest, and the high purity means they are virtually lactose free. Each 30g serve of International Protein Natural Hydrolysed Whey contains 23.4g of protein alongside 1.6g of fat and 1.5g of carbohydrates. It comes in vanilla and chocolate flavours, or a versatile natural version that mixes in easily with anything that needs a protein boost.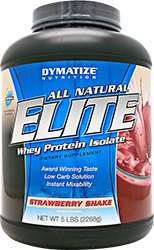 #2 Dymatize Nutrition All Natural Elite Whey is based around the highest quality ion exchange extracted whey isolate and whey concentrate which has been cross flow ultrafiltered for purity. This sits alongside super fast absorbing di, tri and oligopeptides, giving Elite Whey a wide spectrum of absorption. This is a versatile protein which is suitable to take any time. Each 33g serving contains 24g of protein, 2g of fat, and 4g of non-sugar carbohydrates, and is free from gluten. Dymatize have reformulated their award winning flavours to include natural sweetener Stevia for All Natural Elite Whey, and it is available in chocolate, strawberry and vanilla flavours.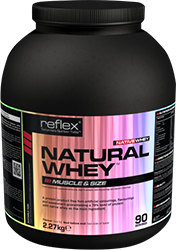 #1 Reflex Natural Whey is a unique product which has been cleverly formulated to get the maximum muscle building benefit out of quality raw ingredients. Reflex has started with an exceptionally pure blend of whey isolate and concentrate, and to this added a 'Native Whey' fraction, which is cold-water purified to retain biological activity. It is claimed that this enhances the bioavailability of many amino acids, including leucine, by a significant margin. Glutamine is one of the most important amino acids for muscles, and Natural Whey contains rapidly absorbed glutamine peptides to support growth, recovery and immune function. Reflex has ensured that Natural Whey is easy to digest with the addition of five different digestive enzymes, and the product further supports digestive health with the addition of Bacillus coagulans, a probiotic bacteria. As may be expected from such a pure product, Natural Whey is very low in both fat and carbs, and comes in at just under 80% protein. It is available in chocolate, strawberry and vanilla varieties, which are naturally sweetened with Stevia. Unbelievably, Reflex Natural Whey is one of the cheapest natural proteins on the market.
The quality and variety of natural protein available means that there were some excellent products which just missed out on the top five. Noteworthy among these are Optimum Nutriton Natural 100% Whey Gold Standard, which is virtually identical to the wildly popular 100% Whey Gold, Balance Natural Whey and Mass Gainer, Nuzest Clean Green and Vital Pea Proteins, and the other products in the International Protein and NHS Natural ranges. As the market expands further, we can look forward to seeing even more innovation and variety in natural protein.