The world of Mass Gainer Protein Powders has stayed fairly constant in the last year. Gaining weight and bulking up can be as difficult as losing weight and getting ripped. One of the best ways to ensure easier and more convenient bulking is to supplement with a mass gainer. As such, most of this year's list remains the same, except for some minor changes. There are a wide variety of different mass gainers with most differing from the ratio of carbohydrates to protein as well as different added ingredients. Let's take a look at our selection of mass gainers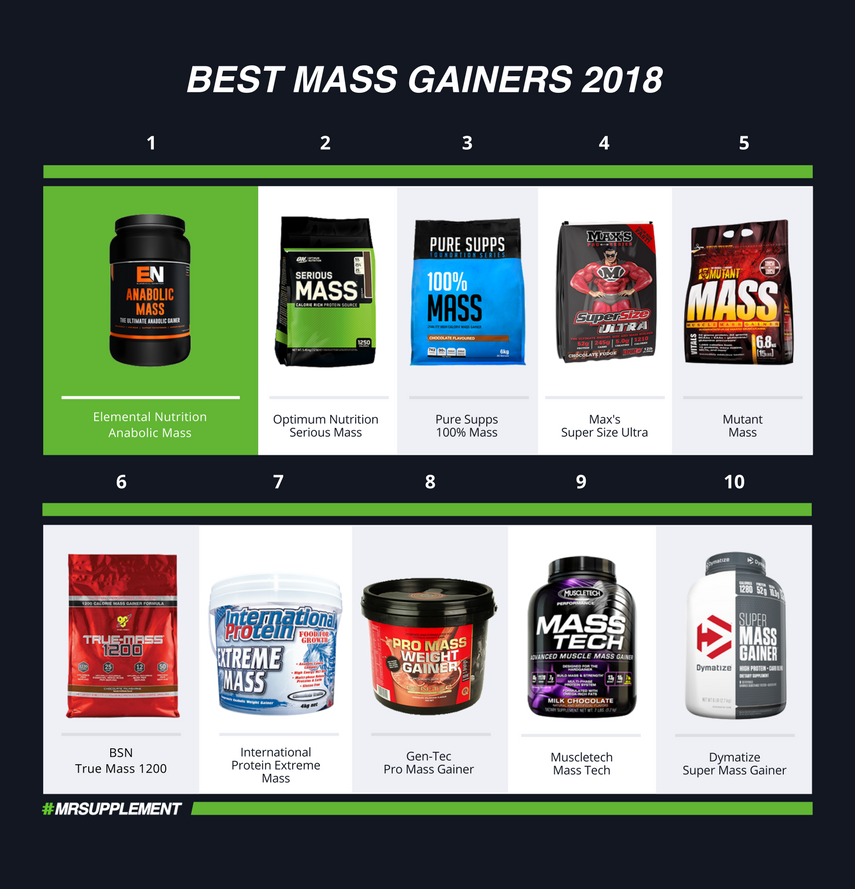 #1. Elemental Anabolic Mass
Elemental Nutrition's Anabolic Mass has really made its mark in the supplement industry thanks to its unique formulation. Anabolic Mass is a high calorie formula that contains testosterone support ingredients like Tribulus, Longifolia and D-aspartic acid to help boost natural testosterone production. Anabolic Mass will not only add serious bulk but enhance muscle and strength. Elemental's Anabolic Mass is the number one gainer of choice if you want lean gains and serious mass.



#2. Optimum Nutrition Serious Mass
Optimum's Serious Mass is a solid gainer that can be used throughout the day. With a blend of fast and slow absorbing proteins along with a good hit of carbs, each full serve of Serious Mass will supply you with a good sized main meal's worth of calories. With over 1000 calories and 50 grams of protein Serious Mass contains all the nutrients you need to build mass and recover. With an impressive reputation, you can't go wrong with Optimum's Serious Mass.

#3. Pure Supps 100% Mass
As one of Australia's favourite brands, Pure Supps has created a range of some of the most cost effective and high-quality supplements including Pure Supps 100% Mass. Tailored for hard gainers, Pure Supps contains over 750 calories per serve and plenty of protein to sustain muscle building and recovery. If you want to get a good quality mass gainer with the best value, Pure Supps 100% Mass has got you covered.


#4. Max's Supersize Ultra
Max's is another signature Australian brand that have revamped their entire protein range as well as gaining success in the past year with their Lab series product line. Supersize Ultra is one of their flagship products and still ranks as one of the best. Max's Supersize Ultra expertly combines maltodextrin, whey protein concentrate and a comprehensive vitamin and mineral mix to provide an effective weight gain protein to help you pack on the calories. Although the formulation is simple, the supplement is effective.
#5. Mutant Mass
Mutant Mass is another excellent bulking protein powder for those who have a hard time putting on weight. Mutant Mass is packed with 1060 calories per serving, 18 grams of fat and plenty of protein for you to gain some rock-hard muscle. It has excellent mixability especially when mixed with milk, showing little to no signs of clumps or residue. If you want to gain size and strength, Mutant Mass is definitely one for you to add to your training regime.


#6. BSN True Mass 1200
BSN True Mass is one of BSN's top-selling products. As the name suggests, True Mass has over 1200 calories per serve and is packed with 220 grams of carbs to get you the calories you need to build serious mass. True Mass is best recommended for trainers who are really struggling to put on the extra weight. Alternatively, thanks to its carbohydrate blend True Mass is also another solid option for endurance trainers looking at carb loading or for glycogen replenishment after an intense workout.
#7. International Protein Extreme Mass
If you're after a mass gainer to support muscle building without packing heavy amounts of calories then, International Protein Extreme Mass is a decent choice. Each serving of Extreme Mass includes 429 calories, 42.5 grams of protein, 42.5 grams of carbohydrates and 9.4 grams of fat. It uses five different forms of quality proteins ensuring you are getting maximum nutrients needed for lean weight gain. All considered, International Protein Extreme Mass is a good quality gainer with very minimal fat.
#8. Gen-Tec Pro Mass Gainer
Gen-Tec Pro is another successful Australian brand that provides quality supplements to the bodybuilding industry. Pro Mass Gainer is a clean weight gainer that delivers a decent amount of protein, fast digesting carbs and MCTs to gain size and strength especially after a workout. All in all, the formulation is simple, effective, delicious and mixes well. Pro Mass Gainer is suitable for all level trainers.
#9. MuscleTech Mass Tech
MuscleTech Mass Tech is another decent mass gainer that provides over 1000 calories and a full serving of 80 grams of protein. This is an advanced muscle mass gainer that is formulated for trainers who want to add more strength and power. For rapid gains Mass Tech is another quality mass gainer that you can't look past.



#10. Dymatize Super Mass Gainer
To round off our list, we have included Dymatize's Super Mass Gainer. This is a powerful mass gainer that provides 1280 calories, 50 grams of quality protein, 1 gram of additional creatine and a comprehensive vitamin and mineral blend. More importantly, amongst the market there are not many gluten free mass gainers Dymatize products are all said to be gluten free. The product also mixes perfectly with both water and milk and is available in Chocolate and Vanilla flavour.
Notable Mass Gainers of 2018