The amount of mass gainers or weight gainer proteins on the market are more than ever before. From those specifically designed to support leaner gains (ie less fat gain) to those which are super calorie dense for the hardgainers out there, the list of available products is ever changing and growing. There's never been a better time to start your bulking journey and the key to building serious, quality size is by knowing what some of the best products are in the category. To make things easy, we've again compiled a list of 10 of the best mass gainers currently available and the ones that you should get in 2017.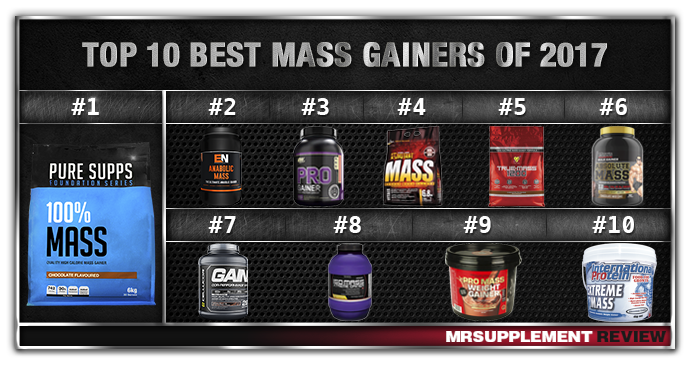 #1. Pure Supps 100% Mass
Interested in getting big without breaking the bank? Pure Supps 100% Mass offers a high calorie, great quality protein at incredible value. Each serve provides over 750 calories with a big hit of protein and an even bigger hit of carbohydrates. It also has 10g of added glutamine to ensure your recovery is super speedy and matches the increased workloads you're putting your body through while trying to grow. Take bulking to the next level in 2017 with Pure Supps 100% Mass.
#2. Elemental Nutrition Anabolic Mass
Anabolic Mass from Elemental Nutrition was one of the first mass gainers to incorporate testosterone support ingredients such as Longjack, Tribulus, D Aspartic Acid and a ZMA Complex. This provides added value in helping to support weight gain, but also by assisting in the optimization of free test levels. The formula provides a moderate amount of calories, so it can be used for its intended purpose as a mass gainer, but is also a fantastic post workout recovery protein. No matter your age or training level, it you want to build size and support testosterone levels, then Anabolic Mass is for you.
#3. Optimum Nutrition Pro Gainer/Pro Complex Gainer & Gold Standard Gainer
Optimum Nutrition have the mass gainer corner covered. Whether you want leans gains, are a hardgainer, or somewhere in between, Optimum is one supplement company that covers all bases. Their Pro Gainer (née Pro Complex Gainer) is still one of the absolute best mass gainers around. It focuses on an even ratio of protein to carbs to support leaner muscle gains. It's got an incredible blend of proteins to sustain longer delivery of the key nutrient to your muscles. It's got fast acting carbs to support faster recovery and glycogen replenishment. Finally, it has a comprehensive mix of vitamins and minerals along with medium chain triglycerides to support optimal health, performance and energy use. If you want bulk, but not the fat, Pro Gainer is the choice for you.
Their recently release Gold Standard Gainer is also a good choice and is perfect for those who find it a little bit tougher to gain weight.
#4. PVL Mutant Mass
Do you have a hard time putting on weight? PVL Mutant Mass is the mass gainer designed for those with a fast metabolism and who struggle to put on any decent kilos. At over a 1000 calories per serve, Mutant Mass' formula comes with a sustained release mix of proteins and carbohydrates along with MCT Oil; considered the fat burning fat. Expect to gain size quickly with this ultra delicious protein powder, which tastes lighter than the quantity suggests. If you're serious about seeing the scale numbers get bigger, Mutant Mass from PVL is your must have for 2017.
#5. BSN True Mass 1200
For those of you who have tried BSN's Syntha-6 protein powder, you'll know it's simply one of the best tasting, milkshake like proteins on the market. It was also one of the first protein powders to incorporate the protein blend of fast, medium and slow digesting proteins; a staple formula these days in many protein powders. Now imagine adding a complex carbohydrate blend, some fats and some fibre and you've got a mass gainer that not only tastes great, it'll supercharge your bulking potential. BSN True Mass 1200 contains over 1200 calories per serve, so if you don't gain size with this, then you're doing something wrong.
#6. Max's Absolute Mass or Clean Mass
With the slow phasing out of Max's popular Supersize mass gainer, Max's has decided to replace these with two other excellent alternatives in the form of Absolute Mass and Clean Mass. Similar to Optimum Nutrition's range, the Max's weight gain proteins are helpful whether you're a hard gainer or more focused on lean muscle gain. Mixed with milk, Absolute Mass provides over 1000 calories and doesn't shy away from a higher fat content supplied by medium chain triglycerides (MCTs) and conjugated linoleic acid (CLA). These two fatty acids are easily metabolised and have actually been linked to reduced fat levels. Clean Mass on the other hand has a formula very similar to the Supersize and is perfect for those who want a bigger, but leaner physique. 
#7. Cellucor COR Performance Gainer
Cellucor's relatively new mass gainer, COR Performance Gainer hasn't really taken off as much as expected, but that doesn't make it a bad mass gainer. In fact, it has an incredibly solid formula including a 6 protein blend, a complex carb mix, easy to metabolise medium chain triglycerides and an added growth and recovery matrix of creatine and BCAAs. It's a simple gainer with minimal ingredients and like Elemental's Anabolic Mass is suitable as a mass gainer or as a post workout. It's also gluten free, making it a rarity in the world of mass gainers.
#8. Ultimate Nutrition Iso Mass Xtreme Gainer
Let's call a spade a spade. The ISO Mass Xtreme Gainer doesn't have a lot going for it. In fact, it's a little bit grittier than most, the flavours aren't there, but if you're interested more in results and quality, then you should definitely consider the Xtreme Gainer. The product's been around for a long time now, but still have one of the best and most comprehensive formulas around. Each serve comes with 60g of 5 different types of protein, 52g of 5 different types of carbs, added creatine, glutamine, branched chain amino acids, omega 3 essential fatty acids, vitamins and minerals and some performance supporting ingredients. It's really the ultimate all-in-one supplement that you should get if you're serious about size, gains and results.
#9. Gen-Tec Pro Mass Weight Gainer
Created by Nick Jones, one of Australia's most successful bodybuilders, the Gen-Tec Pro Mass Weight Gainer is a simple mass gainer that works. Like many of the other mass gainers on this list, the Pro Mass Weight Gainer is considered a lean mass builder with a more even protein to carbohydrate ratio. Besides providing plenty of protein, fast digesting carbs and MCT oil, a highlight of the product is its extremely delicious taste. It mixes incredibly easily and isn't heavy on the stomach, allowing you to maintain your bulking eating patterns with ease.
#10. International Protein Extreme Mass  
Rounding out 2017's top 10 mass gainers is Australia's International Protein Extreme Mass. Similar to Gen-Tec's Pro Mass Weight Gainer, it's again an excellent mass gainer for those looking to gain size and weight, but without putting you at risk of gaining too much extra fat. Its macros are well rounded with a one to one protein to carb ratio as well as some fat provided from medium chain triglycerides (MCTs). The Extreme Mass from International Protein is a good value weight gain protein that should make it easier for you to bulk up in 2017.
Notable Mass Gainer Proteins of 2017
As always, our list is subjective and with only a limited number of spots, a lot of good mass gainers just missed out. The actual order of the supplements itself can be shifted depending on your own bulking goals and ability to gain weight. Some of the best weight gain proteins that just missed the cut for 2017 include:
Gaining size and bulking up isn't as easy as some would think and takes time and dedicated training and eating patterns. Why not make it easier for yourself in 2017 by using the best weight gain protein powders on the market to speed up the process? The selections above represent some of the absolute best products on the market and any of them will be handy in your quest for size.