If you're failing to supplement intra (or during) your workout, you could be short-changing yourself of potential gains. Whilst this is a relatively newer supplement category, an increasing amount of studies are justifying the need to supplement during your workout. Apart from the obvious benefit of rehydration, intra-workout supplementation can assist muscle glycogen replenishment, reduced muscle catabolism, increased synthesis of muscle protein, improved immunity, improved muscle growth & recovery, as well as an improved training intensity level. Ideally & for the best gains possible intra-workout supplements should be stacked with your pre-workout supplements, post-workout supplements & a quality protein powder.
Intra-workout supplements are specially formulated for trainers to get the most out of their workouts. Anyone that exercises whether you are a beginner or advanced trainer can benefit from an intra-workout supplement. As there a large number of intra-workout supplements on the market, we have selected the best intra-workout supplements to help you find the right one. This year's intra-workout supplement rankings and reviews are as follows: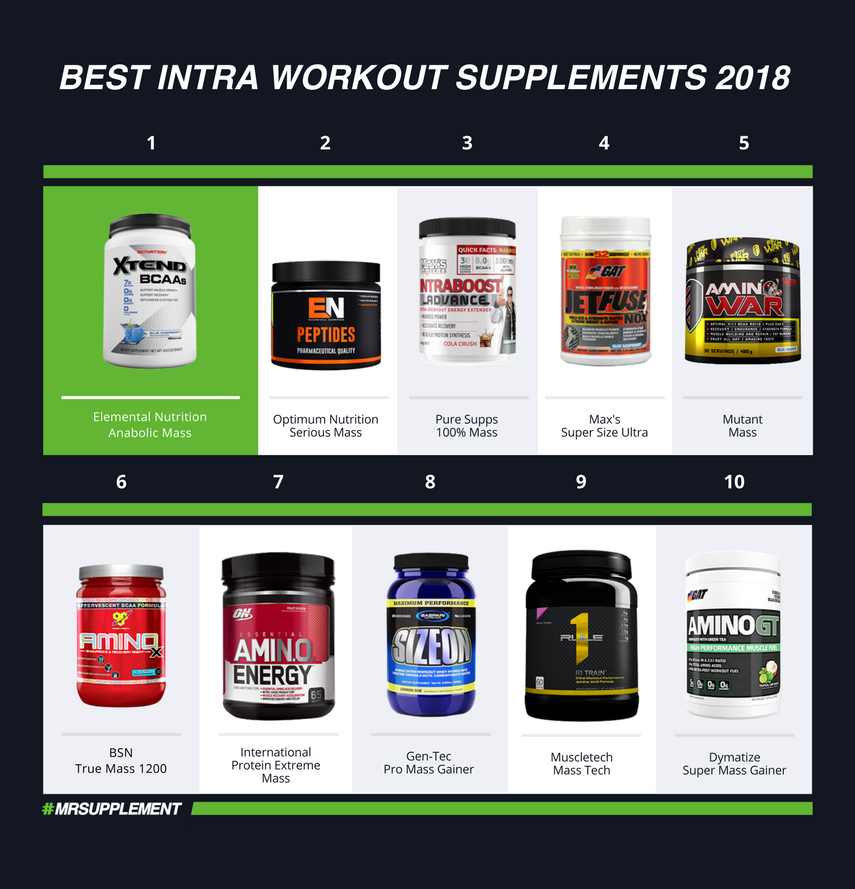 #1. Scivation Xtend
One of the top-selling intra-workout supplements has got to be Scivation's Xtend. Although Xtend is an intra-workout catalyst, it is an extremely versatile supplement that can also be used before and after your workouts to help boost your performance, muscle growth and recovery. The formulation is high in electrolytes that helps you replenish what you've lost during your workout and ensures you are fully hydrated to keep you going for longer. On top of this, Xtend is available in a wide range of tasty flavours that is both delicious and mixes without any excess residue.


#2. Elemental Peptides
Elemental is Australia's most leading premium brands on the market. Elemental Peptides is one of the very few companies that utilises branched chain amino acid peptides together along with arginine peptides and hydrolysed whey protein peptides. It's well known that short chain peptides are absorbed much quicker compared to single amino acids. Elemental Peptides is a unique supplement that is worthy of adding to your training routine.
#3. Max's Intraboost Advanced
Max's Intraboost Advanced is another best-selling intra workout that helps you combat recovery quickly and reduce fatigue. Delivering extreme results, Max's Intraboost Advanced contains properly dosed pharmaceutical grade amino acids to support muscle recovery. The formula also includes an electrolyte complex consisting of calcium phosphate, magnesium gluconate, sodium chloride and potassium bicarbonate that can help maintain salt hydration balance to reduce muscle cramps and fatigue. Max's Intraboost Advanced is an excellent source to help you return to the gym faster.
#4. GAT JetFuse
Another versatile supplement that can be used as a pre-workout or during your workout. GAT's JetFuse contains all the ingredients you need to help boost concentration, focus and physical performance. JetFuse uses powerful ingredients that delivers you extreme energy to push through your workout session. The product is a solid source to increase endurance and time to fatigue. JetFuse gives users a full serving of branch chain amino acids, vitamins and antioxidants to promote muscle growth and recovery. This is the perfect supplement for you to perform your best.
#5. Body War Amino War
Next one on the list is Body War's Amino War. This is a comprehensive formulation that contains all the ingredients you need to increase performance. Amino War features an optimal branch chain amino acid ratio of 4:1:1 and glutamine for muscle building, repair and reduce muscle soreness. All ingredients used are fully disclosed so that users know exactly what they're getting per serving. With Amino War, you know you are getting excellent support ingredients that deliver positive results and break through any plateaus.


#6. BSN Amino X
BSN Amino X contains adequate amounts of aminos including 10 grams of leucine, isoleucine and valine that can assist in muscle building and growth. Although it is designed as an intra-workout supplement, you can still take it before and after workouts to minimise muscle damage and reduce muscle fatigue. It is an extremely popular product that is worthy of adding to your supplement regime.
#7. Optimum Amino Energy
Optimum Amino Energy is a popular supplement across the industry. The product includes an adequate dose of branch chained amino acids, essential amino acids and energy ingredients including caffeine and green tea extract to provide you extreme energy for increased performance. Optimum's Amino Energy is an excellent option that is available in a variety of tasty flavours that will give you stamina and sustain workout performance.


#8. Gaspari SizeOn Max Performance
Gaspari Precision SizeOn delivers a full dose of key muscle building amino acid leucine at 5 grams per serve along with a creatine blend to increase strength and muscle volume during training. Size On is a solid product to help you maximise performance. It is one of the best tasting intra workouts that any serious trainer should add to their supplement stack.
#9. Rule 1 Train
Rule 1 Train combines a potent blend of amino acids and vitamins to not only help your recovery but ensure you have enough energy and power to push through your workout. Rule 1 Train delivers you clean energy because it does not contain any sugar or stimulants. If you're looking to make the most out of your performance and wanting faster recovery periods, then you can't go wrong with Rule 1 Train.



#10. GAT Amino GT
To wrap up our list, we have selected GAT's Amino GT. This is a fairly new product to the market, but it is a decent supplement. Amino GT consists of all the basics that you want in an intra workout including a good hit of branched chain amino acids in conjunction with natural caffeine from green tea to help with boosting energy and endurance. For those who often partake in resistance training, you can't go wrong with GAT's Amino GT.
Notable Intra Workout Supplements of 2018
Aside from the top 10 intra-workouts above, these intra-workouts are also worth mentioning include:
Kerksick C, Harvey T, Stout J, Campbell B, Wilborn C, Kreider R, Kalman D, Ziegenfuss T, Lopez H, Landis J, Ivy JL, Antonio J. 'International Society of Sports Nutrition position stand: nutrient timing.' J Int Soc Sports Nutr. 2008 Oct 3;5:17.