Intra workouts or during workout supplements have become extremely popular and will no doubt continue to grow as more trainers recognise its importance. Utilising the right intra workout supplement not only helps support recovery, but also helps boost the level of performance and intensity during your sessions for bigger gains. The category is one of the strongest growing sections of the sports supplements market and new products are flooding into the category each and every year. To help you weed out the absolute best options available, we've compiled a list of the 10 best intra workout supplements of 2017.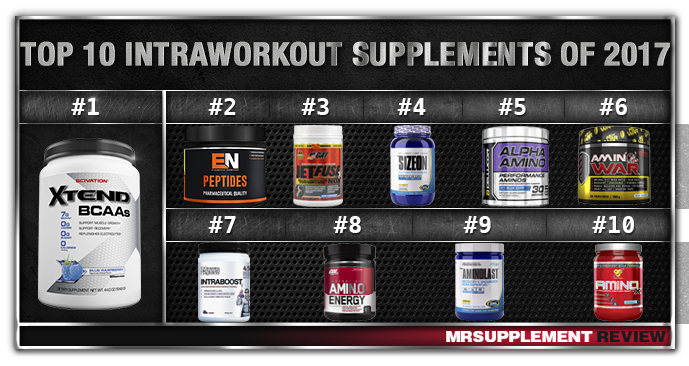 #1. Scivation Xtend
Scivation is often considered the company that formed the "Intra-Workout" category and Xtend is the product that started it all. It's the world's best selling intra workout BCAA formula with over 7g of branched chain amino acids, 1g of citrulline, 2.5g of glutamine and over 1g of electrolytes per serve. Xtend is an all round supplement that should cater to most trainers looking to simply speed up recovery time and boost muscle building capacity. Since the release of the original, Scivation has created a range of alternatives to suit different workouts and trainers including the endurance specific "Xtend Endurance" to the stimulant containing "Xtend GO" and the artificial ingredient free "Xtend FREE". With a ton of flavours and a fantastic formulation, it's easy to see why Xtend still continues to be one of the best intra-workouts on the market. 
#2. Elemental Nutrition Peptides
Despite a somewhat controversial name, Elemental Nutrition Peptides is an incredibly effective supplement. Having been on the market for a couple of years, it's still one of the most innovative products in the category. Each serve provides BCAAs, but all in peptide form supporting optimal absorbability and bioavailability. This is in addition to whey protein peptides along with arginine peptides to further support muscle building and supercharge recovery. Elemental Nutrition Peptides is a premium supplement for any trainer who's after fast gains.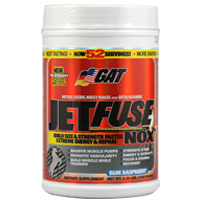 #3. GAT JetFuse
GAT or German American Technologies are well known for their innovative supplements and JetFuse would have to be one of their best. As an intra wo
rkout, it pretty much has everything you need. From branched chain amino acids (BCAAs) to citrulline to creatine, carbs, caffeine and electrolytes, this power packed formula was designed specifically to speed up recovery, boost energy levels and help you start building muscle whilst you are training. JetFuse is versatile and can be used as a pre workout or as an intra workout, but the best way is to add some extra water to the powder and sip it around your workout.
#4. Gaspari Nutrition SizeOn
Gaspari Nutrition's SizeOn is another powerful intraworkout, and could easily hold the top position as well. Like JetFuse, it also contains plenty of BCAAs, creatine and electrolytes. Where SizeOn shines is in its "Outlast Insutropin Matrix", a strong carb blend that supports energy levels and longer performance. Unlike JetFuse, it doesn't contain any citrulline or caffeine, so it's a good stack with a stimulant containing pre workout. Comparing the two, SizeOn is perfect for trainers who exercise for longer or have more cardio intensive sessions. JetFuse on the other hand are for shorter, more explosive workouts or for days where you're mentally tired.
#5. Cellucor Alpha Amino
Alpha Amino contains a very similar mix of ingredients as Scivation Xtend, but with some added Essential Amino Acids (EAAs). While branched chain amino acids (BCAAs) are important for muscle growth and recovery, EAAs also play a role in supporting muscle building processes. Cellucor have crafted another tasty supplement, but the recommended serving size is a bit too small to provide enough of each ingredient. As such, to make the most out of Alpha Amino, make sure to have a larger serve, especially on tougher training days.
#6. Body War Amino War
Body War are known for creating supplements which aren't only transparently labelled, they're extremely well dosed. Amino War is their intra workout formula and continues with that tradition providing 5.9g of BCAAs per serve along with 1g of citrulline, some essential amino acids, agmatine, betaine and even some ATP (our body's natural energy fuel). Body War has put together an excellent formulation and one that just pushes it into the top 5. 
#7. Max's IntraBoost
Max's have had a massive 2016 releasing a ton of new products onto the market ranging from proteins to fat burners and test boosters. The intra workout category has stayed pretty much the same, but that's probably because IntraBoost is a standout formulation and doesn't really require a change. Providing a recovery complex or BCAAs and glutamine, an energy and endurance complex of beta alanine and caffeine along with a range of electrolytes, IntraBoost is perfect for the trainer looking to get more from their workouts. If you find yourself fading easily midway through your training sessions, IntraBoost is a good way to stop that in its tracks and have you pushing out your best workouts each and every time. 
#8. Optimum Nutrition Amino Energy
It's strange to see Optimum Nutrition products anywhere out of the top 5. Now, it's not because Amino Energy is a bad product; rather that the intra workout category is simply chock-a-block with such excellent formulations that it's pushed Amino Energy down. Each serve of Amino Energy provides branched chain amino acids and essential amino acids to support recovery and muscle building process, citrulline to boost blood and oxygen flow to the muscles as well as an energy blend of caffeine, green tea extract and green coffee bean extract. Like IntraBoost, it's a great little supplement for those needing an energy kick during their workouts, but it could have added a higher dose of amino acids to the formula. Nothing an extra half or full serve won't fix though.
#9. Gaspari Nutrition AminoLast
Out of all the products on this list, Gaspari Nutrition's AminoLast offers some of the best doses of BCAAs at over 6.5g per serve and the highest dose of leucine. This powerful amino acid is considered the main one responsible for regulating muscle protein synthesis or muscle building. Gaspari were the one of the first companies to introduce leucine peptides into an intra workout formula. Providing the amino acid in peptide form helps support easier and faster absorption so it can work its magic faster. AminoLast is also an incredibly tasty supplement and has a deserved place in the top 10.  
#10. BSN Amino X  
Finally, rounding out our top 10 list for 2017 is BSN's Amino X. One of the earliest supplements in the category, Amino X remains extremely popular and has a very similar formula to Scivation's Xtend. Each serve provides 10g of an amino acid matrix with BCAAs, alanine, taurine and citrulline along with some endurance elements such as sodium bicarbonate. It's a tasty and reliable intra workout supplement and will no doubt continue to remain popular for some years to come.
Notable Intra Workout Supplements of 2017
More than any other category, a lot of supplements just missed out on making the cut, but certainly deserve a mention including:
Intra workouts are a gateway between foundation supplements such as protein and creatine to more advanced supplements such as natural hormone support supplements, pre workouts and fat burners. If you're hoping to make some considerable lean gains in the coming year, make sure to add a product from this list.