Best Hydrolyzed Whey Protein 2017 - Top 5 List
Hydrolyzed (or hydrolysed) whey proteins, also known as HWPI are considered the fastest absorbing protein on the market. The reason why they're absorbed so fast is because its been processed in such as way to breakdown the protein into smaller chunks. The smaller chunks known as di- and tri- peptides are absorbed directly into the bloodstream from the stomach without needing to be digested. If you want a fast acting protein supplement, then you can't get a better product than hydrolyzed whey protein. But, which one is best? Let's take a look at the 5 best hydrolyzed whey proteins of 2017.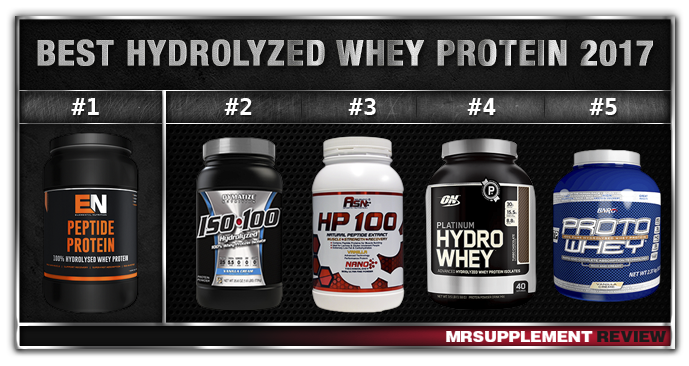 #1. Elemental Nutrition Peptide Protein
Elemental Nutrition may have had a bit of a cosmetic transformation over the last year or so, but their products have stayed the same and are still of extremely high quality. A testament to this is the Peptide Protein, which is the company's hydrolyzed whey protein. Boasting a minimum of 20% hydrolysis, each serves provides a large amount of di- and tri- peptides, which is what you want if you're after quick results. With over 20% of the protein content being BCAAs and less than 1g of carb and fat per serve, Elemental Nutrition Peptide Protein is high quality, powerful, lean and our pick for the number one spot.



#2. Dymatize Nutrition ISO 100
ISO 100 has been around for quite some years now and is still one of the most popular products around. This has a lot to do with how good the product tastes, with a huge range of delicious, easy to drink choices such as Birthday Cake and Cookies & Cream just to name a few. It provides a high protein percentage at over 89% per serve and is also one of the few gluten free products in this category. It also contains 0g of fat and 0g or carbs, making it also the leanest protein on here. While it doesn't advertise it's degree of hydrolysis, it's still a high quality product and one of the best.
#3. ASN HP100
ASN may not be the most popular brand, but their HP100 is one of the best products in their series and definitely work a look. Also providing over 89% protein per serve, HP100 is low in fat, low in carbs and provides a quick boost of amino acids to working muscles to help kick start muscle building and recovery. The product is lactose free and is easy on the stomach, helping you avoid any potential stomach related side effects such as bloating or gas. It's a great little protein and worth a try if you're looking for something new.

#4. Optimum Nutrition Platinum Hydro Whey
Optimun Nutrition are no strangers when it comes to protein powders. After all, they're the market leaders. Their Platinum Hydro Whey is one of their more advanced products ideal for athletes and frequent trainers looking to get the most of their supplements and workouts. Each serve of Hydro Whey provides 30g of hydrolyzed whey protein along with added branched chain amino acids to boost recovery processes and supercharge muscle building so you get back to the gym faster and stronger. The taste isn't as good as some of their Gold Standard 100% Whey, but its quality is still second to none.
#5. BNRG Proto Whey
BNRG Proto Whey was one of the first companies to produce a high quality hydrolyzed whey protein. Proto Whey boasts 40% di and tri-peptides, which is quite impressive. However the amount of protein per serve is a little bit on the low side at only 20g. That being said, it's still an excellent recovery protein, especially for those whose training sessions are a little bit longer or higher in intensity. Proto Whey is also one of the tastiest hydrolyzed proteins on the market and rounds out our top 5.

Notable Hydrolyzed Whey Proteins of 2017
The number of hydrolysed whey proteins on the market isn't staggering, but it is steadily growing. As with some other protein categories, there's not too much separating the many options, so some great alternatives did just miss out including:
For the easiest to digest and fastest absorbing proteins on the market, hydrolyzed whey proteins are the best. Use our list to pick the best one for 2017 and take your gains up a notch.