Human growth hormone or hGH is one of the most important hormones for muscle building and recovery. Unfortunately though, as we age, levels of growth hormone decline quite dramatically which can impact on our ability to gain muscle as easily. What ends up happening is we hold on to a little bit more fat and find it harder to gain lean muscle. This is where a good hGH booster supplement comes in. Designed to optimise growth hormone levels in the body, hGH boosters are becoming increasingly popular and are an ideal next step when it comes to adding to your stack. Here is our specially selected top 10 list of the best hGH boosters on the market in 2016.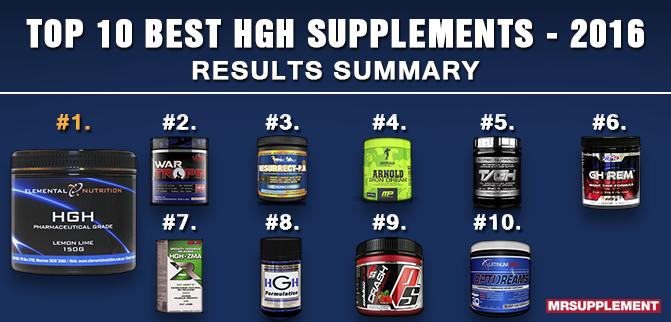 #1. Elemental Nutrition HGH
Elemental Nutrition's HGH has kept its top spot since 2015 and will surely do so for a couple more years yet considering the slow advances in this category. Elemental Nutrition's HGH is a simple, yet effective formula that avoids the use of sedatives, allowing you use of the supplement long term without having to worry about the potential of developing a tolerance. The dosing of key active ingredients is generous in the Elemental Nutrition HGH and offers one of the best value for money supplements on the market. For these reasons, HGH from Elemental Nutrition is our top pick for 2016.
#2. Body War Wartropin
#3. Ronnie Coleman Resurrect PM
Resurrect PM from Ronnie Coleman may not be the newest supplement on the block, but it has maintained consistency and reliability over the past few years. It's one of the stronger sleep support supplements on this list, but also offers a good hit of growth hormone support ingredients as well. Resurrect PM offers a simple, yet effective solution to your recovery and growth hormone needs.
#4. Arnold Iron Dream
#5. Scitec T/GH  
One of the rare test booster and GH booster in one, Scitec's T/GH is relatively new, only coming out towards the tail end of 2015. Each serving delivers D aspartic acid, vitamin D, arginine, lysine and 2 different sources of carnitine to help support and optimise lagging testosterone and growth hormone levels. It's proving to be a popular supplement, although it would be recommended to have 1.5-2 serves of this product as the GH support ingredients are slightly underdosed, but at least the whole supplement is transparently dosed. 
#6. APS GH REM    
Another relatively new supplement, APS GH REM is a solid GH booster which also contains some excellent botanical ingredients to help support sleep and mood. This makes it a good supplement for those who are a little wary of stronger sedatives such as phenibut, which one can potentially develop a tolerance to. While the formulation is a decent one, because it is a proprietary formula, it's hard to discern the amount of each ingredient, which is why it's situated just out of the top 5.
#7. Body Ripped HGH Plus ZMA
#8. Powerzone Nutrition HGH
Powerzone Nutrition's HGH is a premium supplement, which doesn't come cheap, but its formula is one of the most pure on the market. It provides pretty much the exact same formula as Elemental Nutrition's HGH, so you can easily switch between the two. However, Powerzone's supplement is non flavoured and will end up costing quite a bit more on the long run. If you've got some money to spare and want to give it a go though, it's worth a try.



#9. Pro Supps Crash

#10. Platinum Labs Opti Dreams  
Platinum Labs latest supplement is Opti Dreams and it is an excellent joint sleep support and fat burner. The formulation doesn't really offer much GH support, but many of the ingredients will help you achieve a deeper, more restful sleep, which should help to maintain and optimise growth hormone release. Opti Dreams is a solid supplement that will boost recovery and help you get leaner and rounds out our top 10 list of 2016. 
Notable HGH Supplements of 2016
The list of HGH boosters or HGH support supplements isn't the largest as it is still a growing category, but some supplements did just miss the cut including:
If 2016 is the year where you want more muscle and a leaner physique with less body fat, a good hGH support supplement and booster is definitely worth including in your stack. With our carefully selected list, you'll be sure to find the best HGH supplement for you in 2016.