Similar to the pre workout category, the range and popularity of fat burners has not really deviated much from 2015. Perhaps the most surprising development of 2015 was the arrival of a number of high concentration green tea drinks, which has surged in popularity. There won't be too many new changes to the category, however you might see an increased use of fibre in fat burners thanks to the increase in popularity of supplements like Litramine. The current range of fat burners is still plentiful, and doesn't make choosing the ideal one any easier. However, we've put together a constantly updating shortlist of 10 of the best fat burner supplements of 2016.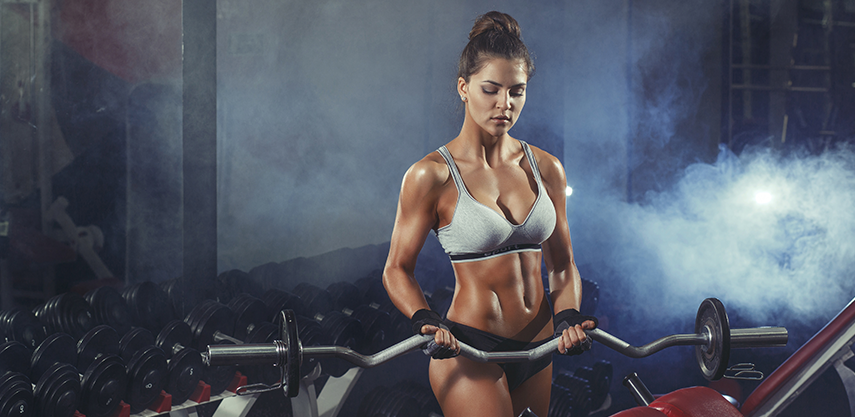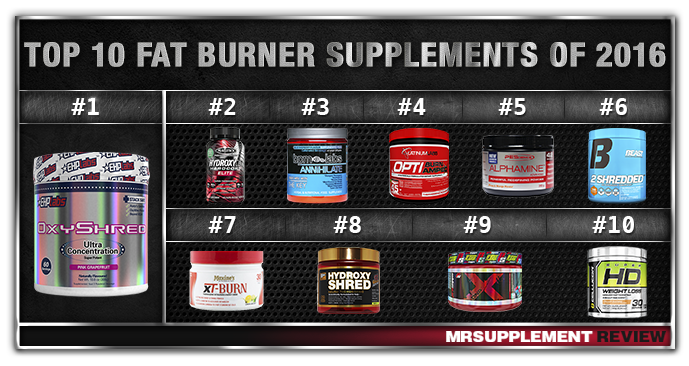 #1. EHPLabs Oxyshred
Still the undisputed King of fat burners, EHPLabs Oxyshred has consistently been one of the most popular and sought after supplements to help support weight and fat loss. Unlike many of products in the same category, Oxyshred isn't overly reliant on a heavy dose of stimulants to get the same effects. Rather, it uses a range of metabolic enhancers, thermogenics and focus enhancers to offer a smooth, well rounded boost to metabolism and motivation to work out and stay on your A game when it comes to diet and exercise. Besides being an effective fat burner, Oxyshred is also one of the tastiest with 2 new flavours added toward the end of 2015 bringing the total up to 6. If you want to shift stubborn fat without overloading your system on caffeine and other stims, Oxyshred is the perfect supplement for you and one of the best fat burners on the market in 2016.

#2. Muscletech Hydroxycut Hardcore Elite & Next Gen

Still one of the most popular fat burners around, Hydroxycut Hardcore Elite is a must have if you want an effective and powerful capsule based fat burner. While the formula has changed and evolved over the years, it's still a dominant force in the category and offers a range of ingredients which will help to boost metabolism and suppress your appetite to help you shed the fat. The Hydroxycut Hardcore Elite actually comes in both a capsule and a powdered supplement, making it super convenient for whatever your lifestyle or taste preferences are. Also be on the lookout for a revised version of the supplement known as Hydroxycut Hardcore Next Gen.

#3. BPM Labs Annihilate & LipoRush
BPM Labs two fat burners Annihilate and LipoRush are extremely similar and one has to wonder why they required two different products to begin with. Save for a few ingredients, the two fat burners share essentially the same base formula. Both these supplements excel when it comes to offering an energy and mental boost as well as supporting appetite suppression. Both of them aren't the tastiest of supplements, but if you're after some of the strongest fat burners around, you can't go past either of these two. Out of the two, LipoRush does contain a slightly better formula thanks to a couple of extra ingredients which can further boost mental clarity, which can sometimes be depressed on a weight loss diet.
#4. Platinum Labs Optiburn Amped
Although this fat burner no longer contains AMP Citrate, one of the stronger ingredients around, the revised formulation still packs a decent punch. Now in its third edition, the current Optiburn Amped is a transparently dosed powerhouse that boosts energy levels, fat metabolism, mood and also helps to reduce water weight, which can be a problem for many trying to lose those last few stubborn kilos. As one of the few Australian owned products in this list, Platinum Labs has created one of the better fat burners around and is one that doesn't shy away behind proprietary blends.
#5. PES Alphamine Advanced
PES Alphamine Advanced is also one of the stronger fat burners around, especially in the stimulant department. One of the best improvements from the original to the Advanced version is that the formula works longer. That is, you can stick with the same dose but still experience similar effects. Offering a sustained boost in metabolism throughout the day, the Alphamine Advanced also works well as a pre workout thanks to its ability to offer improved energy and focus levels. Just remember that this fat burner is on the stronger side, so start with a lower dose. This is the perfect step up from Oxyshred if you're after a more powerful formula.

#6. Beast 2 Shredded
One of the oldest formulas in the list, Beast Nutrition's 2 Shredded remains one of the best fat burning formulas on the market. One of the few products that hasn't gone through a reformulation, Beast 2 Shredded offers a comprehensive formulation that does more than support fat burning, energy and mood levels. The 2 Shredded formula is a fat burner designed for the active individual. The inclusion of beta-alanine and cAMP both help to support training capacity and endurance, making it another fat burner that works well as a pre workout as well. To round out the formula, Beast 2 Shredded contains a well dosed neuro-stimulating and natural diuretic matrix, which should further support the mission for a leaner physique. 
#7. Maxine's XT Burn
Maxine's is one of the best known female oriented brands in Australia and New Zealand and their new fat burner has only been added to their range midway through 2015. It's a fairly similar formula to many in this list, especially EHPLabs Oxyshred. It's even lower in stims than Oxyshred, making it an ideal fat burner for those who want increased fat metabolism, appetite suppression and mood and focus enhancement without necessarily overstimulating your body and making you jittery throughout the day. Maxine's new XT Burn is a great supplement to help you strip stubborn fat and stay alert throughout the day.

#8. Pro Supps DNPX
Pro Supps DNPX has taken its time getting into the Australian market and is a very different supplement from the US version. However, it's still one hell of a strong, stimulant based fat burner. The heavy dose of stims will supercharge your energy levels, motivation and appetite suppression whilst sharpening your focus. DNPX is designed to keep you on top of your game with your diet and training routine. The metabolism boosting and thermogenic ingredients could do with an increased dose, but overall, it's a comprehensive supplement that will do the trick.
#9. BSc Hydroxy Shred
The latest fat burner from popular Australian company BSc Body Science, Hydroxy Shred is the powdered replacement to their original Hydroxyburn Hardcore. This new supplement is an excellent entry level fat burner that offers a decent boost to energy levels, fat burning, mood and focus. Hydroxy Shred is perfect for beginners and can be used both as a fat burner and as a pre workout. The new product from BSc stacks perfectly with their Hydroxy Shred Protein Powder.  
#10. Cellucor Super HD
Super HD is one of the best selling fat burners on the market, however its formula is much stronger in the US version than in the Australian one. It's still an excellent fat burner which contains a range of metabolism boosting and nootropic like ingredients to help improve energy levels, focus and attention. The formula also contains a few diuretic ingredients as well as some added B vitamins to help maintain a healthy immune system, which can be affected when you're training hard to lose fat. Cellucor's Super HD is a multidimensional formula that aims to help you cut fat, but won't make you all jittery unlike other overstimulated products which are designed for those with a higher tolerance.  
Notable Fat Burners of 2016
With so many fat burners on the market, it's never easy picking just 10 to fit into the list. Here are some which could easily have been included:
Tribeca Green Tea X50 – Although it is often seen in the fat burner category, due to its lack to ingredients isn't the most comprehensive one around. It is a good supplement to stack with your fat burners though.
Pharmafreak Ripped Freak – A decent capsule based supplement which combines well with Ripped Freak Diuretic to help you shed some stubborn kilos.
Gen-Tec Ultimate Thermogenic Fuel – An interesting pre workout/fat burner hybrid which enhances workout capacity and also thermogenesis during your sessions.
Mutated Nation Albutarex V2
Body War Body Shred
Jym Shred Jym
With this ultimate list of the best fat burners of 2016, you'll be sure to reach your weight and body fat percentage goals over this year.