Endurance based training is no longer a niche category that applies only to marathon runners or ironmen. Rather, more and more trainers are combining strength and endurance workouts to help them achieve optimal results. Crossfit and training for obstacle races such as Tough Mudder and Spartan Race have meant the endurance supplement category has exploded with a range of new options dedicated to maximising performance during these activities. To help you navigate through the maze of suitable products, we've collected together the 5 best endurance supplements of 2016.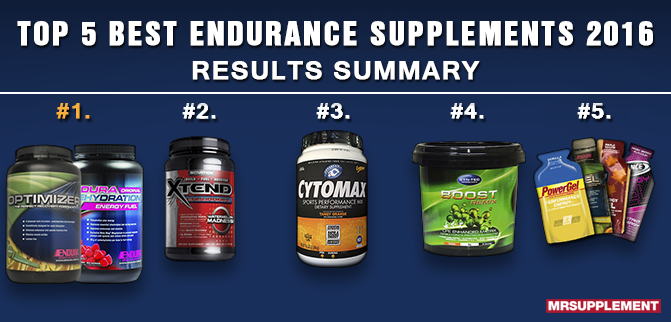 #1. Endura Optimizer & Endura Rehydration
Endura are one of the most well known supplement companies that focus on endurance supplements. Based in Australia, Endura make a wide variety of endurance products that cater to all types of trainers. For any endurance aficionado, one of the best supplements to take would have to be the Endura Optimizer, which provides a comprehensive mix of carbs, protein, electrolytes, vitamins and minerals to keep you performing at your best for longer or as a premium recovery blend. If you're trying to avoid using as much carbs, but still want key electrolytes to maintain muscle function, the Endura Rehydration is the way to go. Regardless of your needs, Endura has a supplement that can help maximise your training sessions and is our pick for best endurance supplement and brand for 2016.

#2. Scivation Xtend Endurance
Still a relatively new product, Scivation's Xtend Endurance is pretty much the regular Xtend with some added carbs. So, not only are you getting a good hit of branched chain amino acids, glutamine, citrulline and electrolytes, you're also supporting your energy needs with a high quality blend of carbohydrates including maltodextrin, cluster dextrin and waxy maize. Scivation pretty much built the intra workout category and with the Xtend Endurance are looking to tackle the endurance category as well. It's a great supplement and one of the best for 2016.

#3. CytoSport CytoMax
Although CytoSport are best known for their delicious proteins, their CytoMax Sports Performance Mix is one of the better endurance based supplements around. Each serving provides a plentiful range of ingredients including a complex carbohydrate matrix, electrolytes and a herbal energy boost matrix featuring ingredients such as guarana, ginseng and quercetin. CytoMax is another great supplement to boost endurance capacity and minimizing perceived exertion.

#4. Syntec Boost Remix
Syntec's Boost Remix is an advanced electrolyte, carb and protein training fuel that provides many of the key nutrients your body needs to maintain optimal performance and support optimal recovery. One of the few endurance supplements to contain whey protein isolate, Boost Remix also comes with all the usual electrolytes and carbs such as maltodextrin, dextrose and sucrose. It may not be the most popular supplement on this list, but its formula is one of the best.

#5. Energy Gels
A category within itself, energy gels are a simple and most importantly portable form of endurance supplement that is ideal for longer training sessions or events. Essentially they are concentrated sports drinks which contain similar levels of carbs and electrolytes to help you perform optimally for longer. The gels are rapidly absorbed, and it's always best to combine the gels with plenty of water as well to maintain hydration, but when it comes to sheer convenience, you can't go past a good energy gel as the ultimate endurance supplement. A range of energy gels are available including:
Best Endurance Supplements of 2016
The endurance supplements category isn't the biggest around, but is tipped to grow steadily over the next couple of years. For now though, you can be sure you'll be able to pick out the best product for your endurance needs in 2016 with our carefully selected list.