Best Creatine Supplements 2017 - Top 10 List
One of the most powerful supplements used by the exercise community is creatine. It has become a staple and acknowledged as one of the key products that helps with strength and enhanced muscle size. With so many creatine supplements on the market that all claim what they do, we have gathered all the information to help you make an informed decision to which creatine supplement to pick. With this in mind, let's take a look at our picks for the Top 10 Creatine Supplements of 2017.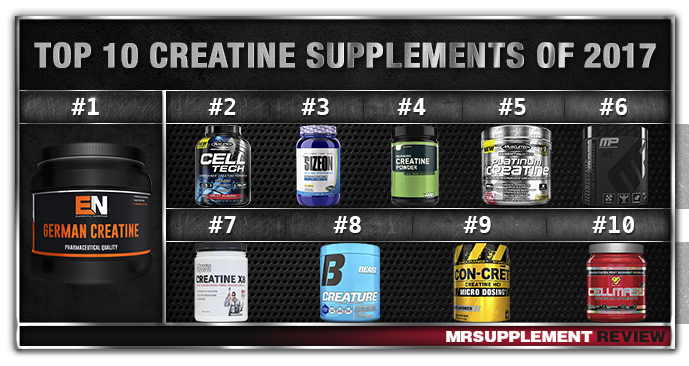 #1. Elemental Nutrition German Creatine
German Creatine is a supplement made by Elemental Nutrition that has been considered one of the top rated creatine products on the market. This is thanks to its best value for money and use of a patented production method to produce the German Creatine. This production method has created a product that has great mixability, blending easily with water or juice and leaving no grittiness. For such an inexpensive supplement, don't settle for anything less than the most pure form available that has been monitored under strict GMP conditions.
#2. Muscletech Cell Tech
Cell Tech stands firm taking first place mainly due to the utilisation of two different types of high quality creatine sources, ensuring users are gaining maximum benefits from the product. The unique qualities of Cell Tech lies in their multi-stage carb mix that can boost insulin levels to help pump creatine into your muscles as well as providing ALA (Alpha Lipoic Acid) for better absorption. The powerful blend supports the improvement in size and strength of muscles. For this reason, Cell Tech is a premium creatine blend that you should not miss.
#3. Gaspari Nutrition Size On Max Performance
SizeOn is a powerful creatine blend manufactured by Gaspari Nutrition. Each serving includes creatine monohydrate, protein, BCAAs (Branched Chained Amino Acids), carbohydrates and the patented ingredient pterostilbene to maximise performance and recovery in the gym as well as supporting insulin levels. SizeOn is an advanced creatine formula, that not only tastes good, but is backed by quality scientific research supporting its function. As such, it's a worthy addition to any serious trainer's stack.
#4. Optimum Nutrition Micronised Creatine Powder
Optimum Nutrition is one of the world's leading producers of high quality supplements and their micronized creatine is one of the most popular in the category. Their unique micronisation process creates particles that are smaller and easier to mix, which means faster digestion and absorption into the muscles. This is what sets ON's Creatine powder apart from the rest on the market. Again, another great choice supplement if you're after a high quality creatine supplement with great value.
#5. MuscleTech Platinum Creatine
MuscleTech Platinum Creatine is a supplement that is suitable for all trainers at any level. The formulation itself works by delivering a high dosage of creatine monohydrate that is absorbed through the muscle tissue and can help maximise your training capacity by allowing you to train for longer. It is a powerful blend that is pure and contains no other extraneous ingredients. Muscletech is a company that strives to bring high quality products to the market and Platinum Creatine is a product that attests to that mission.
#6. MusclePharm Creatine Black
Another excellent supplement from well known American company MusclePharm, Creatine Black is made up of a blend of creatine monohydrate and creatine hydrochloride. The inclusion of creatine hydrochloride supports better absorption as this form dissolves easier. The main highlight to look for in this product is that it provides 5g of creatine per serving and other pump-enhancing compounds such as L-Arginine to support blood flow to and from the muscles. More importantly, Creatine Black isn't made up of a proprietary blend which means you are easily able to identify the amounts for each ingredient.
#7. Max's Lab Series Creatine X8
Products by Max's has always been popular on the market. This time Max's has created a creatine supplement with a total of 8 different forms of creatine that have different compositions and solubility. This in turn, increases their effectiveness by boosting absorption, uptake into the muscle and bioavailability; essentially eliminating the need for a loading phase. For this reason and because of its popularity and absence of fillers, Max's Lab Series Creatine X8 easily makes it up to our top 10 list.
#8. Beast Creature
Beast Creature is another proficient creatine blend that is made up of a combination of four forms of creatine that are all helpful in building muscle, boosting strength, stamina and power. As Creature doesn't contain caffeine or other stimulants, for certain trainers it can be stacked with a non-creatine pre-workout supplement. If you're after a supplement that increases your capabilities during intense weight training and endurance activities, Beast Creature is an excellent choice.
#9. ProMera Con-Cret
ProMera Con-Cret is a readily available supplement that is made up of concentrated creatine hydrochloride, which is ideal for trainers who often experience negative side effects from taking creatine monohydrate. For this reason, this means only small amounts are needed in comparison to creatine monohydrate. This results in faster delivery of creatine to the body.
#10. BSN Cell Mass 2.0
To round off our top 10 list, we have chosen BSN's concentrated post-workout recovery supplement Cell Mass 2.0. Like most other creatine supplements, the effects of using Cell Mass 2.0 are quick to be seen thanks to its creatine source and added glutamine for faster recovery from intensive training sessions. Overall, Cell Mass provides all the ingredients needed to support your training goals and promote faster recovery.
Notable Creatine Supplements of 2017