Casein protein powders are the ideal night time protein thanks to their slower absorption profile. It also makes a lot of sense to include casein protein throughout the day to help supply a continuous and longer lasting delivery of amino acids to the muscles. The casein category hasn't really changed all that much over the past year, so this year's top 10 list should contain many of the same products. Nevertheless, here are some of the best casein proteins you should be getting.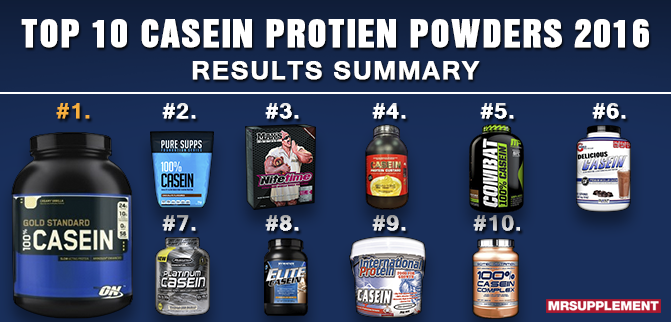 #1. Optimum Nutrition Gold Standard 100% Casein
Optimum Nutrition's classic casein protein is back in the top spot again and it seems hard to shift it from its throne. ON's Gold Standard 100% Casein is an incredibly simple, yet effective protein powder consisting of 100% micellar casein, the veritable gold standard of slow absorbing proteins. Each serve provides 24g of protein and 0g of sugar, giving your muscles the right ingredients it needs to grow at night and throughout the day. Optimum Nutrition's Gold 100% Casein has also cornered the market in terms of sheer variety of flavours. This is the go to casein supplement for any trainer and is our pick for the best casein protein of 2016. It also comes in a Natural version, free from artificial sweeteners, flavours and colours. Optimum also make a Tri-Celle Casein, which is considered even slower absorbing – but does come at a premium.

#2. Pure Supps 100% Casein
A relatively new supplement, Pure Supps 100% Casein offers a generous dose of micellar casein along with added vitamins and minerals. At 80% protein, the 100% Casein from Pure Supps offers one of the highest protein content supplements in the category and is also one of the most cost effective. If you rely on using a lot of casein in your stack, then you can't go past Pure Supps 100% Casein for quality and economy. 

#3. Max's Nitetime Protein
Max's are one of Australia's longest serving brands and their Nitetime Protein is one of the most well known. Even though the supplement is recommended to be used at night time, the blend actually can be used any time throughout the day where you have a longer period between food intake. The formula consists of micellar casein, whey protein concentrate and calcium caseinate along with some calming ingredients, vitamins and minerals. It's a well thought out blend that was designed to support recovery and maximise muscle growth. 

#4. Gen-Tec Casein Custard
Casein proteins aren't the tastiest around and often tend to be gritty and grainy. Not the Casein Custard from Gen-Tec though. Whoever formulated this product is an absolute genius and this is hands down the best tasting casein protein on the market. Whether you make it into an actual custard (preferred) or whether you want to have it in shake form, Gen-Tec's Casein Custard provides plenty of protein, a bit of carbs and some added colostrum. It's an ideal recovery supplement that can be used just before bed, after your workouts and also throughout the day.

#5. MusclePharm Combat 100% Casein
The new Combat 100% Casein is basically a rebranded version of the companies Core Series product, but retains pretty much all of the same aspects. Combat 100% Casein is an incredibly pure micellar casein product with added probiotics and digestive enzymes. What you get is a high protein product that offers beneficial cultures to support digestive health. Combat 100% Casein is a tasty supplement and can easily fit in to the top spots of this list.

#6. Giant Sports Delicious Casein
One of the tastier options around, Giant Sports Delicious Casein also offers a very pure blend. The supplement utilises a 100% micellar casein formula and offers 24g of protein per serve with only 1.5g of carbs and fats. It's a popular protein choice and the label does specify that it is gluten free, making it one of the very few casein proteins that are suitable for those with coeliac disease or those who wish to avoid gluten.   

#7. Muscletech Platinum 100% Casein
Muscletech's Platinum series of products was one of the companies best moves over the 2014/2015 period, releasing a wide range of no frills products that were more cost effective, but still provided high quality ingredients and formulations. Platinum 100% Casein is a simple formula that consists of micellar casein and other ingredients for flavour and mixability. It's a casein protein that does its job without any flashy additions and has a deserved place in our top 10.

#8. Dymatize Nutrition Elite Casein
Dymatize Nutrition's Elite Casein has been around as long as Gold Standard 100% Casein has, but never really made as big an impact. It's still an excellent casein protein with plenty of flavours to choose from and is made from a mix of micellar casein and milk protein concentrate, which is roughly 80% casein protein anyway. It's a decent alternative and another casein protein that is advertised as gluten free.

#9. International Protein M-Casein
Another excellent Australian brand, International Protein's many supplements are some of the best around, with plenty of research behind each. M-Casein offers 30g of protein per serve as micellar casein derived from milk protein isolate. Although it's not the most as popular as some of its competitors, the M-Casein from International Protein is a fantastic and highly suitable alternative to any of the supplements seen above.


#10. Scitec Nutrition 100% Casein Complex
Scitec's Nutrition's 100% Casein Complex is best known for their unique flavour choice in the form of White Chocolate Rockmelon (Cantaloupe). It has a fairly strong flavour, but provides a first-rate mix of micellar casein concentrate and calcium caseinate. It's low in fat and carbs and has added digestive enzymes to further supports its absorption. The Scitec Nutrition 100% Casein Complex is worth a try if you're looking for something new and unique to experiment with and rounds out our top 10 list.
Notable Casein Protein Powders of 2016
Casein protein powders are generally all very similar, consisting of either micellar casein or a mix of other slower absorbing proteins such as calcium caseinate, milk protein concentrate or isolate and the like. As such, many of the supplements in this list can easily be moved around and be just as suitable. Some other powders just missed the list including:
Unlike many other categories, picking a good casein supplement is as easy as choosing any supplement on our top 10 list of 2016. Regardless of which one you choose, it's still going to serve its purpose in helping to supply muscle building amino acids over a longer period of time.