Casein protein powders have become increasingly underrated in the past couple of years, with more users opting to go for fat burner, pre workouts and intra workout supplements instead. However, if you really want better recovery and better gains, a good casein protein is incredibly handy. There hasn't been many changes to the category in recent years, so much of this years list is the same. Nevertheless, here are the top 10 best casein proteins of 2017.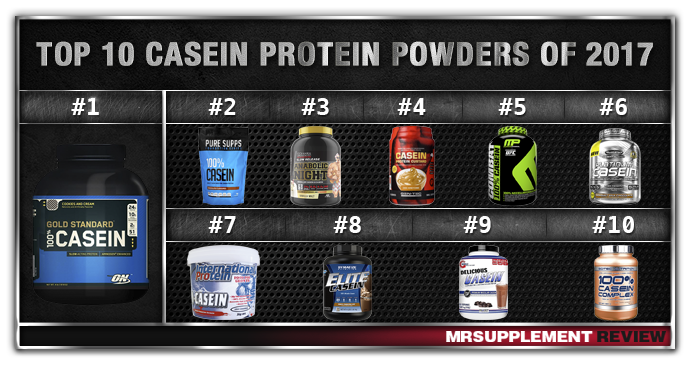 #1. Optimum Nutrition Gold Standard 100% Casein
The world's best selling casein protein, Optimum Nutrition's Gold Standard 100% Casein is simple, but effective. Each serve provides 24g of micellar casein protein, the gold standard of casein protein due to its super slow absorbing nature. Low in fat and sugar, Gold Standard Casein comes in a massive range of delicious flavours such as Choc Peanut Butter and Cookies & Cream so you'll never get bored. Optimum Nutrition are known for their high quality of protein powders and their 100% Casein is no different. For trainers who prefer a more natural approach free from artificial flavouring agents, sweeteners and preservatives, it's also available in a "Natural" version. For those who are willing to spend a little bit more, Optimum also have a Tri-Celle Casein; an even slower absorbing casein for longer muscle building potential.
#2. Pure Supps 100% Casein
Pure Supps 100% Casein hasn't been on the market for too long, but it's proven to be incredibly popular thanks to its incredible value. Also providing micellar casein, each serve provides 80% protein with added vitamins and minerals for extra recovery support. With one of the highest protein contents in the category, Pure Supps 100% Casein is the best choice for anyone who values high quality product without wanting to break the bank.
#3. Max's Anabolic Night
2016 was a big year for Max's having overhauled pretty much the entire brand with the release of a massive range of new products and replacement products. Max's Anabolic Night is tipped to be the new replacement for their famous Nitetime Protein and it hasn't disappointed. Providing over 80% protein per serve, Anabolic Night has an added GH support complex, a vitamins and minerals complex and some sleep support ingredients, making it an incredibly comprehensive recovery support protein. It's a worthy replacement to its predecessor and easily makes it to the top 3.



#4. Gen-Tec Casein Custard
A revolutionary product when it was first released, Gen-Tec's Casein Custard was one of the first proteins, which could be made into both a shake or custard form. This made it extremely versatile, pleasing both trainers who love convenience or trainers who desired a filling dessert before bed. As casein proteins go, this is hands down one of the most delicious proteins of any category on the market. Casein Custard does have a bit more carbs than your traditional casein, but barely anything to make any noticeable difference to your waistline. It does come with added colostrum, an incredible ingredient for muscle recovery. Even though it's often used as a night time protein, you could easily have this throughout the day to promote longer lasting muscle growth potential. 
#5. MusclePharm Combat 100% Casein
MusclePharm's Combat 100% Casein is a solid product providing over 80% protein per serve along with some added digestize enzymes and a whole host of probiotics. These two components help to ensure easy, bloat free digestion, free from any gastrointestinal comfort that can occur with slower digesting proteins. It's a simple, tasty supplement and one that's hard to fault.




#6. Muscletech Platinum 100% Casein  
Platinum 100% Casein is Muscletech's no frills casein rival to Optimum Nutrition's Gold Standard 100% Casein. Providing a very similar ingredients profile and 24g of protein, each serve is low in carbohydrates, low in fat and low in calories. The taste and mixability does need a bit of work and it's definitely not as popular as the ON's version. But if you're looking for a suitable alternative to the Gold Standard Casein, this would be it.
#7. International Protein M-Casein
Known for their powerful protein supplements, International Protein is a popular Australian brand created by bodybuilder Christine Envall. M-Casein isn't the company's most popular product, but it's a good casein protein and one that gets the job done. With only 5 ingredients in the mix, M-Casein is a pure, clean and simple product that provides 30g of slow digesting micellar casein per serve and very little else.


#8. Dymatize Nutrition Elite Casein
Dymatize Nutrition Elite Casein is one of the most popular casein products on the market. It's one of the very few gluten free caseins around and contains a mix of both micellar casein and milk protein concentrate (which is 80% casein and 20% whey). Dymatize have also added in some digestive enzymes to support better digestion and absorption so you can get the most out of their product. It's a solid alternative to the other products on this list and one with plenty of flavours available.
#9. Giant Sports Delicious Casein
Another tasty casein option, Delicious Casein provides a 100% micellar casein formula, 24g of protein per serve and a measly 1.5g of fats and carbs, making it an incredibly lean protein. If you're looking for recovery support without any unnecessary calories, Giant Sports Delicious Casein is a good choice for you. Just like Dymatize Nutrition's Elite Casein, it's also one of the very few casein products advertised as gluten free.




#10. Scitec Nutrition 100% Casein Complex
Scitec Nutrition are a massive European brand, but they've struggled to really gain much traction in some overseas territories such as Australia and New Zealand. 100% Casein Complex isn't the most popular, but it certainly offers some of the most interesting flavours such as White Chocolate Cantaloupe (Rockmelon). The flavour of 100% Casein Complex is strong and it's a little bit on the gritty side, but provides a good dose of protein with very little fat and carbs. It's a decent casein alternative if you want to try something new and rounds out our top 10 list for 2017.
Notable Casein Protein Powders of 2017
As mentioned before, the casein protein category has stayed relatively unchanged in the past few years. Most products will contain either micellar casein by itself or with other sources of casein such as calcium caseinate, milk protein concentrate or milk protein isolate. With such little difference, picking a casein protein is as easy as selecting any from our top 10 list. For some extra options though, here are some which just missed the cut:
Don't underestimate the power of a good night time protein to make some serious difference to your recovery ability and your gains. Make 2017 your most successful training year yet with a top quality casein protein powder from our top 10 list.