2014 was a relatively dynamic year for the casein protein supplement category. There were a number of new entrants to the market, which has significantly expanded the product offering looking forward to 2015. This all makes for an exciting year in this category for 2015. Below we preview (in ascending order) what we think will be some of the top casein supplements to look out for in 2015.
8. Optimum Platinum Tri-Celle Casein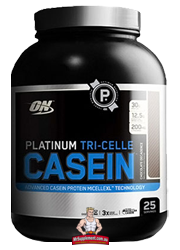 Optimum Nutrition have raised the innovation bench mark in the casein supplement category with their Platinum Tri-Celle Casein product, which has specially engineered casein molecules that are three times larger than typical casein molecules. Being three times larger, they reportedly digest even slower than normal micellar casein. It all sounds great in practice but there is very little sound science to back up Optimum's nice sounding theory. But credit must be given to Optimum for stepping out and raising the bar in a category that has traditionally been pretty dull. It remains to be seen how the market takes to the new Tri-Celle casein paradigm, but early signs suggest it may be not have been as well as planned. Regardless, we still expect Platinum Tri-Celle Casein to be a strong seller within the casein supplement category in 2015.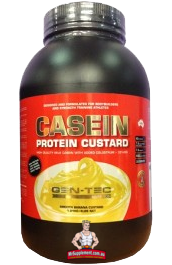 7. Gen-Tec Casein Custard
Definitely one of the most innovative and unique micellar casein products to be released in 2014, Gen-Tec Casein Custard is set to continue strongly into 2015. With its realistic custard like consistency and taste, Casein Custard makes taking your daily casein all the more enjoyable, which is such a crucial element to daily supplement adherence. Another nice feature is that Casein Custard comes with added colostrum. With successful natural Australian bodybuilder Nick Jones as its founder, Gen-Tec Nutrition has always had a good name and reputation in the sports nutrition industry. We expect this novel casein supplement to do well in 2015.
6. Pure Supps 100% Casein
Pure Supps is a brand new Australian sports supplement brand that was premiered late 2014 with a small, but growing range of supplements. The company specialises in producing quality product in bulk and is able to sell at extremely competitive prices thanks to the absence of expensive marketing campaigns and flashy packaging. One of their first releases is the 100% Casein , a pure casein protein supplement to be used throughout the day but also just before bed. Perhaps the best value micellar casein protein on the market, Pure Supps 100% Casein is one of the best new products to hit this category in some time and should be a popular choice for trainers in 2015.
5. Maxs NiteTime Protein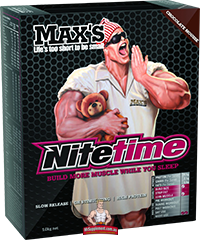 Maxs NiteTime Protein was the recipient of a facelift as part of the entire Max's revamp range. The cosmetic overhaul however, did not result in a change to their winning formula. As such, Maxs NiteTime Protein is one of the few micellar casein supplements on the market that comes with a small fraction of additional proteins in the form of whey protein concentrate and calcium caseinate. Max's NiteTime Protein is also one of the few casein supplements to comes with added 'growth hormone' amino acids in the form of  L-Arginine, L-Lysine and L-Ornithine. The other notable feature is the inclusion of two calming herbs in the form of skullcap and chamomile. While NiteTime Protein has been around for a while, these added features still make the casein supplement very unique, which should ensure its continued success into 2015.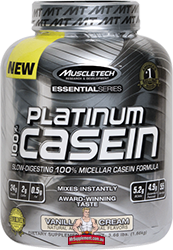 4. MuscleTech Platinum Casein
Platinum Casien stormed onto the market in late 2014 as part of MuscleTech's extensive new Platinum range, which was designed to cover many of the basic sports supplement needs of active individuals. Despite it's 'platinum' tag, 100% Casein is a farily run-of-the-mill casein supplement with no additional added ingredients to note. Despite this, we have still listed it here as a possible hit for 2015 simply because it's part of a brand new supplement line from the powerhouse brand MuscleTech.
3. Giant Sports Delicious Casein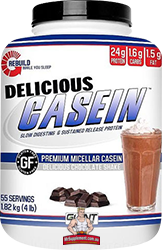 With casein supplements having a bit of a reputation for average taste, Giant Sports Delicious Casein has obviously been designed to woo casein buyers by virtue of its taste proposition. While taste is always an important factor, Delicious Casein is one of the few casein protein powders to specify that it comes with a full complement of casein protein fractions such as alpha, beta and kappa casein that also includes di-, tri- and oligo-peptides. While this may be the normal makeup of your everyday micellar casein supplement, it is still commendable that Giant Sports go to the trouble of providing a more thorough composition of the protein. This transpires to the rest of the product, with a full amino acid composition table, helpful serving suggestions and directions for use. Based on these factors, together with the growing strength of the Giant Sports brand, we expect Delicious Casein to be one of the leading casein supplements in 2015.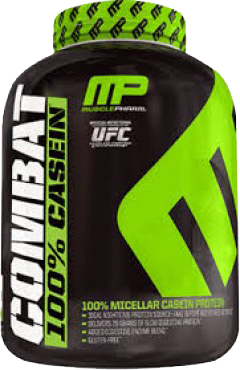 2. MusclePharm Combat 100% Casein
Only currently available in the US, MusclePharm Combat 100% Casein will surely be a casein supplement to look out for when it is released onto the Australian market in 2015. With the dual brands of 'MusclePharm' and 'Combat' behind it, 100% Casein is likely to be received well once its released. MusclePharm's original Combat has developed a great reputation for its superb flavour, so if there's one thing that might ensure Combat 100% Casein is a success – it's a range of great tasting flavours. At time of writing, MusclePharm are offering just three flavours (chocolate milk, cookies n' cream, vanilla) in 100% Casein, so it remains to be seen if the range will be expanded like Combat has. Nonetheless, we still expect MusclePharm Combat 100% Casein to fair well in 2015.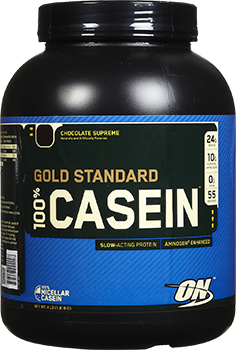 1. Optimum Gold Standard 100% Casein
Just like its sibling, Optimum 100% Casein Gold Standard was a ground breaking product when first released. It was the first 100% micellar casein protein powder and currently, it is still the top selling casein protein by fat. Containing 24 g protein per serve with 0 sugar, you can be confident that ON 100% Casein will support your lean muscle building goals. In addition, it is also a safe bet for those who are lactose intolerant. Again like its Gold Standard Whey sibling, Gold Standard Casein comes in a very extensive range of flavours. No matter what your taste preferences you are sure to find one that you like.
No-one has a crystal ball, but the list of casein supplements we have provided above are all likely to feature prominantly in this respective category heading into 2015. With Optimum setting a new bench mark in this category in 2014, it will be interesting to see if other brands follow in similar veins in 2015. Watch this space...